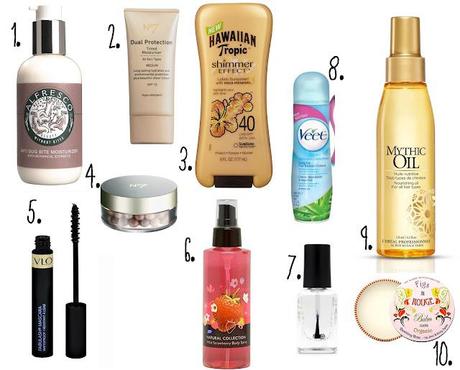 1. Alfresco 
Natural Insect repellent moisturiser - 
This all natural bug repellent is a must when traveling afar. 
It's sweet, spicy fragrance smells lovely to humans, but is repugnant to insects, especially mosquitoes. This repellent is also DEET-free (the chemical used in most repellents, which can irritate the skin) and instead uses botanical extracts of twenty blended essential oils (including Geranium, Lavender, Cinnamon and Melissa) to keep insects away. It's even safe to use on babies. 
I love that this product is all natural which is perfect for children especially having a young child i need to be extra careful when going abroad. This is a must for all you yummy mummys!
£12.50 
www.cultbeauty.co.uk
2. 
No7 Dual Protection Tinted Moisturiser - 
When abroad i don't wear makeup unless its the night time, i don't really see the point especially when your always in and out of the water and to be honest no one looks nice when you have foundation sliding off your face, plus i want a tanned face! Now my skin has cleared up i really want to keep it that way so at the moment i haven't even be wearing foundation. 
However if you are looking for something a little lighter on your face in the hot weather i recommend the tinted moisturiser by boots own brand No.7. 
This sheer, light-diffusing moisturiser not only feels great on your skin, but gives you long-lasting hydration so your skin feels soft and smooth all day long. Plus the tint helps even out your skin tone, also with SPF 15 to protect our beautiful face.
£12.00

www.boots.com
3. Hawaiian Tropic Shimmer Effect Lotion - 
Obviously a sunscreen protecter would be on this list, which is why i put up a shimmery one! I love the way the shimmery lotion looks on your skin in the sun and its more of a bonus that this is a sunscreen protector they come in a range of SPF with the highest being 40. 
The sun lotion has prestige mica minerals as well as skin nourishing antioxidants and island botanicals better yet it is water resistant and also has a broad spectrum UVA and UVB protection. The rich, luxurious formula is infused with an exotic blend of flora and fruit extracts which provides your skin with optimal coverage. It also has there signature coconut fragrance.
£11.07  
www.amazon.com
4.  
No7 Sunkissed Bronzing Pearls -
Bronzers are a one of my musts when going in the sun, blushers go out the window! Wearing bronzer always gives me that extra look of tanned skin on my face. I particularly love the no.7 bronzing pearls as they are more delicate colours which are suitable for most complexions and they last ages! 
If you want to protect your skin from the damaging effects of the sun but also want a healthy glow, sweep on a dusting of these bronzing pearls for a glamorous golden look.
£11.00

www.boots.com
5. Revlon Fabulash Waterproof Mascara - 
Abroad i don't wear makeup in the day but for anyone who does i recommend investing in a good waterproof mascara. 
Revlons exclusive lash maximizing formula works with the patented Lash Perfecting brush to build and separate for 100% fuller, seriously fabulous lashes. Without a clump in sight.
£7.99

www.boots.com
6. 
Natural Collection Wild Strawberry Body Spray - 
One of my favourites for the summer time! Its light weight for having in your hand bag and great when you just want that spritz of fragrance! The wild strawberry is my favourite, its girly, fruity and sweet! if thats not to our taste they have plenty more fragrances to choose from.
£2.00

www.boots.com
7. Barry M Base Coat & Top Coat Nail Varnish -
I hate it when my nails chip due to chlorine or general day to day wear and tear! 
Basecoat Topcoat Nail Hardener Formulated to meet the needs of busy fingers, this Nail Paint is so versatile you will wonder how you managed without it. It l
eaves a High Shine Glossy Finish, p
erfect for using with the Nail Paints to protect and look after your nails.
£2.99

www.superdrug.com
8. 
Veet Spray On 
Hair Removal Cream Sensitive - 
Hairy legs are a no go and who's got the time to constantly shave your legs all through the summer? If waxing isn't the option then try a hair removal cream they work just as good! Your hair will grow back usually around 3 weeks afterwards but they grow back smoother. 
£7.15

www.boots.com
9. 
L'Oreal Professional Serie Expert Mythic Oil
The sun really damages hair so the best way to tackle this is with some Mythical oil, its a hell of a lot of difference in price to Moroccan oil and i think it is just as good. 
Enriched with a special blend of avocado and grape seed oil, this lightweight oil cares and pampers all hair types. Nourishing even the finest hair, the formula leaves hair looking shiny, feeling nourished and supple. 
£13.55

www.feelunique.com
10. Figs & Rouge Balm 
I absolutely love this product, its one of them products that does everything. From moisturising lips to cuticles to anything really! It really locks in the moisture i tend to use this on my lips and also around my knuckles that occasionally get dry, once i have applied this moisture is restored throughout the whole day. Its 100% organic as well.
£3.49www.feelunique.com
what are your summer essentials? 
If you like this or want too see similar posts let me know below
thanks for reading 
Leigh <3