I just spent a great weekend away with one of my closest friends and each of our kids, who have known one another since birth.  They skied, I read, we ate, 2 of us had margaritas (I'll let you guess which two,) and we all had a great time.  They are truly the kind of friends who feel like family.
As I feel after many weekends, the need to get back to cleaner eating hits me pretty quickly.  On our way back home, I popped into my favorite market to grab a few things to get me back on track. One of those items was tempeh.  If I ever made it, it was once years ago, and it must not have gone well because I certainly haven't made it in recent memory.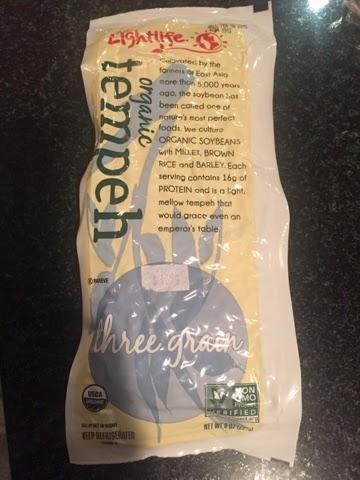 Having said that, nearly every time I eat at Candle 79 in NYC, I get it on top of a salad, as a side, or in some fabulous warm dish the chef has whipped up, so I thought I'd try to make it again at home.  It is a solid source of vegan protein, and has an interesting, nutty texture, wholly different from even the firmest of tofu.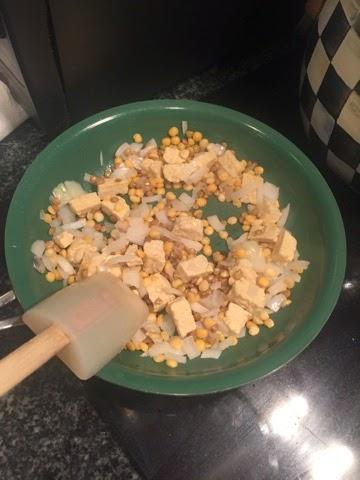 I had some yellow peas and brown lentils soaking to tenderize, so I decided to pick up an onion to add to the prepared tempeh.  The first thing I did when I got home, was to start week 7 of my run training program (nearing the halfway mark of my new year's resolution to learn to run 10k.)  I don't love it, but I do love the sense of accomplishment.
It was then that I hit the kitchen.  Well, I caught my breath first and then I went to the kitchen!
I started by sauteeing half a large yellow onion in some nonstick cooking spray, and then added 1 heaping teaspoon each of the lentils and the peas.  Once that started to cook down, I chopped one serving of the tempeh and added it to the pan.  Next I added a drizzle of avocado oil and 1 teaspoon of vegan butter to enrich the flavor.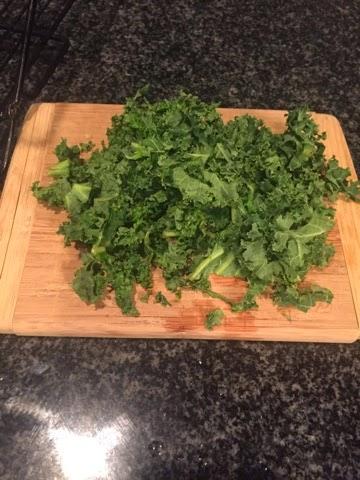 Next, I finely chopped a large handful of curly kale and added that to the mix with another pat of the vegan butter.  Once that was wilted and all was well-combined, I smashed half an avocado and added it to the mix.  It was fabulous!  Nutty, a little crunchy, many different textures and super but simple flavor.  What a healthy, satisfying meal to end a special couple of days!  Yay!