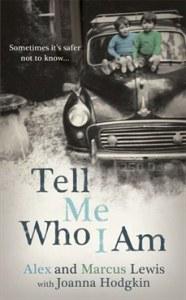 What's it all about?:
A true story of false memory and lost innocence in one of England's most respectable families
Imagine waking up one day to discover that you have forgotten everything about your life. Your only link with the past, your only hope for the future, is your identical twin.
Now imagine, years later, discovering that your twin had not told you the whole truth about your childhood, your family, and the forces that had shaped you. Why the secrets? Why the silences? You have no choice but to begin again.
This has been Alex's reality: a world where memories are just the stories people tell you, where fact and fiction are impossible to distinguish. With dogged courage he has spent years hunting for the truth about his hidden past and his remarkable family. His quest to understand his true identity has revealed shocking betrayals and a secret tragedy, extraordinary triumph over crippling adversity and, above all, redemption founded on brotherly love.
Marcus his twin brother has sometimes been a reluctant companion on this journey, but for him too it has led to staggering revelations and ultimately the shedding of impossible burdens.
Their story spans continents and eras, from 1950s debutantes and high society in the Home Counties to a remote island in the Pacific and 90s raves. Disturbing, funny, heart-breaking and affirming, Alex and Marcus's determination to rebuild their lives makes us look afresh at how we choose to tell our stories.
What did I think?:
This story is about a family, in particular twin boys, who are raised in a well-to-do family in England filled with joy and laughter on the outside, but on the inside it is a very different story. There are horrific secrets of sexual and emotional abuse carried out against the male children of the family (the twins and their younger brother Oliver), mainly perpetuated by their mother. What makes this terrible abuse story different however, is that one of the twins, Alex, cannot remember it occurring due to a motorcycle accident which happened when he was eighteen, and led to the loss of all his memories prior to the event save one, he is able to remember his twin Marcus. On seeing his mother at his hospital bedside, he cannot recollect her at all, and sees her as just a "hysterical woman" whose noise-making is slightly irritating and too much for his fragile brain to take at the time of awakening from a coma. Alex now has to re-build his life, relying heavily on his twin to fill in the gaps in his memory and to teach him about what kind of person he is.
There is a twist to this tale. Marcus decides not to tell Alex about the abuse that they suffered at the hands of their mother that Alex clearly has no memory of. Right or wrong, Marcus wants to spare his twin that trauma, and in a way, he has blocked it out himself so that he can continue with his life. When their mother dies however, Alex begins to question a few things, namely the lack of grief experienced by his siblings and begins to wonder what they are hiding.
Obviously, this is a very sinister and emotive story, and reading about sexual abuse is never going to be pleasant. What I did find inspiring is that this is not just a book about abuse, the author takes great pains to show us the wonderful things that have happened in the twins' lives, for example their travelling, their "work hard" attitude, and their business ventures. This shows us that while others may have admitted defeat after their experiences, they refuse to be labelled as victims. I have to say, I wasn't entirely sure about their idea for building a hotel on a deserted African island, but the fact that they go back and try to assist the local village financially, or in building a school surely has to be respected. The only thing I had a slight issue with is that the writing style at times seems slightly sensationalist, with an unnecessary cliffhanger at the end of every chapter. This is only my opinion though, and I'm sure others may enjoy this method, it just didn't sit right for me.
Would I recommend it?:
Maybe!
Star rating (out of 5):