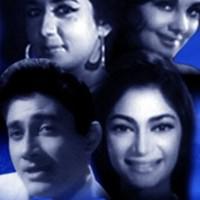 Movie: Teen Deviyan
Director: Amarjeet
Cast: Dev Anand, Nanda, Kalpana and Simi Garewal
Rating: ***
Dev Anand's portrayal of lover boy is unmatchable, divine and special in Amarjeet's 'Teen Deviyan', which was the actor's first adult movie. Undoubtedly, Dev was one of the best romantic heroes of the 50s and 60s and someone capable of romancing his heroines even without touching. The film is inspired from D.H Lawrence's works and was later made in English as 'Oh Boy and Three Girls', but never saw a theatrical release.
Dev Anand plays Dev Dutt Anand, a debonair poet by heart who works as an assistant at 'Merry' music store under the supervision of his crude boss played by I.S Johar. Dev can breathe life into words with his exceptional poetical skills which his boss understands with time and wishes to help by finding a publisher to print his work.
In due course, Dev meets Nanda, a stenographer who also happens to be his next door neighbor, in a very unusual way. In no time Dev moves closer to Nanda with his creative skills thus paving way to an emotional relationship between them.
Dev is now a celebrated poet and along the way he meets Kalpana, a famous actress. After a series of meeting, Kalpana starts liking Dev for his straightforward attitude and mainly because he doesn't get carried away by alluring women.
The third 'devi' in Dev's life comes in the form of a Radha Rani, a high profiled socialite who falls for the poet the moment she reads his published work.  
Torn between 'teen deviyan', Dev should pick his partner amidst the uncertainties and several questions that remain unanswered in his life.
To understand and appreciate the simple and emotional story of the film one should be tuned in line with the era in which the film released. Watching the film with a modern-day ideology may only result in utter disappointment for those who may find the plot old-fashioned and clichéd. For few hours, imagine you are in the 60s and I'm sure you will enjoy this film as much as I enjoyed.
A film of such staid theme needed deft hands behind the camera, but not Amarjeet instead. Amar, who is Dev's publicist in real life handles this film with an unwelcoming mindset and portrays women merely as instruments of entertainment, whereas originally they should've been depicted as a powerhouse of energy. The different facades of love such as jealousy, sacrifice, affection and possessiveness are well depicted through the characters of the teen deviyan.
Dev Anand as Dev Dutt, a prolific poet with his charmingly attractive looks and heartwarming mannerism steals the show with pertinent acting. Particularly in the romantic scenes, Dev shines and proves why he's ever considered the undisputed romantic hero of Bollywood. I strongly believe it takes more than just acting to make your co-star romantically fantasize about you without even touching and Dev succeeds in exactly showing that.
Nanda expresses her subtle emotions brilliantly in a role plagued with insecurity and restlessness, while Kalpana and Simi fittingly play their parts with perfection.
'Teen Deviyan' teases one with its evocative lyrics through the songs such as "Aise To Na Dekho", "Likha Hai Teri", "Are Yaar Meri", "Khwab Ho Ya", "Kaye Be Khayal Hoke" and "Kitni Sardi" beautifully composed by S.D Burman and featuring voices of Mohammad Rafi, Kishore Kumar, Lata Mangeshkar and Asha Bhonsle.
In short, 'Teen Deviyan' may not be one of Dev's best films, but it's definitely worth a watch for portraying an offbeat subject.
This review was originally written for 'Shemaroo' entertainment.