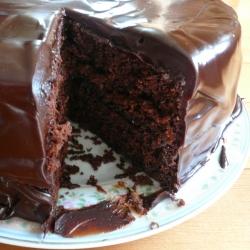 Earl Grey Chocolate Cake
One of my wonderful readers, a delightful woman named Elizabeth Watson AKA: Queen Cupcake (Goddess I love that!) sent me this recipe from  a 1994 Bon Appetit today. I am told that this is the cake that was served at The Guggenheim Museum Restaurant in New Yorkl
I must have a slice ASAP so I'm going to bake it immediately! I think that it sounds warm , richly dense and chocolaty (everything a cake should be!) and would be a fabulous treat to have with a steaming, comforting cup of tea that's been dressed with a little foamy milk! To my friend....Thank you Thank You Thank You Elizabeth!!!! I know that we're in agreement that you can never have too much cake!
EARL GREY CHOCOLATE CAKE
12 Servings
CAKE
2 Earl Grey teabags
2/3 cup water
8 oz. bittersweet (not unsweetened) or semisweet chocolate, chopped
2/3 cup orange marmalade
1 cup (2 sticks) unsalted butter, room temp.
1 cup sugar
6 large eggs
1/3 cup chopped walnuts
1 teaspoon vanilla extract
2 cups all purpose flour
1 1/2 teaspoons baking powder
GLAZE
1/2 cup whipping cream
6 oz. bittersweet or semisweet chocolate, finely chopped
For the cake: Position rack in center of oven and preheat to 325 degrees F. Butter 10-inch diameter angel food cake pan (or tube pan). [QC: I bet a square baking pan would do just as well.] Place tea bags in glass measuring cup, pour 2/3 cup boiling water over. Let stand 5 minutes. Remove tea bags from water & discard tea bags. Let tea cool. Melt chocolate in top of double boiler over water, stirring until smooth (you can use the microwave if you watch closely and do not overheat). Cool chocolate to room temp. Puree marmalade in processor until almost smooth, set aside. 
Using electric mixer, beat butter and sugar in large bowl until light and fluffy. Add eggs one at a time, beating well after each addition. Stir in melted chocolate, marmalade, walnuts and vanilla. Mix flour and baking powder and tea alternately into the chocolate mixture. Do not overbeat.
Pour batter into prepared pan and bake until tester inserted near center of cake comes out with some moist crumbs attached, about 1 hour, 10 minutes. Transfer to rack and cool 10 minutes. Using sharp knife, cut around edges of cake to loosen. Turn out cake onto rack and cool.
For Glaze: Bring whipping cream to boil in a small saucepan. Remove from heat. Add chocolate and let stand 2 minutes. Stir until smooth. Cool slightly.
Place the cake on a platter and spoon glaze over, allowing glaze to drip down sides. Can be made 1 day ahead; cover and store at room temperature.
Image from Tastespotting.com