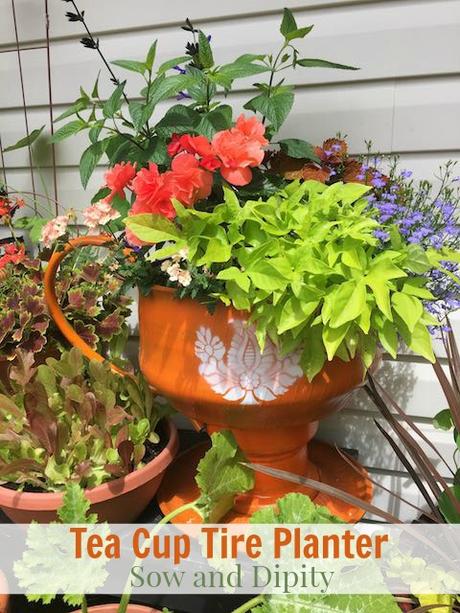 Making planters out of old tires is nothing new. But when I saw a photo of my Aunties Pinterest inspired Tea Cup Tire Planter... that was it. I had to have one for myself.
Regular tires are a tad big for this I thought. Especially since I was going to make mine for an Outdoor DIY event I will be speaking at and I know how darn heavy those tires get filled with wet soil.
So I hunted around for a destroyed flat golf cart tire at the nursery I work at on the weekends, and found a pitiful misshapen one that I could take. It was SO badly worn, I was a little worried that it wasn't going to work for this project. But you know what? It did! Check out how adorable this project turned out to be....
I am very happy to announce that Sow and Dipity has partnered with some amazing companies this year. As a rule, I will only promote products I believe in and that match my set of values. In exchange for the generous samples they send me, I am proud to share them with you.
Just cut slowly and deeply around one edge of the tire where you want the 'saucer' to be. Take your time, the rubber is thick and a little tough to get through. Cut the inner tube and remove it from the tire... I didn't at first and struggled to get the turn started when it was time to flip it inside out.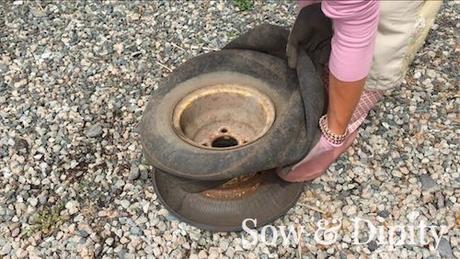 Give it a quick scrub then spray paint on your favorite color... add a stencil if you want to be all decorating diva and stuff.
Now your ready to plant! Use a good quality container soil such as , it's designed for both good water holding capacity and drainage plus it has Myke's in it to help get those roots established quickly.
This planter got only the best plants, I love the varieties you can get with ... especially that blue Salvia, gorgeous! I'll be sure to post an update when this beauty fills in.
Check out this quick video tutorial that will show you how it was done:
If you love this idea, I got a ton more and awesome farm to table recipes to come! Subscribe now and don't miss a post...