The TD Friends of the Environment Foundation (TD FEF) is a national organization created by the TD Bank Financial Group to fund local projects that are dedicated to preserving & protecting the environment of our country in their own communities. The TD Friends of the Environment Foundation has provided more than 53 million dollars to help support over 19 thousand environmental projects in various communities all across Canada.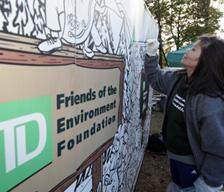 All the money that the foundation raises is spent directly into in the communities in which it was donated from. By donating to the cause, people are enabling the funding of projects all across Canada that in turn makes a difference in their own communities. Yes, unlike some charities, 100% of every dollar donated goes directly to the environmental projects because the TD Bank Financial Group provides all the management and administrative costs that are involved to run the foundation.
Community environmental projects are one of the main aspects of this organization and that is why a unique local focus is made possible through the structure of local chapters that each have Local Advisory Boards made up of donors of the foundation as well as employees of TD Canada Trust. These board members review all the submitted applications and make various recommendations for the community environmental projects based on the area and the specific needs of the environment in that community.
For a list of Chapters in your area, please see the list on the following web page: http://www.fef.td.com/community.jsp
Groups that are eligible to receive funding include: Registered Canadian charities with a Charitable Registration Number (CRN), Municipalities, Schools, and First Nations Communities. All organizations must be able to provide a charitable tax receipt for the full amount of the donation made. Eligible project examples from these groups are those projects that help promote environmental initiatives benefitting local communities that: Protect the environment and Canadian wildlife, Assist young Canadians in understanding and participating in environmental activities and Enhance cooperation among Environmental organizations.

Some project examples that may be considered eligible for funding by the foundation include: Recycling/Composting Programs, Community Gardening Programs, Local Food Initiatives, Public Park & Trail Initiatives, Stream clean up and rehabilitation, Tree planting, Establishing walking trails, Erosion prevention, Protection of Endangered Species, Fish enhancement programs, Youth awareness programs, Educational pamphlets/brochures/publications, Energy Conservation, Renewable energy installations, Water Conservation and many more.
To learn more visitthe TD Friends of the Environment Foundation site
[image sources: td.com & toronto.com]