Every year for Christmas we usually have some sort of sweet item, like a danish or cinnamon rolls. This year I felt like trying something new and made a breakfast casserole. 
I was inspired by BubbleCrumb.com's recipe for a "Bacon Breakfast Bake", but I tweaked it to make it more my own and to suit our tastes a little better. The beauty of a recipe like this is that you can basically make it however you want as long as you have the base ingredients: eggs and tater tots. You can pick your own cheese, veggies and meat. 
Now I have to say that this dish is absolutely delicious. My family raved over it and we plowed through 3/4 of a 13x9 pan of casserole goodness on Christmas morning. I made it again today since the guys were out shoveling snow and again we took down almost the entire pan. It's addictive and cheesy and satisfying. My dad had three helpings...my dad rarely has more than one serving of anything...I knew at that point I had a winner!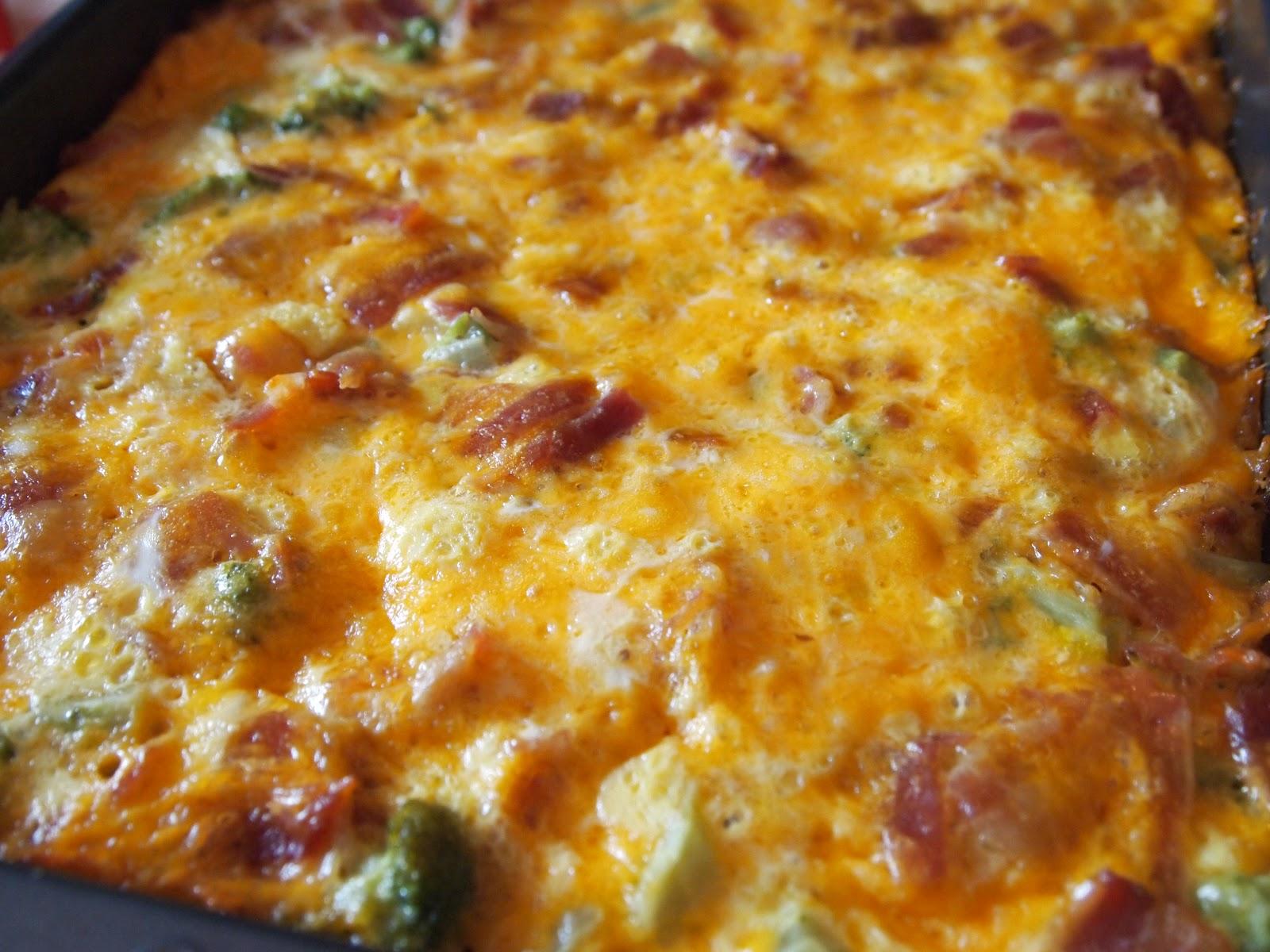 So whether it's a special holiday morning or just a cold day of shoveling snow, this dish is sure to satisfy the hungriest appetite. And it makes great leftovers!
Tater Tot Breakfast Casserole
3/4 Bag of Tater Tots (32 oz Bag)
1 tsp Olive Oil
1 Small Onion, Chopped
3/4 Bag of Frozen Broccoli Cuts (16 oz Bag)
Salt and Pepper For Seasoning
1/4 cup Water
1 lb Bacon
1 Dozen Eggs
1 1/2 cups Milk
8 oz Sharp Cheddar Cheese, Shredded
1) Bake tater tots according to package instructions. Remove from oven when crispy and place in the bottom of your 13 x 9 casserole dish. Season the tater tots with salt and pepper, then set aside.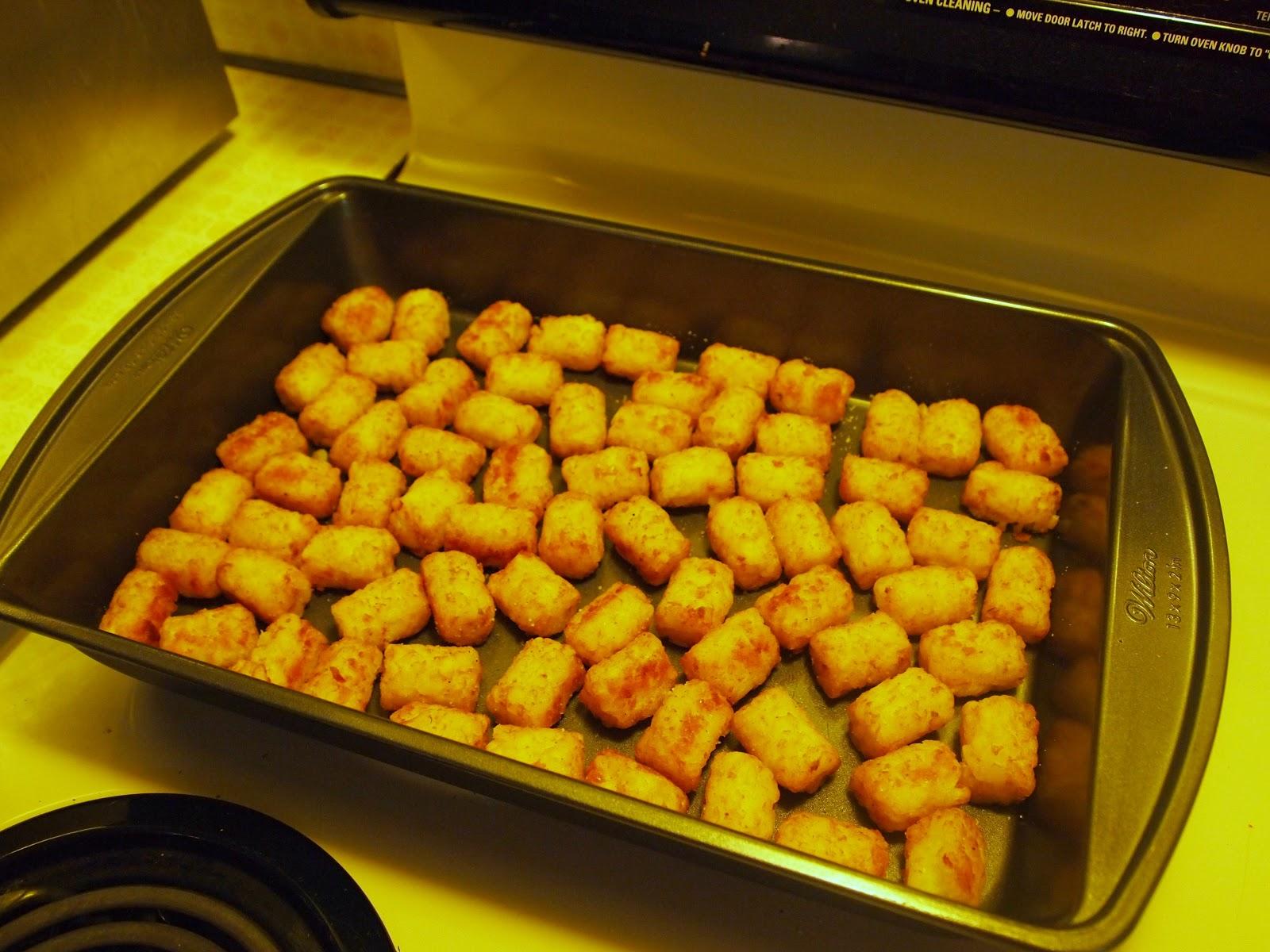 2) In a medium sized saute pan, heat up the olive oil. Add the onion and saute for about 2 minutes over medium heat then add the broccoli. Season with salt and pepper. Add the water and cover the pan to let the broccoli soften. Cook for about 5 minutes then remove cover and let water cook off the rest of the way over medium-high heat. Once water is gone remove onions and broccoli to a bowl and set aside.
3) Cook the bacon either in the oven or a frying pan. I like to bake mine since it eliminates some mess. I bake mine on two sheet trays in a 425 degree F oven until crispy. Once the bacon is crispy drain on a paper towel then crumble when cool enough to touch. Set aside.
4) In a large bowl crack the dozen eggs and add milk. Whisk until well combined like you're making scrambled eggs. Add the cheese to the eggs and whisk together. Set aside and begin the assembly of the casserole.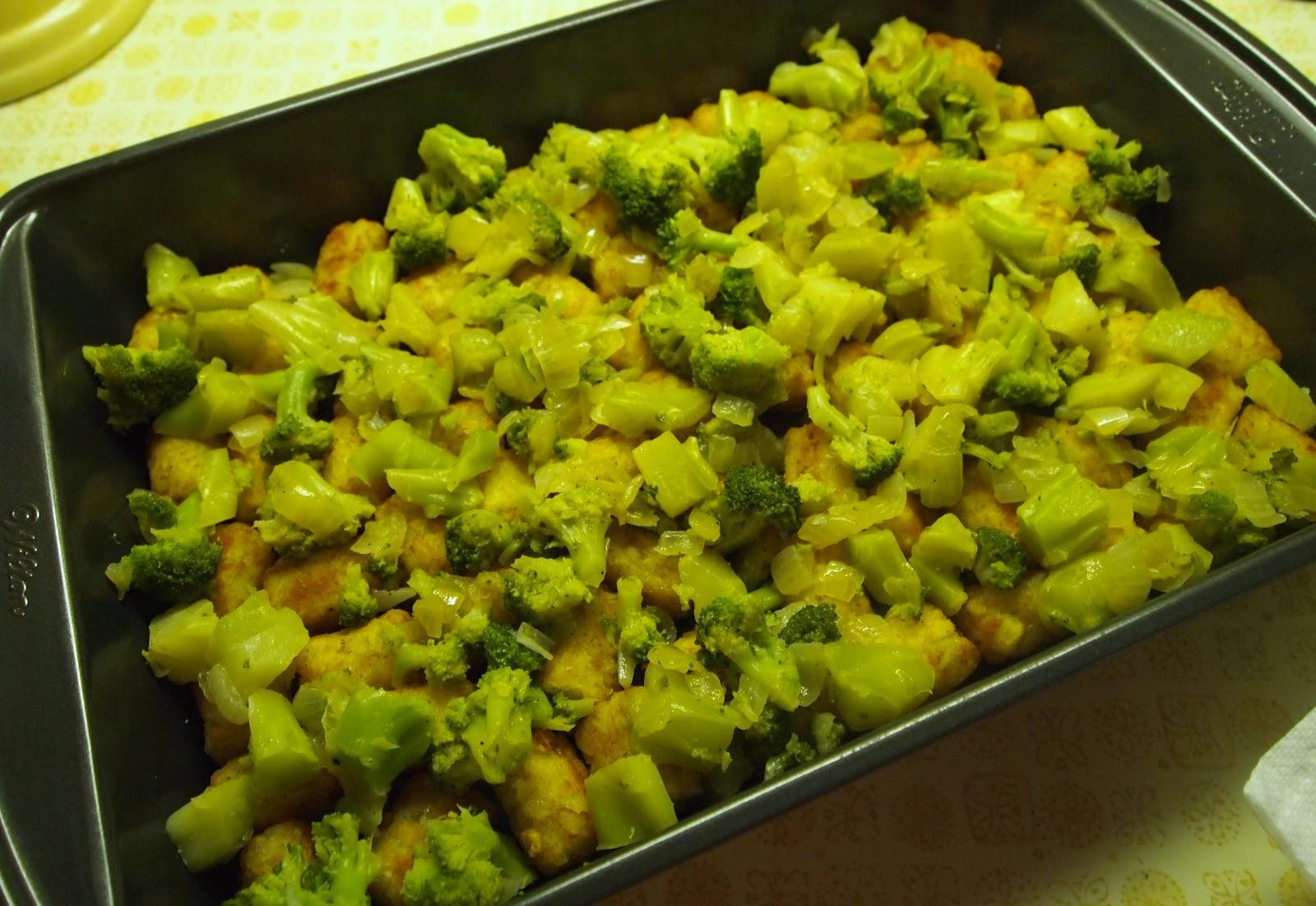 -Add the broccoli and onion mixture on top of the tater tots.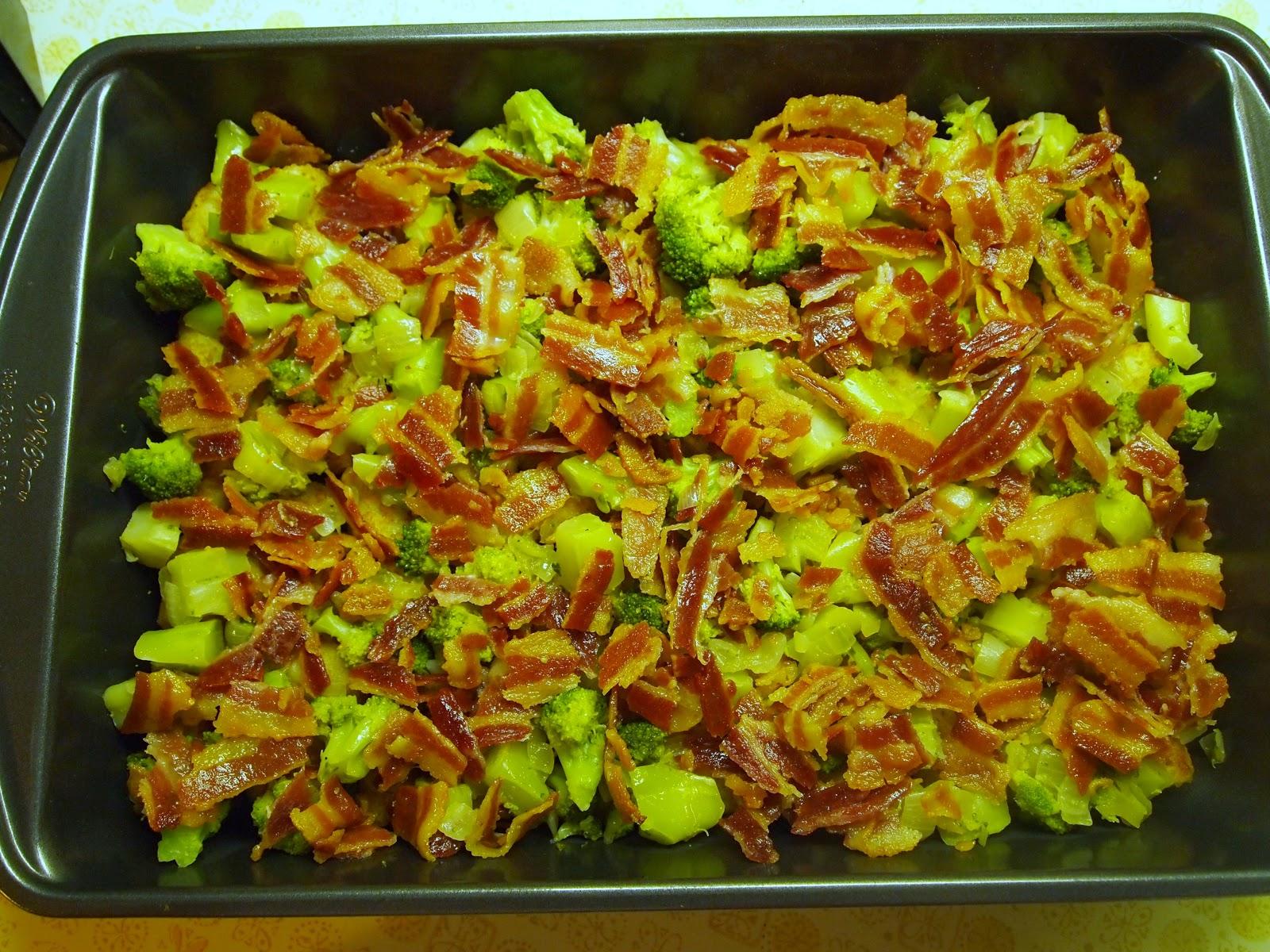 -Next sprinkle the bacon on top of the broccoli and onion mixture.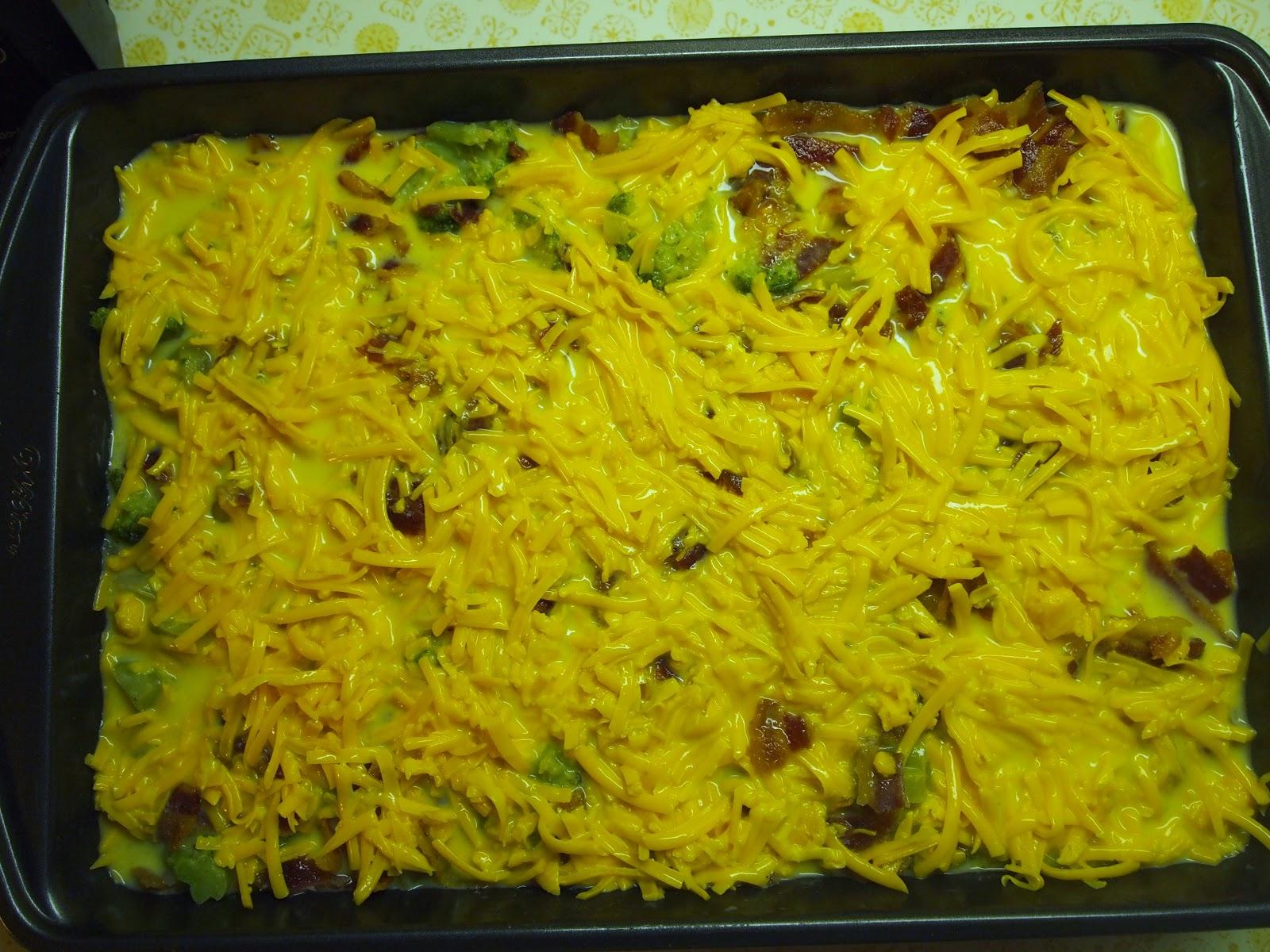 -Last pour the egg and cheese mixture over the top of everything. The cheese will settle on the top of the casserole.
5) Cover the casserole with foil and bake at 350 degree F for 30 minutes. Remove the foil and cook for an additional 10 minutes uncovered.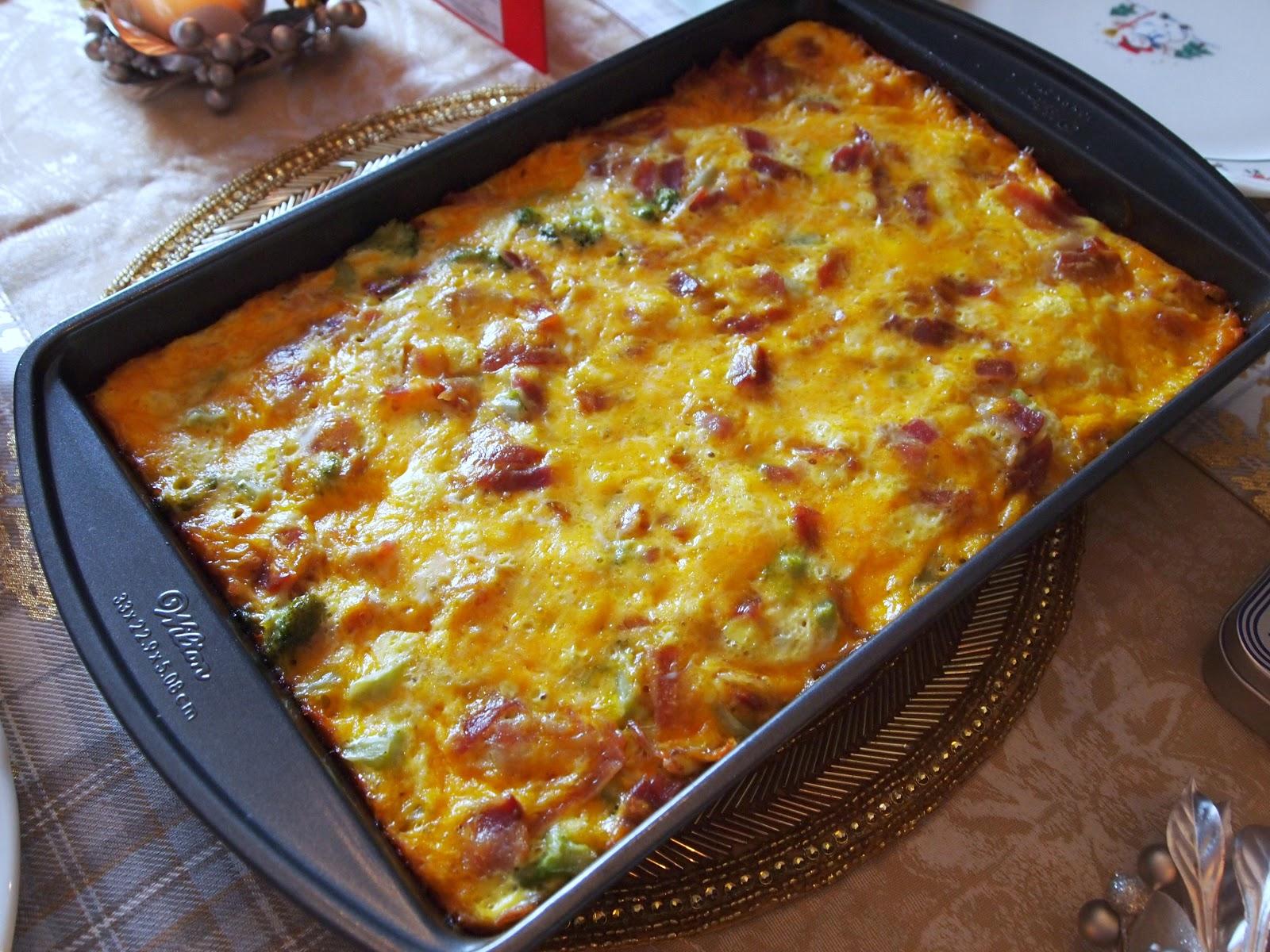 The cool thing about this is you can't even tell that it's tater tots. Everything cooks together and makes for a hearty, belly warming dish. I recommend making more that one casserole if serving a crowd..in this house that one pan only serves four! But in an "average" household it could probably serve at least 6. Like I said though, it makes amazing leftovers so even if you made too much it will get eaten!