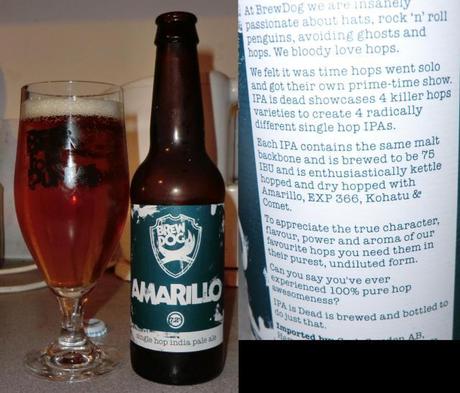 Brewdog : IPA Is Dead: Amarillo (2014 Edition) (Scotland: IPA: 7.2%)
Visual: Clear grain yellow. Small off white head and some carbonation.
Nose: Dried apricot. Light spice. Dry hop character. Good bitterness. Dried fruit sugars. Vanilla. Quite dry. Peppery.
Body: Dry bitterness. Peppery. Hop bitterness. Slight sharp orange juice. Apricot. Pineapple. Toffee notes. Passion fruit. Dry fruit notes and vanilla.
Finish: Spice rack. Wet feel. Orange juice. Light bitterness.
Conclusion: An interesting call back to last years IPA Is Dead range. As mentioned in the background below, last year's version had very heavy spice characteristics, which I did not question as they were known elements of the hop. This should give us a chance to find out what spiciness is part of the hop, and what was part of last years unfortunate recipe.
So, a chance to do over and set things right? Does it? Pretty much actually. It is still notably spicy with a peppery character, but it is nowhere near as dominant and the fruit is much more evident. You get a mix of dried apricot and a slight tart orange juice which gives the main characteristics of the beer. Along with the base body this means you get three carefully interlinked elements, the peppery spice, the fruit, and the subtle vanilla malt background.
It is worth taking another look at that last element, the malt character. This year's IID run has been notable for a very crisp style of the main body. Here the hop presence is so big that the crisp body is pretty much subsumed, and when you finally do get touches of the vanilla malt coming through it actually seems more noticeable, not less, because of this. I'm not sure why, possibly because only the heavier elements have a chance to get through it seems stronger.
Anyway, overall it is a hop that I have encountered a few times before in single hop form, so no real surprises, though it is enjoyable and well done. No shocks, good hops and good beer.
Background: 2014 Edition I hear you say. Yes you at the back. I hear you. Stop talking in class. Anyway, yes last year the prototype or the IID range was Amarillo. At the time I found it a positive sign, taking the heavily spicy character to be an element of the hop, which I had always encountered with some spice elements. It turned out, no this was present in the entire range, which made the 2014 IID run quite disappointing. As such I was intrigued to see what the 2014 take was like. Oh, yeah, nearly forgot the basics, this is part of a single hop range, same recipe for four beers each year, different hop. Oh and I am not unbiased on Brewdog beers.