When we were invited to sample the menu of Etihad Airways, I was expecting that they would be having us at an office setting. When our van took us into the MacroAsia Catering Services facility on the actual airfield of the Ninoy Aquino International Airport, my anticipation grew a hundredfold, as I knew we were in for a unique experience. Read more…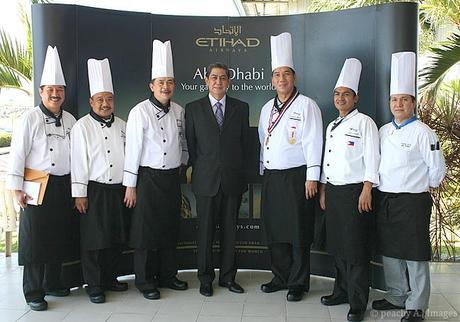 Etihad Airways (IATA: EY), established by virtue of Royal (Amiri) Decree in July 2003, is the national airline of the United Arab Emirates. Said to be the fastest growing airline in the history of commercial aviation, it currently operates a fleet of 57 aircraft and almost 1000 flights weekly that serve a network of 67 destinations in 45 countries. Its Abu Dhabi-Manila v/v flights, considered be one of their strongest segments, operates daily for a total of 12 times weekly and utilizes Boeing 777-300ER or Airbus 330-200 aircraft.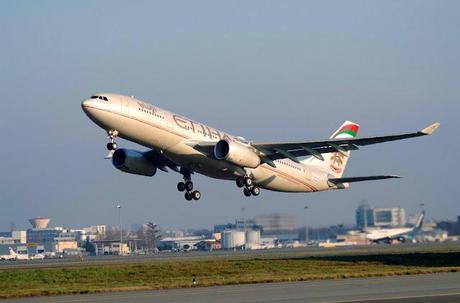 Etihad Airways was named the World's Leading Airline at the World Travel Awards in 2009 and 2010, while its Pearl Business Class was lauded as the World's Best Business Class by Skytrax in 2009. As their Country Manager for the Philippines Roberto Hukom would put it, "We only work with the best."
With a commitment to provide a world-class product, Etihad Airways struck a partnership last December with MacroAsia Catering Services, an affiliate of renowned Singapore firm SATS. They currently handle more than 60% of the airline catering business in the country.
Before we sampled Etihad Airways' inflight food, our friends from MacroAsia Catering Services gave us a tour of their facility. Under stringent sanitation guidelines, we walked through their fascinating production line from the delivery of ingredients to the preparation of the food for delivery to the different airlines. It was a mind-nourishing, unforgettable experience that unfortunately we were forbidden to share in photos due to confidentiality.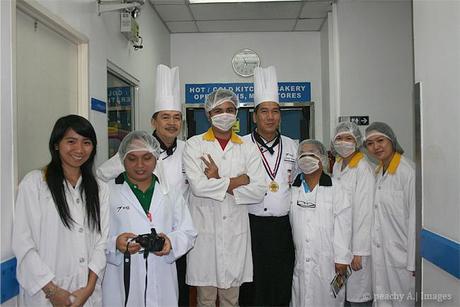 After a short program, we sampled the food that Etihad Airways serves their Pearl Business Class passengers on their Manila-Abu Dhabi flights, as masterly crafted or adapted by the award-winning chefs of MacroAsia Catering Services.
Their impressive Pearl Business Class gourmet menu includes a cheese plate; Arabic mezze with kibbeh and fattayer; beef rib-eye steak in Panini bread; hot smoked salmon creole with vegetable galette; fresh omelet and chicken sausage; beef tenderloin Angus with sun-dried tomato and beef jus; chicken braised in Arabic spices; pan-seared parrot fish escabeche; seasonal fruits with pineapple coulis; and white chocolate cheese cake.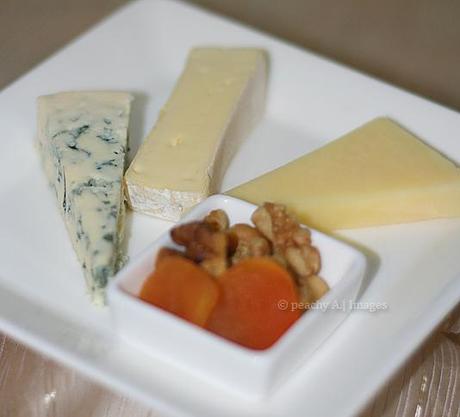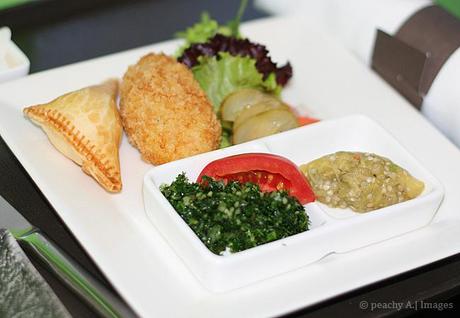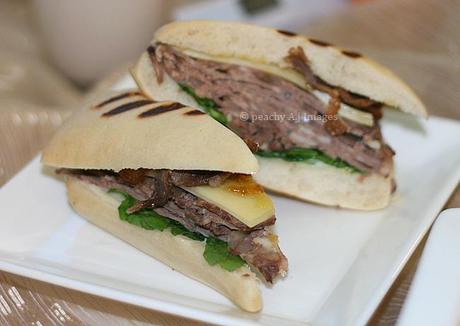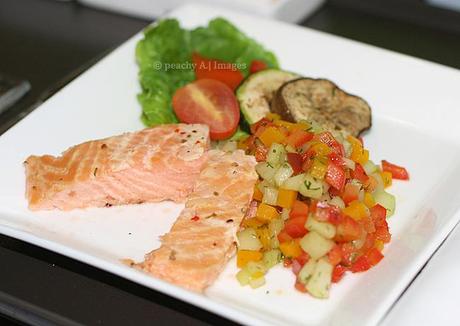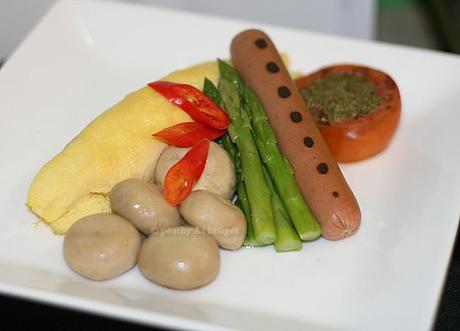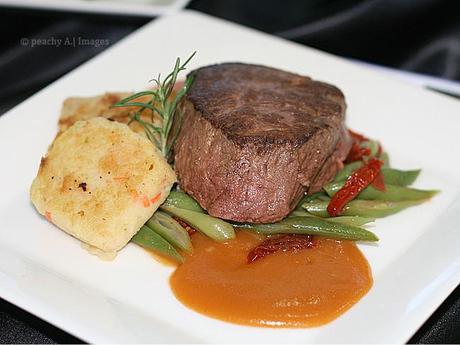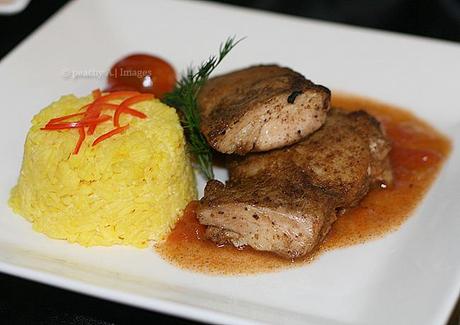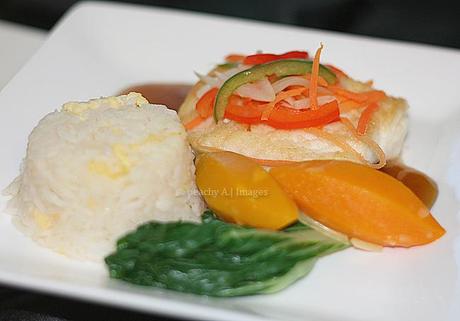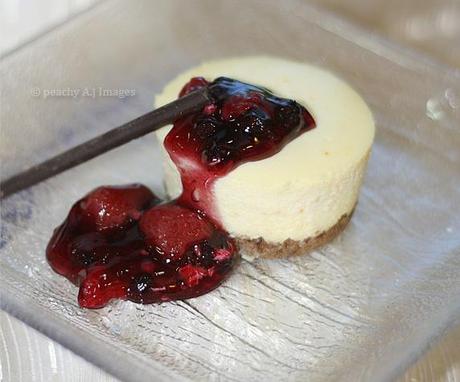 Likewise in their menu are butternut pumpkin soup with crouton; Mediterranean vegetable pie, bagel with smoked salmon, fresh cream yogurt with berry ragout,
foul medames
with lamb
kofta
, beef
tapa
, apple cinnamon pancake, and Haagen Dazs Ice Cream with
tuille
arch.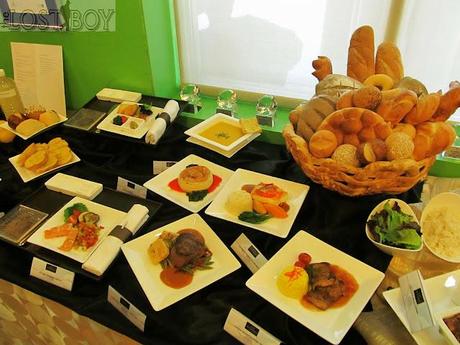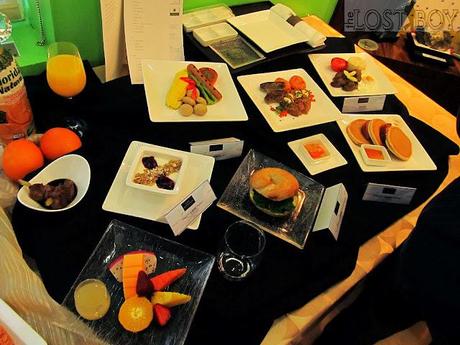 We meanwhile tried an array of other food that are part of the Etihad Airways menu, among them appetizers, salads, chicken skewer with teriyaki sauce, breaded stuffed shrimp, nasi goreng, ginataang monggo, ginataang mais, champorado, and chocolate bread pudding.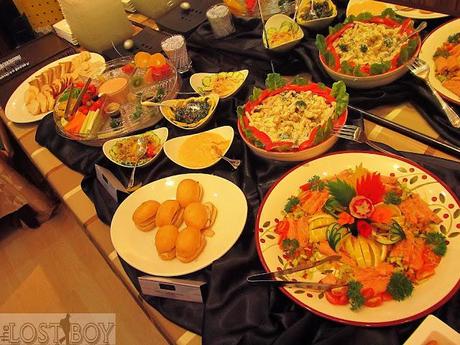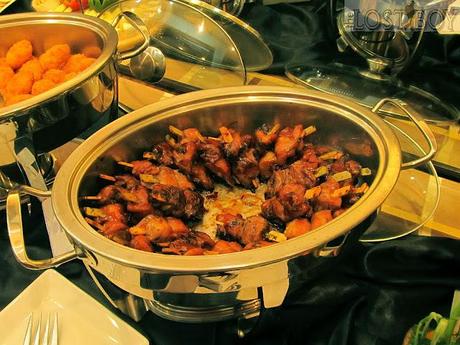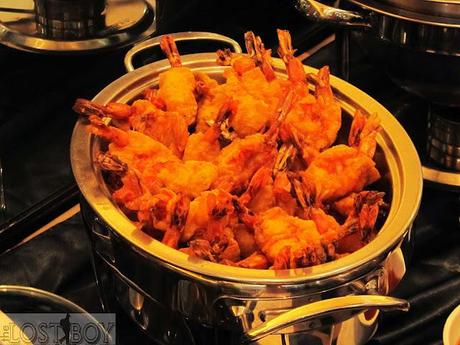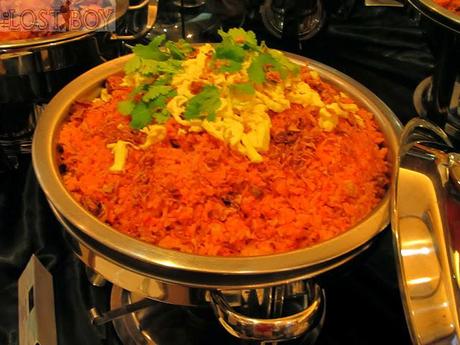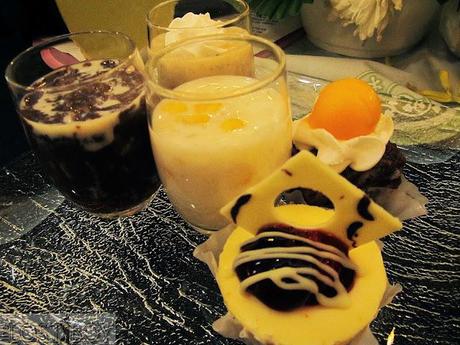 After tasting everything, I went to one of the chefs and complimented the entire spread they prepared for us. I was so impressed that I said their food is better than a lot of traditional catering services. Sadly however, I was told that they could only cater airlines at this time.
Aside from impressive meal service, Etihad Airways' Pearl Business Class features a seat that converts into a fully flat bed. The new advanced seats now have a wider 1-2-1 configuration and include larger meal and cocktail tables; luxurious leather headrests, armrests and ottomans upholstered by Poltrona Frau; ambient lighting with dimmer settings; and a state-of-the-art Panasonic eX2 inflight entertainment system with a 15.4 inch personal screen.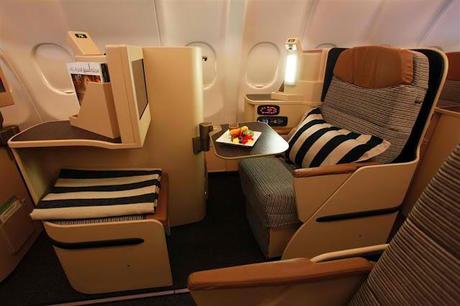 With state-of-the-art amenities, topnotch Arabic hospitality, and a great menu selection, I know I must experience Etihad Airways' Pearl Business Class one day.
Many thanks to the gracious management of Etihad Airways (Philippines) and our warm friends from MacroAsia Catering Services. Some photos above were used with kind permission from Peachy Valderrama-Adarne of The Peach Kitchen.