Agartha's Taste of Uganda Tour is fun, educational and perfect for the inquisitive visitor who wonders how a rural Ugandan lady lives. Spend half an hour or more with Agartha and see how locally grown millet is transformed into porridge and bread.
Grind it, sip it, get involved!
I'm a big fan of community tourism and this one's a winner -an award-winner in fact.As well as being an authentic cultural experience, Agartha boasts arguably the funkiest toilet between Bwindi and Queen Elizabeth National Park! It's a long drive between the two parks and a quick stopover at Agartha's is a perfect place for stretching the legs and drinking some refreshing bushera millet porridge. Agartha's hut is a cool place to sit and sample local life.
A typical day on Agartha's Taste of Uganda Tour
Visitors are welcomed to Agartha's homestead where you will be invited to sit inherbeautiful grass-thatched hut. Here she takes great pride in sharing how the women of her tribe, the Bakiga, prepare their favorite food.  Hear how the ingredients are grown and harvested and witness how to shift, grind, cook –  and most importantly – keep the food warm for their husbands and children.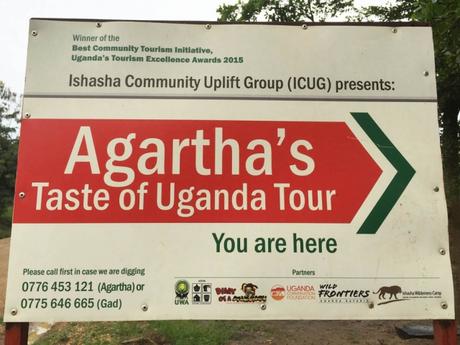 The approach is always dusty. It's a typical village setting – of bicycles, jerry cans, young children and the occasional boda boda. There are few cars here.
Agartha demonstrates how local women treat dry millet, one of the community's staple foods. She spreads the freshly picked millet in a large flat basket in front of us and works the seeds with her feet, separating them from the stalk. (Agartha has some good dance moves!)
The next part of the process is called winnowingand involves using a wide woven basket to gently throwthe grains into the air to let the dry husks blow away. Agartha may invite you to have a go! Next, we are invited to pound the millet with a dry stone to dehusk it. Not as easy as it looks!
The hard work of grinding out of the way, Agartha mixes the millet flour with hot water to make a porridge. (Most Ugandans will add lots of sugar to the mixture as well). Now for the best part: we sip porridge from traditional gourdsand munch on soybeans and ground nuts.
Agartha explains that the Bakiga wife must keep the porridge warm for when the husband gets home from the bar(!) Millet porridge is also the first meal a woman receives after giving birth. Millet is high in iron, which helps with the lactation process.
Chatting with Agartha and sampling millet porridge gives you an interesting insight into everyday life of a Bakiga woman. Three children walk past the open door as we chat. The young girl carries a woven shopping basket. The boy carries a hoe. He is only nine or ten years old. The youngest boy, who can be no more than five, tries to balance a machete on his head. Ducks waddle past the front door.
Agartha and her family live on the edge of Queen Elizabeth National Park, near the Ishasha Sector.  The talented Agartha is a craftswoman, tailor and an organic subsistence farmer. She is also the Chairperson of the local community group.
How long does Agartha's Taste of Uganda Tour take?
You can take part in Agartha's Taste of Uganda tour any time of the day (strictly by prior arrangement). The tour lasts 30 to 45 minutes and is adjusted according to the time you have available. (Do tell Agartha how long you would like the tour to take when you arrive).
How much does the tour cost?
Agartha's Taste of Uganda tour costs $15 per person.  Payments can be made in advance through Wild Frontiers or at Agartha's. (If you pay on site, please make sure you get a receipt).
Where does the money for the tour go?
A portion of the funds generated from this tour goes to the host family, some to Ishasha Community Uplift Group to develop local projects, and the remainder into a well-established Savings and Credit Scheme (SACS).
Thanks to this project, the community group has laid pipes to provide clean water. This replaced the labour-intensive task of fetching water (on foot) from the central village pump a distance away. The members have also initiated an amusingly named 'Goat Gifting Project.'Here the tourism revenue was used to buy a female goat and the first of the goat's offspring gifted to a neighbor, who in turn commits to gifting their goat's first offspring and on and on it goes. To date, over 100 community group members have benefitted from the Goat Gifting Project. The plan is for every family in the three participating villages to receive one goat.  Once the first offspring has been given away, the family keeps the mother goat and all subsequent offspring (she may produce twice a year and often twins). Goats are easy to look after and bring welcome revenue to the family.
Capital raised is now being invested in pilot business projects. Each member of the Savings and Credit Scheme is encouraged to save a small amount of money on a regular basis. Cash loans may be approved for those who are judged to be able to pay the loans back. A nominal interest rate is charged to provide funds for further lending.
Core members of the scheme have been taught bookkeeping skills to keep this initiative transparent.
When the Savings and Credit Scheme started, members used small loans to rent land for farming. Within just two years, many had bought land by accessing the larger loans boosted by the tourism revenue!
Can I just rock up at Agartha's when I'm driving through Ishasha?
No. Agartha is a working farm so you need to book at least two days in advance (even if you just want to make use of the toilet!)  Reservations can be made by phone or email or via your tour operator.
How can I book?
Call Elizabeth at Wild Frontiers on +256 772 721 155 or email [email protected]
Or call Agartha directly on +256 777 216 853.
If you're calling Agartha directly, do make sure the agreed date and time are repeated back to you to avoid misunderstandings.
How to get to Agartha's
Agartha's Taste of Uganda Tour is on the main road between UWA Ishasha park gate and Kihihi. Look for the signpost in the trading center of Upper Kazinga, Rusorooza Parish, Kihihi sub-county.
Have you visited Agartha's? Tell me what you think. I think it's a brilliant project!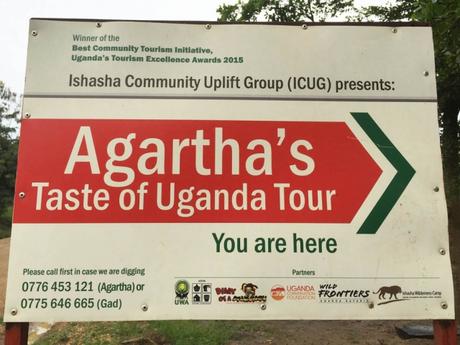 LINKS
Bwindi Impenetrable national park
Queen Elizabeth National Park