Tarte has created a new eye liner that combines a few of my favorite things! It is the Egyptian Kohl Waterproof Liner. Kohl liners are so amazing for their insanely creamy and highly pigmented formulations, but usually they are only in a pencil-like form. Tarte's version comes in a pot just like a gel liner and is intended to be applied with a brush. I love the control that a gel liner provides, so having these two elements combined into one product, I just HAD to try it!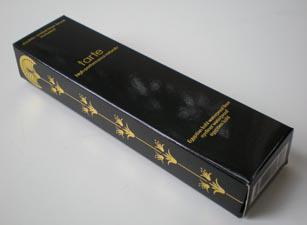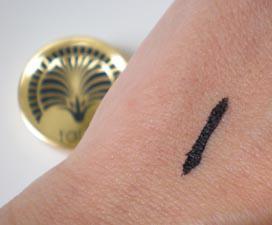 Tarte's Egyptian Kohl liner is SO soft and creamy. Be careful dipping a brush into the pot because it does not take much pressure to get a decent amount of product on the brush! The texture makes for beautiful application without tugging, dragging or skipping and it creates a beautiful, dark, opaque black line. The color is, as expected from Kohl, the blackest of blacks. I like it best for lining the rims of my eyes – both top and bottom. If I use it on my lash line, I tend to line very close to my upper lashes and use something a bit less extreme on my lower lash line for the day time. This liner is perfect for a more dramatic smoky eye or an evening look. The Kohl liner sets faster than anything else I can think of – you can open your eye immediately without transferring the fresh liner – while still allowing time for smudging before being completely set. Do be careful with the placement though because once it is on, it will not remove completely without makeup remover. After a few minutes, I have not noticed any smudging, smearing or transferring, however I do notice it transfers to the crease of one of my eyes after a while. Why just one eye? One of my eyes seems to be much oilier than the other. The less oily eye has not had any transferring issues, so if you have normal to dry lids, you will probably not have much in the way of problems. If your lids are more on the oily side, you might be wary of using the Kohl liner on your lash line. Despite this annoyance on one eye for me, Tarte's Egyptian Kohl Waterproof Liner is definitely worth trying on the inner rims for anyone, or if you have normal lids and are looking for a super soft and creamy, ultra-black eye liner you might want to check it out.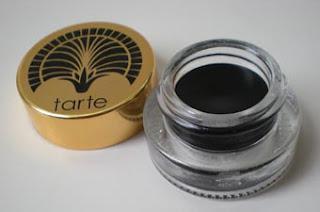 Just a bit more on tight-lining the inner rims of eyes which I find the most impressive aspect of this liner. My favorite thing to use before this was Urban Decay's 24/7 Pencil, but I found that it did transfer a little bit and was not as pigmented or creamy as I ultimately like. Don't get me wrong, Urban Decay makes great liners and I still use them on my waterline at times…not to mention the amazing shade range available! But now that I have tried Tarte's Eqyptian Kohl Waterproof Liner, I have found a new favorite liner for the water line! It does not seem to irritate my eyes at all—always an issue when putting liner that close to one's eye. I would say my eyes are a tad more sensitive than average, but not what I would consider to be easily irritated. What impressed me most was that immediately after applying the liner to my upper rims (tight lining), there was NO transferring! Every other eye liner I have tried has at least a little bit of transferring if I do not prop my eyes open with toothpicks for a minute or two before blinking – both with the upper rim transferring to the bottom rim and vice versa. Not so here. I also have noticed little to no traces of flaking into my eyes or collecting in the tear duct area either. This stuff really does seem to stay put and I would say it is definitely VERY water resistant, if not waterproof. I actually fell asleep with it on one night and it was still there, though not quite as dark, the next morning and throughout most of the next day (not a recommended practice, but we all can be lazy some nights!). Though perhaps a bit extravagant just for lining the inner rims of eyes, this stuff is so amazing that I am quickly becoming a huge fan!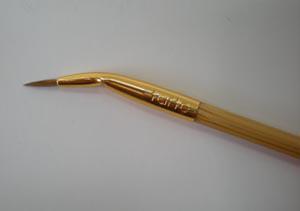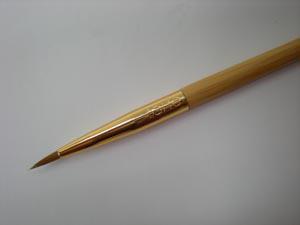 Tarte's Egyptian Kohl Waterproof Liner comes in a pot like most gel liners and is distinguished by its gold screw top. A dual-ended brush is also included for application. Unlike many brushes that come with products, Tarte always seems to do a pretty good job and the Kohl liner brush is no exception. It is nice a thin for creating a thin line that can be built up as thick as one desires. The other end is also thin, but the handle is angled to make lining the inner rims of the eye, or the waterline, much easier. Both ends work quite well, the bristles are soft and I have not had any issues with shedding bristles. The lid of the Kohl liner seems to screw on nice and tight, but I have not had it long enough to really test how long it lasts before drying out.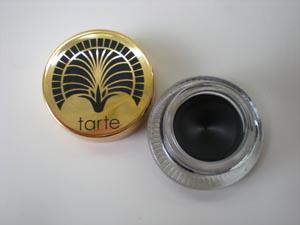 Overall, I would say this is an incredible liner, though it is not terribly oil-resistant. If your lids are normal to dry, it is definitely worth a try if you want a super creamy, opaque, dark black gel-like liner. If you are looking for the perfect tight-lining liner, this is amazing! I suspect this works quite well even for you sensitive eyed girls out there. If you have eye lids on the oilier side, you might want to skip using this as an upper lash liner, but that is really the only fault I can find with this liner so far.
As far as I know, Tarte's Egyptian Kohl Waterproof Liner is currently only available from QVC.com and retails for $22.00 plus shipping. You should be able to find it here.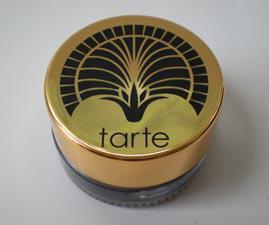 To see an overview of Tarte Cosmetics and their Animal Testing Policies, check out my post here.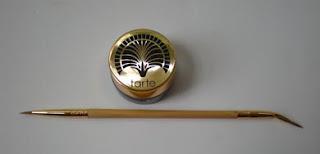 Disclaimer: I am not affiliated with Tarte Cosmetics in any way, nor have I been compensated for this review.