by Skylar Simmons / Earth First! Newswire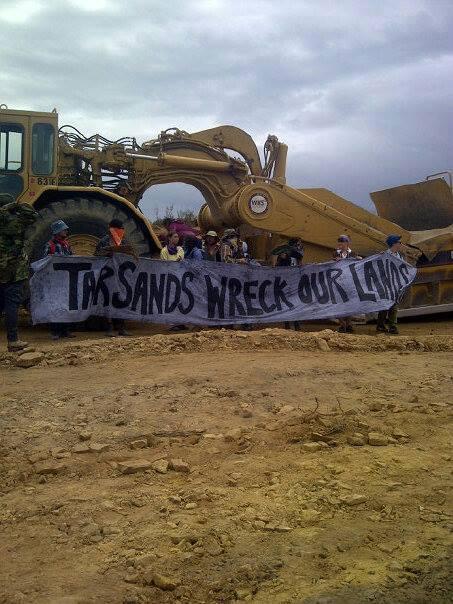 The past year has seen an impressive escalation against the Keystone XL (KXL) pipeline and the Canadian tar sands industry which the pipeline is meant to serve. From indigenous protesters with Idle No More blocking highways leading to tar sands mines in Alberta, to the Tar Sands Blockade repeatedly shutting down the construction of the southern leg of the KXL in East Texas, to over 1,000 people getting arrested in front of the White House to oppose the pipeline, it is clear that the thought of building massive new fossil fuel infrastructure in the era of catastrophic climate change strikes many people as a really, really bad idea.
With so much focus on blocking the Obama administration's approval of KXL, the US public has largely missed the fact that oil companies and multiple state governments are quietly paving the way for a massive tar sands extraction industry right here in the US.
Utah
While the general public may be unaware of the up and coming domestic tar sands industry, a small but dedicated group of activists in Utah have been fighting proposed tar sands mines for years. Just this past October, US Oil Sands broke ground on a 200 acre tar sands test mine on the Tavaputs Plateau in southern Utah. While the company is still a ways off from actually extracting oil (they hope to be commercially producing by sometime in 2014) they have already installed roads, cleared land, and built up mine infrastructure.
Meanwhile, groups such as Utah Tar Sands Resistance, Canyon Country Rising Tide and Earth First! have been organizing grassroots resistance and direct actions to defend the mesas and canyons of southern Utah from the destruction of the oil extraction industry.
In February of 2012 Earth First! activists paid a visit to the School and Institutional Trust Lands Administration (SITLA) offices, which is in charge of leasing the land for US Oil Sands' test mine. Protesters descended on the building, spilling simulated "oil" on the grounds and chalking "Hey SITLA: Tar Sands Outta Utah!" A few months later Utah activists stormed a tar sands investors conference held at the University of Utah, shouting at potential investors and disrupting a presentation. Police removed protesters carrying signs reading, "Your Investments are Death."
And in a bit of foreshadowing of actions to come, in April of this year a dozen masked activists in HazMat suits walked onto the US Oil Sands mine site and took pictures of themselves on the company's machinery. The activists released a statement aimed at the company CEO Cameron Todd.
Dear Cameron Todd,
Fighting the toxic stench of chemicals and exposed tar, people entered your tar sands test pit this weekend. The raid was to expose tar sands' awful destructiveness and demonstrate resolve against your dangerous project, the first proposed tar sands mine in the United States.
Be advised Cameron, a summer of work stoppages will lead to declining investor confidence (as if you have any investors!). You'll be drowning in debts and filing for bankruptcy for your little corporation US Oil Sands, a company so dishonest its name lies twice: "US Oil Sands" is a Canadian corporation that doesn't sell oil!
Give up now. Leave this land.
Love,
Utah Tar Sands Resistance
Unfortunately the prospects for tar sands mining in Utah and adjoining states are far more expansive than US Oil Sands' 200 acre mine. The company alone has leased 32,000 acres of public lands for mining. And the Bureau of Land Management has proposed opening 800,000 acres of public lands in Utah, Colorado and Wyoming to tar sands and oil shale extraction. The US Geological Survey states the area contains between 353 billion and 1.146 trillion barrels of oil with "high potential for development,"—that is two to seven times as much as Alberta's 170 billion barrels.
The BLM's own Environmental Impact Statement admits that tar sands mining would "completely displace all other uses of the land" and the impacted areas would be "…contaminated with carbon monoxide, nitrogen oxide, sulfur dioxide and other pollutants, while air close to the site could be contaminated with benzene, toluene and formaldehyde. More than 100,000 acres of wilderness-quality land could be industrialized, construction of reservoirs would alter natural streamflow patterns, hydrocarbons and herbicides could cause 'chronic or acute toxicity' in wildlife and habitat for 20 threatened or endangered species could be lost."
Kentucky
Meanwhile in western Kentucky, a state that is no stranger to the devastation wrought by fossil fuel extraction, Arrakis Oil Recovery of Evansville, Indiana has joined forces with a Canadian company called Archer Petroleum to begin mining tar sands as early as the fall of 2013. The 103 acre mine has already received a permit from the Kentucky Department of Natural Resources and Arrakis is awaiting approval of another permit for a 154 acre mine.
Similar to mountaintop removal mining, tar sands extraction often entails the burying of streams with mine waste. Arrakis has applied to the Army Corps of Engineers for a permit to fill in 3,057 linear feet of ephemeral streams and 1,542 linear feet of intermittent streams as well as a small amount of wetlands and open water. The company has already managed to destroy wetlands during prep work before even getting a permit from the Corps (for which they are naturally applying for a permit retroactively!).
According to Mike May, a professor of geology at Western Kentucky University, the state sits on upwards of 6 billion barrels of oil that could be extracted through "unconventional means" such as tar sands mining.
Alabama and Mississippi
As if the picture wasn't already grim enough, this summer the governors of Alabama and Mississippi announced the signing of a "memorandum of understanding" to commission the assessment of tar sands resources in an area known as the Hartselle Sandstone, which stretches from north-central and northwest Alabama into northeastern Mississippi. According to the most recent estimates this formation may hold as much as 7.5 billion barrels of oil. Interestingly the Canadian government appears to be actively encouraging the development of tar sands in these two southern states. Last year, the Canadian Consulate General in Atlanta and the Alberta government hosted Southern States Energy Board members and geologists from Alabama and Mississippi for a series of meetings and tours highlighting the tar sands operations in the province.
Resistance Grows, From Here to… Estonia?
While the prospects of a tar sands industry taking root in the US are truly frightening, there is reason to hope that we can stop this beast before it gets a foothold. Following an anti-tar sands action camp in late July, hundreds of activists from Canyon Country Rising Tide, Earth First!, Idle No More, and the Lakota and Dine tribes simultaneously occupied two sites on US Oil Sands' inaugural mine. The action successfully shut down work for the day with people jumping in front of moving mine vehicles with banners reading "Respect Existence or Expect Resistance" and locking down to equipment. Apparently hoping to avoid unwanted attention, US Oil Sands did not have any of the protesters arrested. The day after news of the protest broke, the company's stock reportedly fell by 13%.
While these oil companies have major ambitions for a domestic tar sands industry, they face many hurdles and are taking a cautious approach. It is clear that they are testing the waters to see if the operations are financially viable. Both the Kentucky and Utah mines are relatively small, 100-200 acres. Though US Oil Sands announced in September that they finally raised $80 million from Blue Pacific Investments Group Ltd., Anchorage Capital Group, LLC, and Spitfire Ventures, LLC to fund phase one of their PR Springs Mine in Utah, investors have been slow to throw money at the project. In their Second Quarter Report of 2013, US Oil Sands acknowledged that the project was being held up due to a lack of capital.
In other encouraging news, Eesti Energia, an Estonian state run oil company which is also eying Utah for tar sands mining, appears to be running into its own roadblocks. According to the Estonian newspaper Eesti Express, the CEO of Eesti Energia has privately confided that the tar sands project is taking longer than expected and when the company conducted their latest tar sands processing test, the results were "not promising" according to an internal company document. Estonian Prime Minister Adnrus Ansip is even under fire from opposition parties over the project, noting that if the venture fails the country stands to lose $100 million.
In addition to grassroots direct action, a number of mainstream environmental groups have launched a concerted legal fight against tar sands mining in the US. The Grand Canyon Trust, Living Rivers, Southern Utah Wilderness Alliance, Rocky Mountain Wild, Biodiversity Conservation Alliance, the Center for Biological Diversity and Sierra Club have all joined forces to sue the BLM in an effort to stop the development of tar sands on western public lands. And several of these groups have also appealed the State of Utah's approval of US Oil Sands proposed tar sands refinery in Green River, Utah. Establishing a facility capable of refining tar sands in close proximity to the mines is another essential component to making this risky venture financially viable.
The US tar sands industry is particularly vulnerable right now. There are only a handful of mines that are currently permitted, and it appears that only two have begun any on-the-ground construction. There are currently no tar sands mines in the US that have made it to the commercial production stage. And the vast majority of the companies attempting to extract tar sands in the US are small start-ups, many of whom appear to be on shaky financial ground. Through concerted organizing, lawsuits and direct action, it is possible that activists can make operations for these vulnerable corporations a financial loss, scaring away investors and ultimately stopping these bastards.
Companies Involved in US Tar Sands Extraction:
Arrakis Oil Recovery – Mining tar sands in Kentucky
329 Main St #801
Evansville, IN 47708
(812) 867-1433
Archer Petroleum—Mining tar sands in Kentucky
490-580 Hornby Street
Vancouver
BC
V6C 3B6
US Oil Sands Inc.—Mining tar sands in Utah
Suite 1600, 521 3rd Avenue SW
Calgary, AB T2P 3T3
Spitfire Ventures LLC.—Investor in US Oil Sands Inc.
10101 Reunion Pl Ste 1000
San Antonio, TX 78216-4157
Anchorage Capital Group LLC—Investor in US Oil Sands Inc.
200 Bellevue Parkway Suite 170
Wilmington, DE 19809
American Sands Energy Corporation—Mining tar sands in Utah
4760 S. Highland Drive, Suite 341, Salt Lake City, UT 84117
Canadian Consulate, Atlanta Office—Providing technical support for developing tar sands in the US
1175 Peachtree St NE
Atlanta, GA 30361
University of Utah's Energy & Geoscience Institute—Major research hub for tar sands extraction
423 Wakara Way #300
Salt Lake City, UT 84108