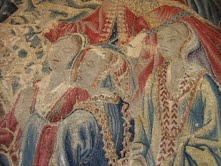 The word tapestry is derived from the French word 'tapisserie', meaning 'to carpet or cover with heavy fabric'. Tapestry is the art of weaving on a vertical loom. Two sets of interlaced threads are used in tapestries; the warp thread, running parallel to the length, and the weft thread, running parallel to the width. The famous architect Le Corbusier termed tapestries as being 'nomadic murals'.
The art of tapestry weaving has existed from the heyday of the Greek civilization, approximately from the 4th century BC. Relics of that period have been preserved up to this day and many others are still being unearthed in many parts of the world. It was during the 14th century that the art of tapestry gained popularity around Europe, roughly corresponding to the end of the Middle Ages and the beginning of the Great Renaissance.
The initial wave of tapestry weaving began in Germany and Switzerland and spread to the Netherlands and France in time. By the 15th century, the French town of Arras in France became a popular textile town and was known for producing tapestries on fine wool. Gold threads were woven into these tapestries and during the French Revolution, much of these were destroyed to extract the gold thread. But Arras still remains popular for its contribution to the art of tapestry. Any tapestry with rich working at the time was referred to as Arras despite where it was spun.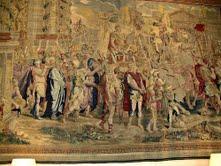 By the 16th century, places like Flanders and Brussels had become the center of tapestry production in Europe. The Jacquard loom, a mechanical loom invented in the 19th century, revolutionized the art of tapestry.
One of the advantages of tapestries was its portability. They were used as decoration in castles and in the homes of many noblemen. They were also used in churches as decoration during special events. They also proved to be effective as insulation during winters. Tapestries for castles were woven infusing symbolic emblems and mottos and were hung behind the throne, to assert the authority of the ruler. Normally, weavers turned to mythological epics like Ovid's 'Metamorphoses' for inspiration. Even passages from the bible were transformed into images for tapestries.
The basic tools in tapestry weaving remain very much the same as those used in the 14th century, despite the enormous advances in technology in the following centuries. Over the last few decades, tapestry has been resurrected as being one of the fine arts.

Fabric art-nethaat