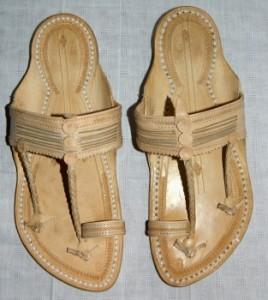 Leather work is a widely prevalent craft in India and has been here for many millennia. As early as 3000 BC, the art of leather tanning had reached its peak, during the Indus valley civilization. Skins of deer and tigers were widely used for leather work. These animal skins were used to make mats, which were very commonly used, especially by many sages and ascetics.
Leather products made in India
Although Indian people used leather to make clothes, bags, caps, armor etc in the olden times, their main contribution has been in the footwear line. In many ancient Indian texts, the use of leather has consistently been referred to. Leather products fromIndia were famous worldwide for many centuries and still remain so. In rural India, hide from cattle and camels is used to make leather products. Also other articles like wallets, handbags and pouches are made from the skins of snakes and crocodiles. Even armor in the ancient times was made using animal hides.
Leather footwear and other prominent products
The variety in Indian leather products varies from region to region. The state of Maharashtra, for instance, is known to produce kolhapuri chappals, which are known to be extremely comfortable, flat soled footwear. Rajasthan is also known for its footwear products, which are called Mojadi or Lutti. Various eye-grabbing designs are created by embroidering, punching, studding and stitching the leather. The most popular centers of traditional Indian footwear are Jaipur and Jodhpur. Bikaner is known to also produce Kupi, a bottle made from camel hide. Camel hide is also used in making lampshades and lamps, which are decorated with various figures and floral designs.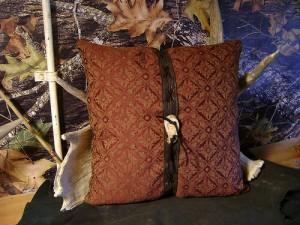 States like Kashmir and West Bengal are famous for ornamental and decorative leather products. Geometric patterns and traditional designs are used in these crafts for decoration. Gold and silk embroidery on red leather is one of the specialties from Madhya Pradesh. Also other places likeGwalior,Indore, Dewas and Bilaspur are popular for bags and footwear products.Punjab is known for its excellence in producing appliqué work in leather.  Karnataka is famous for its leather products painted with scenes from ancient mythological tales. Leather is also used in book binding nowadays.
Leather craft in modernIndia has become a huge industry, catering not just to the home market, but also to international consumers. India exports both utilitarian and decorative leather items like footwear, toys, wallets, belts bags, pouches, lampshades, jackets etc. to international markets in large quantities.