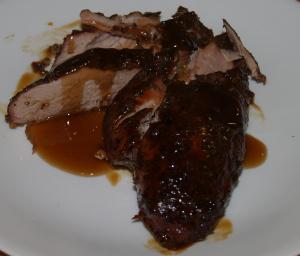 Tangy Glazed Pork
A few weeks ago, I went to the freezer and noticed I had 2 pork loins about to expire. I made Chili Verde with one, which I posted and was featured on Weekend Potluck # 15. I didn't know what to do with the other one. I cruised over to The Country Cook on Facebook and posted a request for her best pork loin recipe. When she responded, she gave me a link directly to a recipe from The Church Cook. I clicked on the link and copied down the recipe. Then I looked through the site and discovered that The Church Cook is from South Korea – this is a plus in my book because my grandson is ¼ Korean, and anything related to my little Prince Andrew, is good in my book. Another plus was the tremendous number of positive comments she had after each recipe.
I read the recipe, following it along exactly.
In the meantime, my mother called. She lives in an independent senior apartment complex where her two best friends also reside. Their names are Doris, Peggy, and Joan. Can you guess who each one was named after? Doris Day, Margaret Lindsey, and Joan Crawford. Doris (my mom) was a Medical Technologist for 40 years, Peggy a High School Home Ec. Teacher for 35 years, and Joan was a long-haul truck driver with her husband for 35 years. They are all widowed.
I told her I was making a pork loin and some rolls that I would bring to her later and to ask Peggy what they should make to complete the meal. I and Mr. Picky tasted it prior to sending it over. We both determined that it was delicious.
Fast forward to this past Monday where I got a call from mother telling me she had dropped off a pork loin at the house. I told her that she did not have to repay me by bringing a replacement because I had to cook the meat anyway. She let me know that they were not repaying me, they were asking me to make another for them! They told me the three of them ate the entire loin in one sitting and that it was delicious, so delicious they had all been craving it. Then she wanted a date that I would be bringing it over.
Tangy Glazed Pork
Here are the ingredients you will need: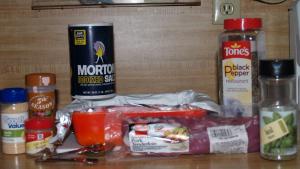 2 teaspoon rubbed sage
1 teaspoon salt
1/2 teaspoon pepper
2 cloves of garlic crushed (I used freshly minced garlic since 12 loins needed to be cooked)
1 (5 pound) boneless pork loin or pork roast of choice
Sauce
1 cup sugar
2 tablespoon cornstarch
1/2 cup vinegar
1/2 cup water
4 tablespoons soy sauce
Preheat oven to 325 degrees F.
Bring your pork to almost room temperature before baking.
In a bowl, mix sage, salt, pepper, and garlic, thoroughly and then rub all over the pork roast. Cook in an uncovered roasting pan on the middle oven rack for approximately 3 hours or until a meat thermometer reads at least 150 degrees F.
For the sauce, combine sugar, cornstarch, vinegar, water, and soy sauce in a small saucepan and place on low heat. Stir occasionally until the sauce begins to bubble and slightly thicken.
Then remove from heat and brush the roast with glaze 3 or 4 times during the last 1/2 hour of cooking. Pour remaining sauce over the roast and serve.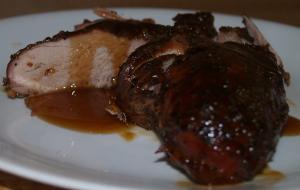 So, go over and give some blogger love to
The Church Cook
and tell her that I sent you. Also, take a gander at Weekend Potluck #16 beginning Friday at 7:00 AM CDT. You will see over 100 different recipes and you can choose as many as you like. Tell Brandie at
The Country Cook
that I sent you as well. Enjoy!