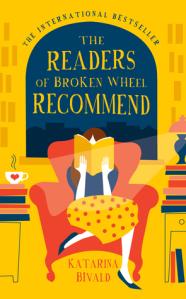 What's it all about?:
The International Bestseller
Warning: once you let books into your life, the most unexpected things can happen…
This is a book about books. All sorts of books, from Little Women and Harry Potter to Jodi Picoult and Jane Austen, from to Stieg Larsson to Joyce Carol Oates to Proust. It's about the joy and pleasure of books, about learning from and escaping into them, and possibly even hiding behind them. It's about whether or not books are better than real life.
It's also a book about a Swedish girl called Sara, her elderly American penfriend Amy and what happens when you land a very different kind of bookshop in the middle of a town so broken it's almost beyond repair.
Or is it?
The Readers of Broken Wheel has touches of 84 Charing Cross Road, The Guernsey Literary and Potato Peel Pie Society and Chocolat, but adds an off-beat originality and intelligence all its own.
What did WE think?:
CHRISSI: What were your first impressions? Go on, did you judge it by its cover?BETH:
Oh man, you know me too well! Yes, I did judge it by its cover and I was praying that I was going to like it as the cover was just SO beautiful. I have a special Goldsboro books edition that has lovely blue spayed pages and the image is a girl snuggled in an armchair with a book up to her face. Of course, if you're a loud and proud bookworm like myself, this picture is pure bliss and definitely made me want to read the story. A book about books- I mean, what could be better?
BETH:
Parts of this book are told in the form of letters between Sara and Amy. Did you enjoy this and how do you think it added to the story?CHRISSI:
I did enjoy this! I really like when there are little snippets of different media in a storyline. I don't know why, but for me as a reader, I think it gives the reader an even deeper reading experience. Especially in this story, where we don't often read from Amy's point of view. I think the letters made it special and enhanced the storyline. I felt like I knew Amy.
CHRISSI: What affect does Sara have on the inhabitants of Broken Wheel?BETH:
She has an effect on every singing inhabitant of Broken Wheel that she comes into contact with, either directly or indirectly or even visitors to the town from the larger neighbouring town of Hope. Sara is a quiet, quite reclusive type that loves her books so passionately that it encourages everybody to try reading for themselves, especially when she opens a bookshop of her own and manages to find a book for everyone. I totally believe that there is a perfect book for everyone, if you're not a reader, maybe you haven't found that perfect one yet?
BETH: How do you think Sara and Tom's relationship developed over the course of the novel and did you buy into it?CHRISSI:
Interesting question. Initially, I wasn't sure about Sara and Tom's relationship. I mean, I really like them as characters, but I was worried about Tom's reluctance. I'm not sure I completely bought into the relationship, but it was a sweet enough romance despite some bumps in the road.
CHRISSI: How does Sara change through her experience of coming to Broken Wheel?:BETH:
As I mentioned in the previous question, Sara comes to Broken Wheel as quite a quiet and shy individual who is not used to socialising with many people and doesn't have many friends, dreams or prospects in her life or back home in her native Sweden. Her life changes for the better when she comes to Broken Wheel. Through her love of books and the letters that she shard with Amy, (former inhabitant of Broken Wheel) she discovers a whole new world. She learns the joys of friendship, socialising with other people, falling in love and realises what her dreams for the future really are.
BETH: Who was your favorite character in this novel and why?CHRISSI:
Hmm, that's a tough question as there were quite a few characters that I enjoyed reading about. I did like reading Amy's letters though. I kind of wish there was more from her as I think she was a fascinating character and I thought she was incredibly sweet. I love how Amy and Sara connected as fellow bibliophiles. If I can't pick Amy, I'd pick Sara as I found some of what she said about books highly relatable!
CHRISSI: I found it hard to classify this book. What would YOU classify it as?BETH:
Gosh, that's a difficult question! It's kind of contemporary fiction, kind of romance, humour…basically it has a bit of everything. GoodReads has a special category which classifies it as
'
Books About Books' which I think is perfect! If you love books that mention other books, you're sure to love this little treasure!
BETH: Would you read another book by this author?:CHRISSI:
Yes! I think she has a very charming writing style and I was very impressed that this book was her debut!
Would WE recommend it?:
BETH: But of course!CHRISSI: Of course!
BETH's star rating (out of 5):

CHRISSI's star rating (out of 5):