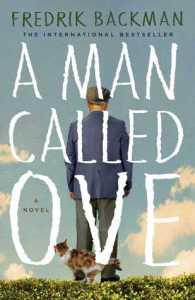 What's it all about?:
In this bestselling and delightfully quirky debut novel from Sweden, a grumpy yet loveable man finds his solitary world turned on its head when a boisterous young family moves in next door.
Meet Ove. He's a curmudgeon, the kind of man who points at people he dislikes as if they were burglars caught outside his bedroom window. He has staunch principles, strict routines, and a short fuse. People call him the bitter neighbor from hell, but must Ove be bitter just because he doesn't walk around with a smile plastered to his face all the time?
Behind the cranky exterior there is a story and a sadness. So when one November morning a chatty young couple with two chatty young daughters move in next door and accidentally flatten Ove's mailbox, it is the lead-in to a comical and heartwarming tale of unkempt cats, unexpected friendship, and the ancient art of backing up a U-Haul. All of which will change one cranky old man and a local residents' association to their very foundations.
A feel-good story in the spirit of The Unlikely Pilgrimage of Harold Fryand Major Pettigrew's Last Stand, Fredrik Backman's novel about the angry old man next door is a thoughtful and charming exploration of the profound impact one life has on countless others.
What did WE think?:
CHRISSI: The emotional strength of the novel hangs on our view of Ove. Discuss how the author draws the character.
BETH: I definitely agree about the emotional strength hanging on how we view the character. Ove is both our main character and narrator with not too many additional characters on the sidelines to hide behind. I think the author was very clever in how he created Ove as he made him very "real to life." He was someone with a lot of flaws but also someone we could believe in with a back story that instantly tugs at your heart strings.
BETH: What did you think of the writing style of this book?
CHRISSI: I thought it was immediately engaging. I remember saying to you that I thought it had a very unique vibe about it. I was pulled into the story and found myself racing through the story. It captured my attention and kept it throughout.
CHRISSI: What were your first impressions of Ove?
BETH: It might sound a little strange but actually I warmed to him almost immediately! He was an intensely grumpy, rigid old man that was completely stuck in his ways but he also had so many redeeming qualities and reasons why he acted the way he did. I think in a lot of ways, Ove was very misunderstood and he had a heart of gold and although he complained a lot I really believe it was a front that he put up to protect himself.
BETH: Discuss the relationship between Ove and his wife.
CHRISSI: The relationship between Ove and his wife really touched my heart. It was clear to me how much Ove adored his wife. It came across like Ove couldn't believe his luck, he really didn't seem to understand why he deserved her. They were so different to one another, yet they had such a special connection. A beautiful relationship. I found his grief over his wife to be absolutely heart-breaking.
CHRISSI: Discuss the relationship between Ove and Parvaneh.
BETH: From the moment that Ove and Parvaneh first meet – when her "idiot" husband is driving and reversing (very bady) in a clearly labelled no drive area in the neighbourhood I thought this is going to be interesting! I think Parvaneh is one of the few people that sees Ove for who he really is and genuinely worries about him, as she has cause to in the early part of this novel. I loved their quite fiery remarks to each other and the way their relationship develops to where Ove has a (grudgingly) newfound respect for her.
BETH: The author treads a fine line between humor and sadness in the novel. Which do you feel wins out?
CHRISSI: This is a tricky question, because there is such a fine line between humor and sadness. I think it's really going to be down to individual opinion on which one wins out, but for me, I thought the sadness did. It was a heart breaking read that touched my heart, but that was because of the sadness. The absolute despair that Ove was experiencing. The love for Ove's wife was so strong, it was hard to read about his struggles with his grief and how he felt his world was ending. I did really enjoy the humorous elements of the story though. I think this book would have been depressing without some light relief!
CHRISSI: What message did you take away from this book?
BETH: I think there were quite a few take home messages from this book and I can see why it has become a bit of a talking point. A lot of it is about not judging a person until you get to know them, respecting the older generation by realising they have had a lot of life experience and as a result can give very good advice. It's incredibly funny and poignant as well as a beautiful love story and I thoroughly enjoyed it!
BETH: Would you read another novel by this author?
CHRISSI: I think I would. The writing was engaging and the story was touching!
Would WE recommend it?:
CHRISSI: Yes!
BETH: But of course!
CHRISSI's star rating (out of 5):

BETH's star rating (out of 5):