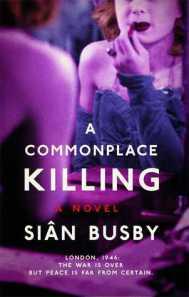 What's it all about?:
On a damp July morning in 1946, two schoolboys find a womans body in a bomb site in north London. The woman is identified as Lillian Frobisher, a wife and mother who lived in a war-damaged terrace a few streets away.
The police assume that Lil must have been the victim of a vicious sexual assault; but the autopsy finds no evidence of rape, and Divisional Detective Inspector Jim Cooper turns his attention to her private life.
How did Lil come to be in the bomb site, a well-known lovers haunt? If she had consensual sex, why was she strangled? Why was her husband seemingly unaware that she had failed to come home on the night she was killed?
In this gripping murder story, Siân Busby gradually peels away the veneer of stoicism and respectability to reveal the dark truths at the heart of postwar austerity Britain.

What did WE think?:
CHRISSI: What did you think of the narration?

BETH:
At first I found the narration quite confusing in this novel to be honest. It hopped around quite a bit from chapter to chapter regarding which character was speaking, and at times I found I had to concentrate to realize who exactly was speaking which slightly spoiled my enjoyment of the story.
BETH: How do you think this novel worked in the crime genre?CHRISSI:
I think this novel would have been a better reading experience for me, if it had focussed specifically on the crime element in the book. I felt like it jumped around between historical fiction and crime fiction. If it had zoned in on the horrific crime, then I feel like that it would have flowed better. It felt quite stilted for me.
CHRISSI: Did it affect your reading experience knowing the area in which the book was based?BETH:
Great question. I absolutely loved that the book was set around the Holloway Road in North London which is where I am living at the moment. It was really nice to read about an area I'm just becoming familiar with myself, and I found myself smiling when I recognised parts of the area or local buses. Even though the book is set in the summer of 1946 and obviously some things have changed, refreshingly other things stay the same. And from what I see today, there still may be some "spivs" hanging around…
BETH: Would you have preferred that the villain in this book was unmasked at the end rather than halfway through?CHRISSI:
I think it would have been better placed at the end of the book. I think if it was at the ending then it would have built suspense really well.  I think because it was unmasked halfway through, I had nothing to really look forward to. If you can look forward to the unmasking of a villain…
CHRISSI: What did you think of Evelyn?BETH:
Evelyn is a woman that Lillian Frobisher takes into her house to rent a room, feeling slightly sorry for her but hoping she can help with general household tasks and looking after her disabled mother who requires constant care. I found Evelyn herself to be incredibly flighty, and interested in nothing but having a good time, milking everything she can from Lillian and her husband Walter Frobisher. When the murder occurs, I was very surprised at Evelyn's reaction and her general uncaring attitude but would have loved if the author had delved a bit deeper into her character which seemed slightly murky to say the least!
BETH: What did you think of Lillian?CHRISSI:
Lillian was certainly an interesting character, even though I never really liked her as a character, I accepted that she was what life had made her. Lillian had hopes and dreams and wasn't afraid to go after what she wanted. I kind of think that she felt hard done by. She felt like she did everything. She kept her house, she queued for what food was available for them, she went without her lodger's rent because she didn't feel like she could chuck her out. Her husband bored her, so she went out looking for something more.
CHRISSI: Did you have a favorite character?BETH:
I was surprised at how many characters in this book are genuinely unlikeable. Walter Frobisher I just found pathetic, Lillian is a bit of a "hussy," and I've already told you my thoughts on Evelyn. As with Evelyn though, I don't feel we got the opportunity to delve a bit deeper into certain characters, which would have been more interesting. The only character I found myself feeling slightly sorry for was the Detective Inspector Jim Cooper who seems to have quite a troubled history – serving in the First World War and having a failed relationship with the love of his life Marjorie (who also happens to have been his friends wife – oops!).
BETH: Given how war can change people, do you feel any kind of sympathy for the murderer, or understanding of his actions?CHRISSI:
A great question! A tricky one too. War can definitely change people, it makes such an impact on individual's lives. I don't really feel sympathy for the murderer, but I can understand why he acted the way he did.
Would WE recommend it?:
BETH: Probably!CHRISSI: Yes!
Star rating (out of 5):
BETH:

CHRISSI: