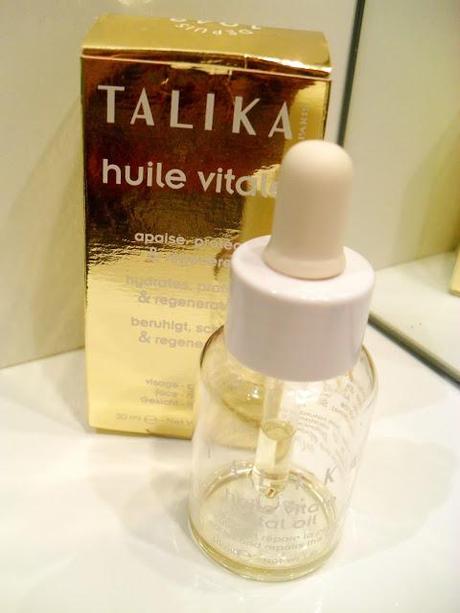 The weather forecast didn't make me particularily happy today - snow and a bit of frost are staying for a little longer and my soul's already craving for sun and summer. And not just my soul, my face longs for it too. My cold weather saviors are always at hand but people who live in colder climates know how you get tiered of what seems to be a neverending winter. Anyway, there are certain things that are supposed to make you feel better. For me one of those things (on the top of the list right after comfort food! haha) is Talika Vital Oil. As you see from the pictures, it was very well loved, I only have a few drops on the bottom left, and for a good reason.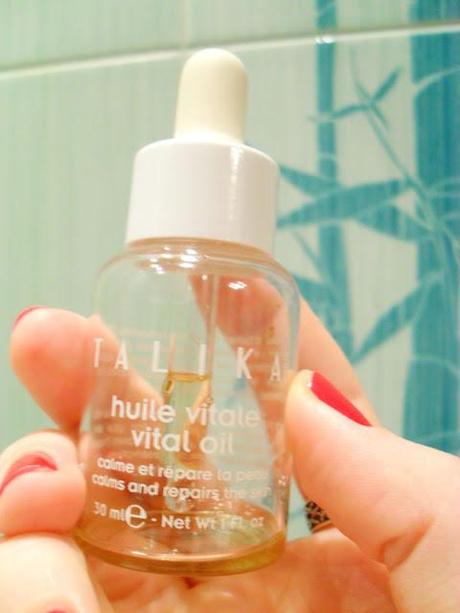 Talika Vital Oil is first and foremost an anti wrinkles product, but I wasn't using it for that. It's pure essential oil made with 100% natural concentrates; music to your ears, isn't it? I bought it quite a long time ago to soften my face and pamper it after my long loved but not too good for my skin winter walks around St Peter's. It's supposed to revitalize and firm the skin, soften it and prevent appearence of wrinkles. This product is non-comedogenic, does not contain any colorants or preservatives. Main ingredients are sweet almond oil, mustela oil, avocado oil with addition of jasmin essence, lavender oil and rose oil. How could I resist trying it out?

Let me start by telling you Talika Vital Oil smells devine! It's a mix of different scents so all I can really tell is this is revitalizing-fruity-flowery-calming fragrance. Certain essential oils can cause skin irritation, so if you have a very sensitive skin use it with caution, do a skin patch test before applying it to your face and rinse it off immediately if any irritation occurs. Even if you are a lucky person who doesn't have to worry about things like that, keep in mind that you HAVE to wash your hands after you applied it to your face and you HAVE to remember to stay away from rubbing your eyes. It stings like crazy when the oil gets into them, believe me, you don't want that. I'd recommend Vital Oil to people with combination, dry, dehydrated and tiered skin who want some comfort and moisture for it. I love to apply it to cleansed face before I go to sleep, in the morning my skin feels plump, soft, smooth, hydrated and looks radiant. Wonderful product, one of my favorites.