I believe it is so imporant for us to take time for ourselves atleast once a week - time to reflect on things and gather our thoughts, time to relax and unwind, time to recharge our bodies and let go of all the tension built up inside us. I know it can be a little tough to get even 5 minutes for ourselves, take mums and dads out there for an example, a little babba to look after is a 24 hour job but there is always someone willing to help. An hours soak in the bath whilst your friend/relative watched the nipper. It doesn't even have to be a soak in the bath, you could get into your pj's or comfys and get snuggled up in bed or on the sofa and read your favorite magazine or book, or even just sit in a quite place with a cup of tea and collect your thoughts. Just time in a quite place on your own unwinding can do you the world of good. I know it's a little obvious and cliche but trust me on this one, we all NEED it!
I spoke in a previous post about not feeling happy with myself and how I want to work on getting my self confidence back and feeling good about myself, having a pamper evening once a week is a small step towards this, and so far it's working well.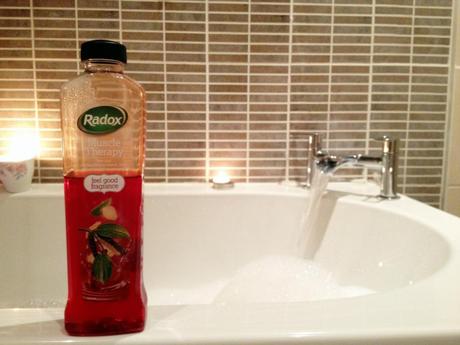 I used to have Sunday evenings as my evening of pampering but I find it much more effective having it mid week. A few years ago you would never find me in a bath, I hated them. Too hot and boring, but recently I can't get enough of them. Obviously being the stereotypical women I like to light a few candles around the bath, run the hot water and pop in a beautifully scented bubble bath. I really like these Radox bath soaks, we've got quite a few in our house all specifically for certain things. I've had the flu pretty bad for the past month and I've been coughing an awful lot lately so I went for a muscle therapy one this time but I usually go for the relaxing one.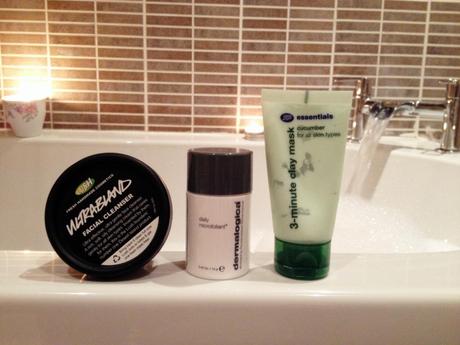 Once I've had a good soak for a few minutes I then start pamper my skin. I remove my make up with this Lush UltraBland Cleanser which I've written a
review on here
. I then like to exfoliate my skin, I actually use the 
dermalogica gentle cream exfoliant
as I have really sensitive skin and I find this one can be a little too harsh on my skin. Then to finish off I pop on this 3 minute mask from boots, I'm on the look out for another clay or mud mask at the moment as I'm not too keen on this one. I don't feel like it really does that much to my skin.
After all that is done with I will usually lye about for a bit, maybe read a magazine or my kindle and then finish up with washing my hair and body and all that boring stuff.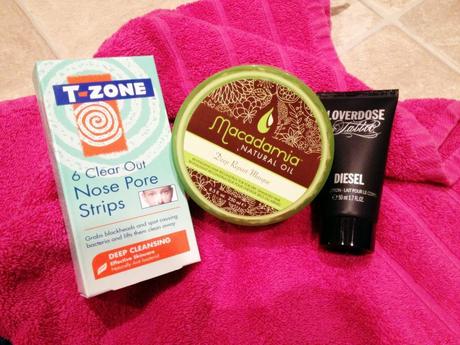 Once I'm out the bath the next best bit about a pamper night is hair masks. I can't seem to get enough of them either at the moment, I've recently had my hair cut so I'm determined to use a lot more hair care products to try and keep it healthy like it is at the moment. I brought these nose strips from Savers the other day on whim and so far I'm impressed. They only cost me a couple of quid (literally I think less than £2) and I can really see a visible difference in my pores along my nose. So glad I brought them.
Then the obvious one, moisturize my skin to make me feel all super soft and smooth.
I like to then carry on my pamper evening with whatever I feel like doing, I sometimes clean my make up brushes, do my nails or just jump straight into bed. Since making the time once a week to do this dead simple and maybe cliche thing I have been feeling a lot better, I don't feel as built up inside and it's nice to take care of your skin and relax. Simple things like painting my nails afterwards makes me feel prettier as well, simple and easy things.
What's your favorite thing about a pamper evening?
With Love,
Sian x