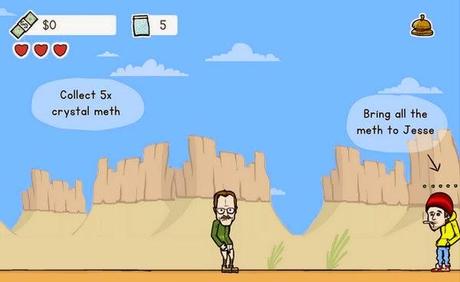 Walter White and Jesse Pinkman are two of the greatest TV characters that we will never forget in this entire life. Those two guys, Bryan Cranston and Aaron Paul made us all addicted to Breaking Bad with their flawless portrayal of their characters. It's not such a surprise that we still miss this show, even though it bid farewell to us all weeks ago.
If you're one of those Breaking Bad fans who miserably misses the show like I do, then maybe this awesome fan-made browser game will help cheer you up. This is a small flash browser game that lets you take control of Walter White and take him in his journey of building his drug empire, as seen on AMC's hit show.
The gameplay is pretty simple. Your mission is to control Walter White using your keyboard controls and collect all the materials needed to cook methamphetamine and bring it back to Jesse to collect the cash. As you advance through the 34 levels of the game, you will meet all the other most memorable characters as well. Go ahead, give it a try and see if you'd like this game.
Please note that I do not encourage anyone for drug trading, drug use or any kind of abuse. This game was purely made for fun and fans of the TV series.
You can play the game right here, after the jump or head over to
Round Games
website to play in full screen.
Email This
BlogThis!
Share to Twitter
Share to Facebook