Philippine Airlines takes the delivery of a brand new Airbus 330-300, as part of a much-talked-about fleet revitalization order spearheaded by its President-CEO Ramon Ang. In an exciting event held at the Villamor Airbase near Ninoy Aquino International Airport (NAIA), our friends at the flag carrier invited us to board the aircraft ahead of everyone. Read more…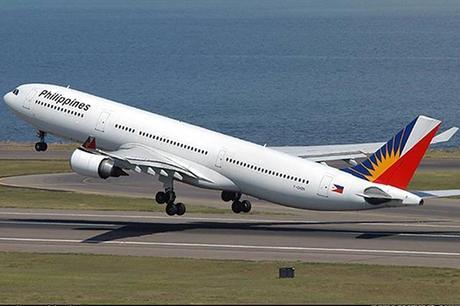 The Airbus 330-300 that was accepted by Philippine Airlines is of the newer high gross weight (HGW) variant. According to Aviationweek, this aircraft type adds 400nm into the series' range—allowing services of up to 5,950 miles. Airbus claims in the same 2012 report that it is more economical by 10% than the Boeing 787-800 when capital costs are considered, and it has a fuel burn advantage of 16% compared to the Boeing 777-200ER.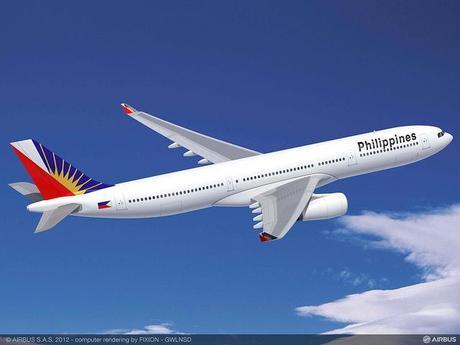 Philippine Airlines, for its part, has taken great steps in making this aircraft among its best yet, most especially Business Class, which it fitted with new Equinox 3D seats by French design firm Sogerma. Sophisticated and sleek, these seats transform themselves into full lie-flat beds measuring six feet long and almost two feet wide with a push of a button.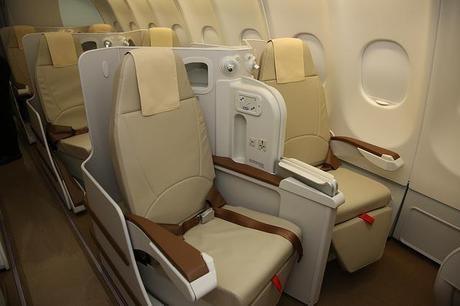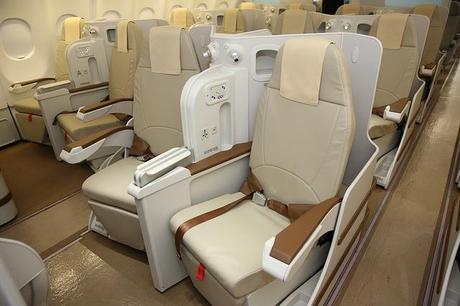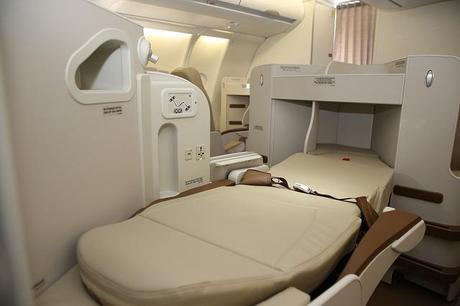 Aimed to cater to the discerning business segment of the market, these seats feature an electrical leg rest with ottoman, a retractable privacy divider, an in-seat power supply, USB port, glass holder, reading light, coat hook, electrical seat controls, and ample stowage space. And apart from having a very generous 60" pitch, the Equinox 3D seats are uniquely configured, such that in bed position, the window seat moves up to armrest level, while the aisle seat moves down to just above the floor for easy access by both passengers.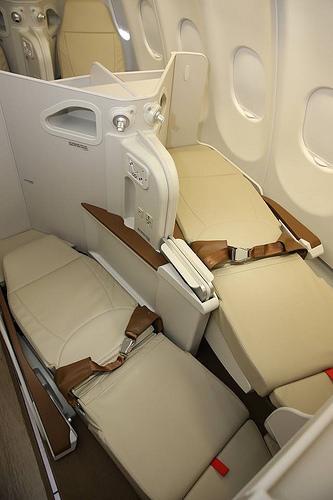 Meanwhile, Economy Class and the recently-introduced Premium Economy Class are fitted with SICMA 5751 seats set in a nine-abreast, 3-3-3 configuration. A great feature of the seats is its unique mechanism where the seat pan lifts up and slides forward as the seat back reclines to optimize space and for comfort. Regular economy seats offer a standard 30-31" pitch, while premium economy seats in a separate cabin section offer a roomier 34" pitch.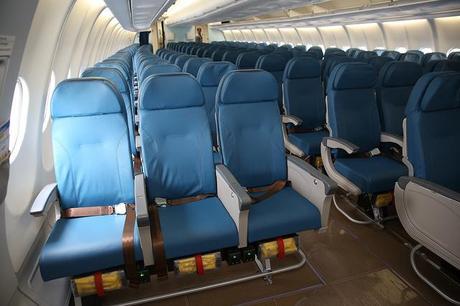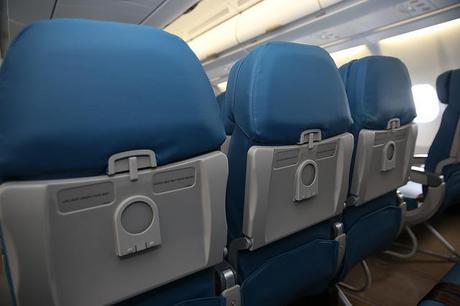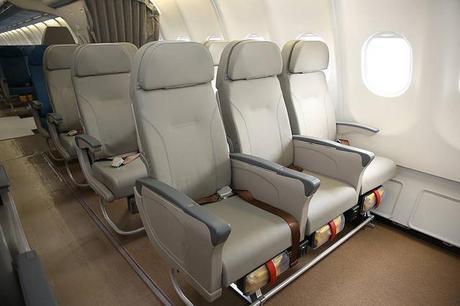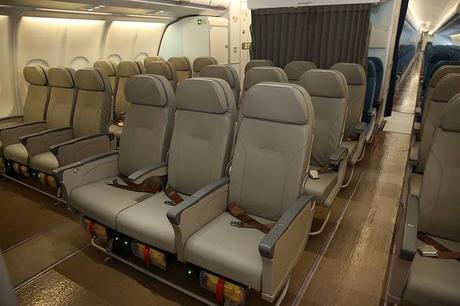 But the most talked-about feature across all classes is wireless inflight entertainment (IFE). Named In Air, the new service invites all passengers to bring their own iOS or Android mobile phones or tablets to access the airline's bevy of entertainment from the latest movies to TV shows during the flight. Those in Business Class will be offered complimentary use of iPads onboard, while those in Economy and Premium Economy Class who do not have a personal device will be offered to rent an iPad for a fee.
The same feature allows wi-fi and GSM connectivity up in the air for internet, calls, and SMS. Philippine Airlines is proud to be the first in the Philippines to offer this technology in collaboration with OnAir, a company under leading air transport IT solutions provider SITA.
Part of an order of 10 of its kind, this Airbus 330-300 can accommodate 323 Economy Class, 27 Premium Economy Class, and 18 Business passengers—a total of 368 in all. This aircraft is currently being deployed on flights between Manila and Abu Dhabi, Bangkok, Hong Kong, Tokyo-Haneda, Nagoya, and Seoul. Best to call Philippine Airlines reservations at +63 2 855 8888 to verify if this aircraft is utilized on a certain flight. Apart from their ticket offices and hotline, flight bookings can also be done at www.philippineairlines.com.