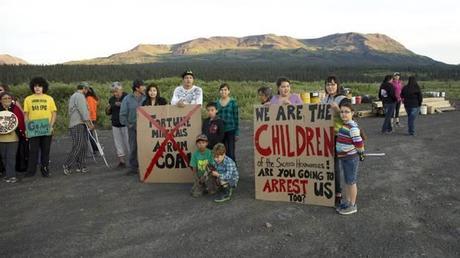 (Handout/Skeena Watershed Conservation Coalition)
From Brandon Sun
First Nations protesters in northern B.C., vow not to budge, despite concerns that a mining company may be about to seek an injunction that could force their eviction from a camp outside a proposed coal mine at Mt. Klappen.
Members of the Tahltan Nation say arrests could come as early as this weekend at the proposed Arctos Anthracite project, a 40-square-kilometre open-pit coal mine slated for development in an area considered sacred by aboriginals.
Demonstrators have been camped out in the region, near the headwaters of the Skeena, Nass and Stikine rivers, for more than a month, arguing the area is of profound ecological and cultural importance, and plans by Fortune Minerals Ltd. (TSX:FT) to develop it must be reconsidered.
However, the company says the open pit mine is not located within the Nass or Skeena watersheds and it intends to proceed with test drilling while the environmental assessment and permitting process is underway.
On Tuesday, the provincial government appointed a mediator in hopes of resolving the increasingly bitter dispute, but the move instead infuriated First Nations because wording in the news release suggested the mediation process would allow the Arctos project to proceed.
Iskut Band Chief Marie Quock says the wording implies the mine's approval is a foregone conclusion, but Environment Minister Mary Polak says the release was sent prematurely and the mediator's role will be to work between Fortune Minerals and the Tahltan, with the goal of seeing the current environmental assessment through.