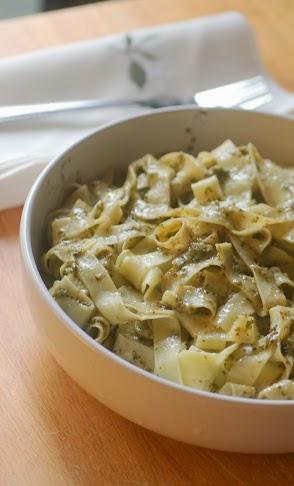 Last week I gave y'all a recipe for pesto. So after I whipped it up I boiled some tagliatelle pasta and mixed it together.
Boy was it good!
So I am munching away my lunch. I want to share the love, but the hubster is not a fan of pesto.
Oh well more for me right? Wrong, monkey girl loves pesto. So when she got home from school she was all over it. In fact she ate most of my bowl. I asked her if she would like her own bowl, but she said the would prefer just eating a few bites from mine. A few bites? It was more like she took over the howl. Before I knew it, it was all gone.
Is it me or does it taste better fresh? What I am saying is that I have always bought the can stuff and thought it was pretty good.
Now however I have had it fresh and I think it is divine. So divine that next year I think I will plant a few extra basil leaves just for my pesto.
To top it off, after that post,  I  got some helpful hints from my readers on how to freeze the stuff so I can enjoy it all year long. Thanks so much y'all rock!

Print Recipe
Tagliatelle and Pesto
Ingredients:
1/4 cup walnuts
2 cups basil leaves
1/2 cup olive oil
2 cloves garlic
1/2 cup Parmesan cheese
1 teaspoon salt
1/2 teaspoon black pepper
1 pound dried Tagliatelle noodles
Directions:
Preheat oven to 250 degrees
Place walnuts on a baking sheet and bake for 10 minutes.
Combine the basil and walnuts in a food processor. Pulse until combined. Add garlic and cheese and pulse until it is incorporated.
Through the feed tube add the olive oil in a steady stream until combined. Stop to scrape the sides and add salt and pepper. Pulse a few more times.
Cook the tagliatelle according to the package directions. Remove about a cup of the water before you drain the noodles and set aside.
After you drain the pasta, combine the pesto and the noodles. Add water if the sauce looks to thick.
Serve hot.
Peace be with you,
Veronica