After much contemplation, I have realised that I am happy Taco Bell branches have always been located so far from where I live and work. If there was a branch near me, I'd likely weigh twenty pounds heavier now, and not in a good way.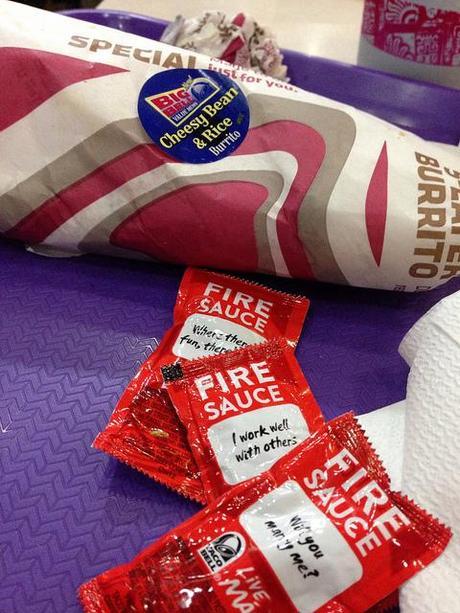 Strangely enough, while I do love Mexican food, I am not really a fan of tacos. They're
not
 easy to eat and it just doesn't feel like it's worth the effort. I'm talking about the tacos we grew up on, not the fancy new soft tacos that grow popular now. Taco Bell, though, is not just about tacos. The best that they offer, for me, are their marvelous burritos.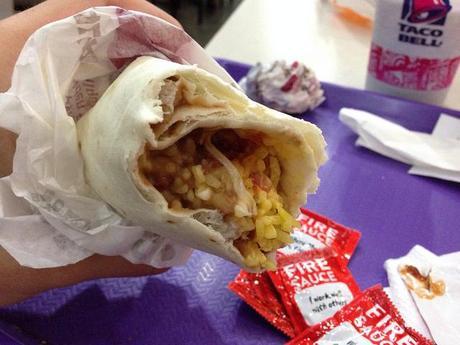 Cheesy Bean & Rice Burrito, around P65-P89
I don't remember exactly how much this one is, but I know for sure that it's very cheap for this half-pound marvel that is filled with tasty rice, refried beans, and a whole lotta cheese.
Who needs meat when it's just so good on its own?
There was a time I was so into this burrito that I'd eat two at a time, and I wasn't even sorry after I downed the pound of cheesy beany rice. Pair it up with Taco Bell's Fire Sauce and you're up for an adventure!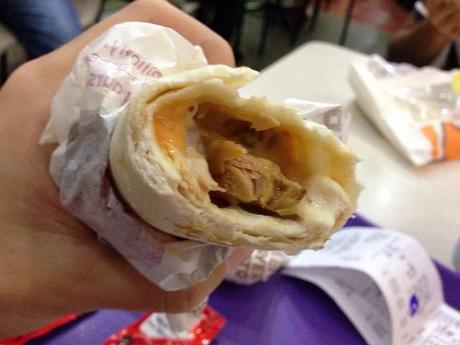 Spicy Buffalo Chicken Loaded Griller, P99.00 (with drink)
I think this was just a promotional menu item, so I'm not sure this one will still be around now. If it isn't, well, we're not missing out on much because it wasn't that good. It wasn't spicy, didn't taste very
buffalo
, and despite the cheese, it isn't nearly as good as my favorite burrito with lack of the beans and rice.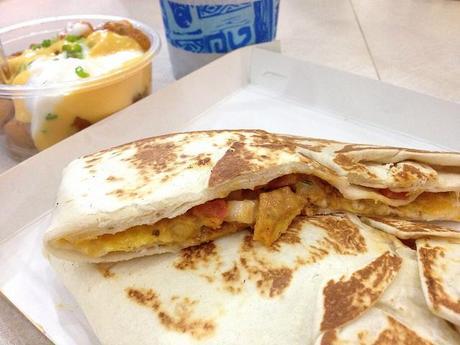 Supreme Crunchwrap Signature Combo, P169.00
Alvie ordered something I don't usually get, and it was actually quite good. It's basically an oddly wrapped quesadilla with what feels like crunchy taco bits inside. Cheesy Mexican goodness if you're looking for something light. The crunch reminds me of the delight of biting into a Magoo's Pizza slice. Although I find Magoo's Pizza is not that well-known, so you probably don't know what I'm talking about. The side of potatoes ain't bad too.

Menu:
Main Menu
Verdict:
Cheesy Bean & Rice Burrito: Excellent!
Spicy Buffalo Chicken Loaded Griller: Good
Supreme Crunchwrap Signature Combo: Very Good!
I know that their burritos are just fast food, and a far cry from the authentic stuff, but the Cheesy Bean and Rice burritos are so good that I just forget to care!
Love Taco Bell? Hate it? Let me know by commenting below, or just
tweet
me!

TACO BELL
LG/F Gateway Mall, Gen Roxas Ave
Cubao, Quezon City
(02) 911-3101
Operating Hours:
 10:00 AM - 8:00 PM
Facebook: Taco Bell PhilippinesWebsite: http://www.tacobell.com.ph/
View Larger Map