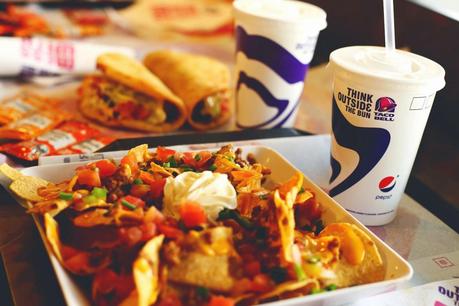 World cuisines have started making their presence felt in Indian food plates and are widely appreciated by the masses. Today we are set to savour the colourful and flavourful Mexican food at the Taco bell outlet at R-city mall, Ghatkopar.

With many familiar faces from the blogging and food reviewing family we had a gala time savouring the delicious food which kept coming till a point where we had to ask them to stop overloading us! Basically Taco bell is an American food chain which has been serving Mexican food in America since quiet a long time. Considerably  new in the Indian food market, Taco bell is almost 3 years old in India and is well known fast food brand in Bangalore.

Mexican food dates back its root to Spanish cuisine hence we still find a little bit of Spain in Mexico!!(Food wise I meant).They seem to have this quiet unique concept of free-fills which is a trademark taco bell concept. The food on their menu not only appealed to me look wise but also amused me with their

TACOLOGY.

For consumer reference they have made speaking up Mexican so easy that pronouncing Mexican names is as easy as a cake walk for us. For teasers check this

TACO

which is said as

TAA-KO

...and much more.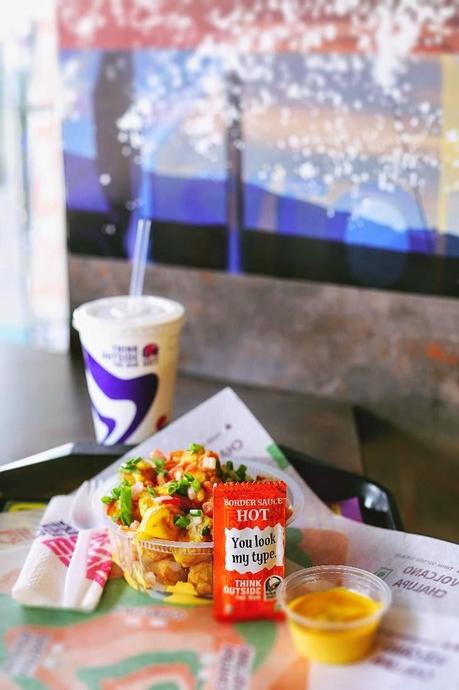 We started off with various types of nachos which we never thought would have been so tasteful. Not only were the nachos perfect crisps of corn meal what made the more delightful was the ample of cheese sauce which is a trademark with the Tacobell .I haven't  tasted cheese sauce as yummy as this one. The four dip nachos is a perfect thing to have when catching up with friends or when out with people of totally varied tastes. The salsa verde  was a new taste for me with nice soothing green tomatoes, jalapeños. The volcano sauce was perfectly spiced with jalapeños accompanied with the regular variants sour cream and red salsa sauce. Their topped nachos served with toppings of your choice which means you can go easy on the sauce of your choice along with refried beans and chicken.
The tacos were nice crisp with hot and cold filling inside along with creamy cheesy sauce filling. I found taco to be a totally multi sensorial food with hot and cold, spicy and mild all flavours in one bite! Next was my personal favorite the signature taco bell snack Chalupah  (pronounced as CHA-LOO-PAH).The Chalupah shell  had a nice crunch and flavoursome filling of chipotle spices something very Mexican and loaded with cheese making it an incredibly crave able snack to all ages alike. They also serve some very regular and known Mexican fast food items like the Burritos  and Quesadillas. The Burritos (pronounced as BUH-REE-TOH)  were soft tortilla packed with Mexican filling .I found the tortilla a bit chewy nevertheless it was tasty with the spicy saucy filling inside. The in house invention by the Taco bell is the Tikka mix Burrito which has soft tortilla wrapping up the flavoursome makhani sauce and gives you a very paneer tikka or butter chicken type feeling! They also serve a huge mega burrito called as the 7-layer Burrito. There are seven different type of fillings each just gives you a burst of flavours with every bite into the soft tortilla which is grilled to give it a nice bite. The Kathito (pronounced as KA-THI-TO ) i s the taco bell twist to your very Indian kathi roll which we have been familiar since long time! Well the Quesadillas(pronounced as KAY-SUH-DEE-YAH) are something which is also a very Mexican dish. Vegetable fajitas for vegetarians and grilled chicken for the non vegetarians!!And guess what cheese overload!!!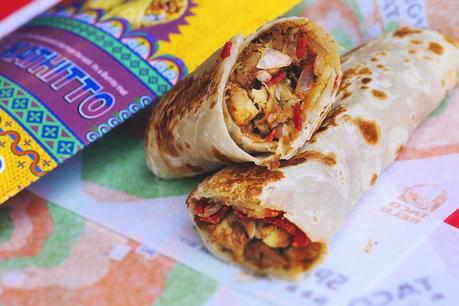 The famous Mexican two blend cheese, bursting flavours and extremely cheesy. And they don't stop here with their innovations. They serve you Chocodilla...well yes its Belgian dark chocolate gooey and warm between the soft tortillas. Sounds yummy??tastes equally awesome. A a good thought in desserts a welcome change from our usual brownies and cupcakes. also They have an open kitchen which is a rare sight in fast food outlets and you can see your food as it jumps from station to station. It's not only the food that is unique and interesting but the true uniqueness  is also reflected in some very interesting packaging. They have created several  catchy one liners to catch attention of customer and they have them all over their sauce sachets and tissues. A good idea I felt to make our Mexican food trail a bit more interesting.!!On a closure note I would say  Tacobell is a cool place for people on the go and a gastronomic adventure for people looking beyond burgers and pizzas as fast food!