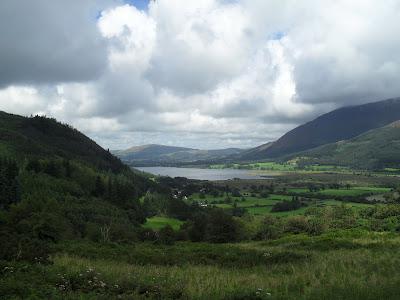 I've just got back from the Lake District. It was a serious family affair. Fourteen of us from 6 months to 87 years, celebrating my parents' Ruby wedding anniversary and my aunt and uncle's Silver. We stayed at Hardcragg Hall - a stunning manor house dating back to the 16th Century and purportedly used by Oliver Cromwell between military campaigns. Beatrix Potter stayed there too, and wrote Pigling Bland while she was at it. [It's not one of her best. Her illustrations were lovely, but I do think writing for small children is something that's improved in recent years. Something unpleasant is always happening to Beatrix's characters - what kind of mother sells her superfluous children at market? The Japanese tourists can't get enough of her though. Kawaii!]. There's some pics of Hardcragg Hall here, if you're nosy interested.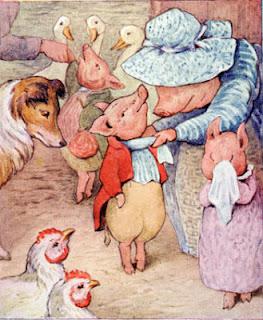 Mrs Pig sporting the Lolita streetstyle
The wifi wasn't working, but the snooker table and BAR - rah! - in the house managed to prevent me from falling into a decline of an evening. And you know, family and stuff. Despite the age of the house there were no ghosts to be seen - aside from a creepy ragdoll which I moved around periodically to freak the Mr out - but I did make the interesting discovery that my uncle once encountered 'a small Edwardian boy' in the middle of the night years ago whilst staying at my parents' house in Wales. They still live there! I lived there til I was 18. Zip. Nada. Nothing. It is pretty much the least spooky house you can imagine, and was built in the 70s, although it is built on the grounds of next door, which is a lot older. When I was very small and we lived in our previous (and older) house I apparently used to ask who the 'old lady who comes into my bedroom' was, but I don't remember that. [It was just me and my parents at the time. No old ladies. Possibly I was just insulting my mother as small children are wont to do].
My highlights from the holiday include seeing ospreys - no red squirrels though, elusive little buggers - going to the Cartmel Races where the jockeys compete for a bottle of champagne and a sticky toffee pudding, eating several kilos of Grasmere gingerbread, and of course discovering the world's worst crazy golf course. American readers, look away now. You get the KISS indoor 18 hole mini golf in Las Vegas, where you can putt your ball up Gene Simmons' tongue. At Grange-over-sands you get to navigate past some rocks, a brick - and my personal favorite - 'the hospice'. Rock and roll.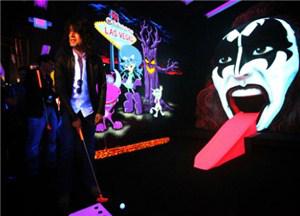 Freak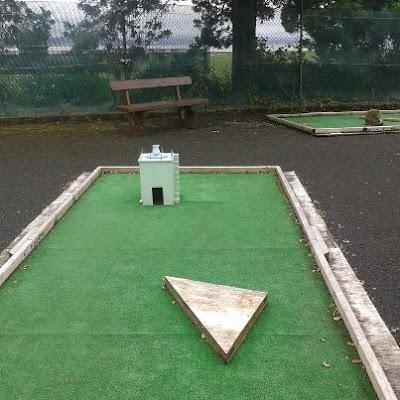 Bleak
Anyway, the result of all this is that I haven't read anyone's blog for a couple of weeks, checked my email or been on Facebook. It's very refreshing. I have however been glued to my kindle, as thanks to Margaret I've got newly addicted to the Stephanie Plum books. They're totally daft, but they're upping my GoodReads yearly reading challenge total nicely, and I have settled on a new career as a junk food addicted bounty hunter in New Jersey. I'm not sure I should be allowed to read or watch films. I'm very suggestible.
Oh, and I do have a small ta-dah. Here's my uncle, aunt and folks with the anniversary cake I made them. It tasted pretty amazing, but it's probably a good thing that the photo isn't a close up. My skills with an icing bag are fairly non-existent. Also I lovingly transported it several hundred miles in the boot of the car, only for my uncle to put his laptop on top of the box when we arrived. I'm not sure it made a massively discernible difference, aside from hammering the 'Congratulations' sign into the top. And it's so enormous that I won't have to make a Christmas cake this year. Result!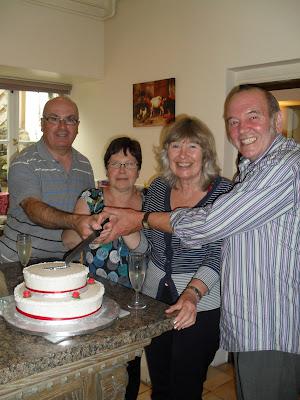 Aw, young love
So, what else has been going on? Sian got surprise married as her ta-dah! last time - can you beat that?
Lakota x