Hi - I know it's not Tuesday, but you also know I'm not entirely brilliant when it comes to a posting schedule.  I was writing a book review, and then went out to see the fantastic Mr Bill Bailey doing a pre-tour warm up gig. But better late than never. 


I know that Valentine's day has basically become an excuse for the supermarkets to sell us horsemeat lasagne and a bottle of plonk for two, but suck it up - you're getting a romance related post anyway. These are my late Grandparents, Grandad Phil and Granny Babs - Phil being the son of GGG, who you may remember featured in posts here and here - pictured below on their wedding day in 1949.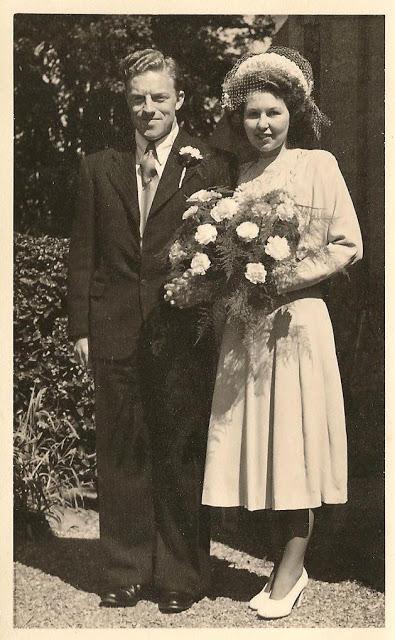 Babs was 19, Phil 26 I think. [Cary Grant reportedly wildly jealous of Phil's insane quiff]
I was born and grew up in South Wales, and remember clearly the 7 hours or so it used to take to get to their small house in Kent. Long car journeys punctuated by bouts of car-sickness, ensuring my sister's stuff didn't encroach onto my side of the backseat, and being informed we were breathing too much and steaming up the car by my dad. Every 90 miles or so my Mum would dole out a single Murray Mint to each of us, and if we were exceedingly lucky, there might be a stop for an all-day breakfast - and free lolly -  at the Little Chef. [Does anyone else remember the placemats featuring antique photos of locations where now stood a Little Chef? I always wanted the Llanfairpwllgwyngyllgogerychwyrndrobwllllantysiliogogogoch one*]. Finally we would pull up, to be greeted in a haze of Chanel no 5 and demands that Phil put the kettle on; my Gran's suddenly blonde hair less of a shock than realising that I was bigger and stronger than her at the age of ten.
From as far back as I can remember, Granny Babs had 'bad hands'. The slow degenerative disorder from which she suffered didn't affect her as a young woman - she was healthy when she married and had her children - but she was a young Grandmother, only in her mid-forties when I was born. Her fingers were bent and locked towards her palm, and she had little dexterity, which gradually lessened even more over the years, along with her balance and stamina. She needed help getting up from her chair, her food cutting, bathing - and of course she hated it.  Despite hardly being able to pick up a pen it was only at the very last that she finally delegated the writing of birthday cards to my taciturn Grandad, doubtless dictating exactly what he should say, and supervising the licking of the envelope, in case he didn't do it properly. There was some occasional eye rolling from Phil, but only when she wouldn't spot it. He was her tireless carer - and the living embodiment of a stoic, stiff-upper-lip ex-airforce Englishman -  but oh, how he adored her as a husband too.
When he retired he took up woodworking - or was banished to the garage, possibly - and their house was filled with tokens he'd made for her. I remember a couple of carved plaques - one of their garden, with the birds it was her pleasure to watch from the window, one of a galleon in full sail, titled 'The Lady Babs' - an owl, her favorite bird, and a traditional Welsh love spoon, with their initials and a heart. He also found ingenious ways to make things easier for her - such as building wooden holders for her perfume, with a lever she could bang with a wrist, as her fingers would not allow her to pick up the bottles or depress the tops in the usual way. They were married nearly 60 years, and everything that made my Grandad who he was went out of him when she died. He was always short on words, but remembering his simple 'Goodbye Babs' at her funeral still makes me cry, and he was buried with her last year.
But I wanted to show you something else. My sister and I have joint custody of Babs' charm bracelet, and whilst it's not some valuable 'named' jewelry piece - it would make more from the scrap price of 9k gold than anything else - we love it for the story it tells of their earlier married life [She stopped wearing it as her hands got worse, the clasp is fiddly for me so I doubt Grandad would have attempted it too often]. He bought her charms for birthdays and anniversaries, and to celebrate significant events in their lives.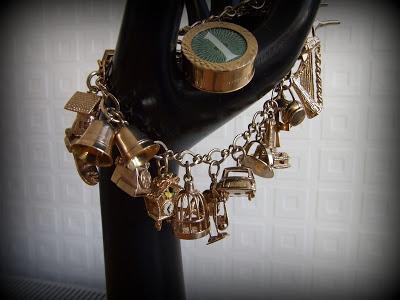 The '1' is an old pound note, folded up small, so she'd always have cash for an emergency.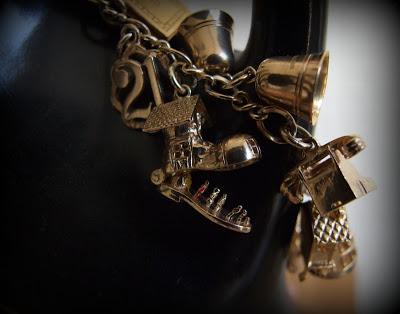 The '21' charm was bought to celebrate their 21st wedding anniversary, he wouldn't have had the money to buy it for Babs' 21st birthday, but he didn't see why she should miss out. They didn't have as many children as the old woman who lived in the shoe - just my mom and aunt - but I love the way the charm opens up to show the figures inside. The telephone is because when they first met Babs was working at the exchange as an operator. [She always had a very correct telephone voice, giving their town and full number. My auntie still does. The rest of us are commoners and just say 'hello?']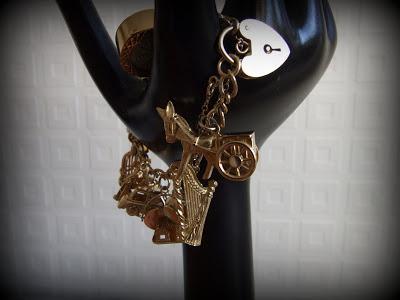 The donkey and cart was purchased after a trip to Spain, and the heart with a keyhole is the clasp. The bracelet itself is tiny, and just about fits around my wrist.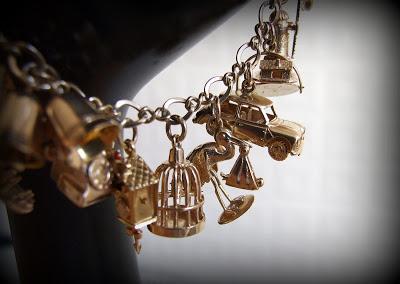 The stork with baby swinging from its beak probably dates from when I was born, rather than my Mum, so would have been to celebrate their first Grandchild. The tiny ringing bells may have been a Christmas gift, or perhaps related to a wedding. The cuckoo clock also has moving parts, touch the pendulum and the bird pops out. The sails on the windmill go round, and there is a spinning disc, which when flicked with a nail will spell out 'I love you'.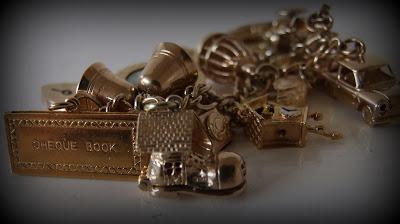 The check book charm contains tiny pieces of paper...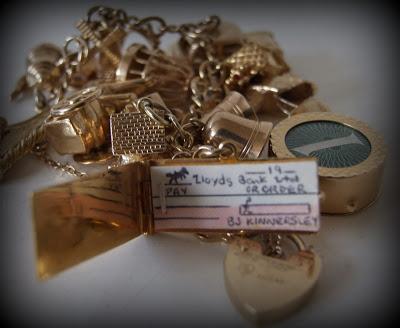 ...which he had painstakingly drawn on and turned into cheques in her name. You can't tell quite how tiny the writing is from the photograph, but the letters saying 'B J Kinnersley' are only a millimetre high.  He's filled in all five, not just the one at the front, and must have used the tiniest of fine nibbed pens.
I am wearing it today, and smiling. I hope you have a happy Valentine's Day.
Lakota x
Please link up your posts below.


*This is a real place and has the longest place name in Britain. It means 'St Mary's church in the hollow of the white hazel near to the rapid whirlpool and the church of St Tysilio of the red cave'.