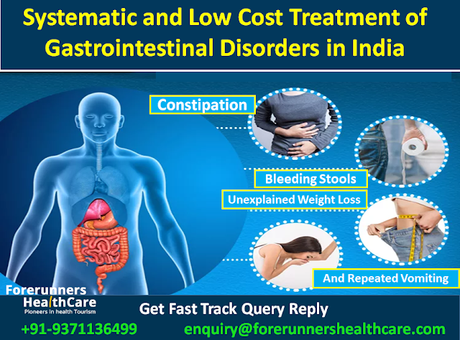 The term Gastrointestinal disorders are used to refer to the conditions or diseases that occur within the gastrointestinal tract. The organs that constitute the GI tract are our mouth, esophagus, stomach, small intestine, large intestine, and anus. However, Gastro-intestinal tract along with accessory digestive glands like liver, pancreas, gallbladder and biliary duct constitute our digestive system.
Gastro-intestinal disorders can be: 
Functional i.e. arising due to the abnormal functioning of the organs of the GI Tract including Colon and Rectum. 

Most common among functional GI disorders are Constipation and irritable bowel syndrome (IBS)

Structural i.e. due to the development of some anatomical abnormality. The most common structural GI disorders include hemorrhoids, diverticular disease, colon polyps, colon cancer, and inflammatory bowel disease.
The organ-wise commonly encountered GI Disorders are:
Oesophagus
Gastroesophageal Reflux Disease (GERD)

Oesophagitis 

Hiatal hernias,

Stricture (narrowing) 

Achalasia 

Gastric (Stomach) 
Gastritis 
Gastric Ulcers

Gastroenteritis 

Pyloric Stenosis  

Gastric Cancer 
Small intestine  
Duodenitis, jejunitis, and ileitis i.e. inflammation of duodenum, Jejunum, and Ileum 

Peptic Ulcer

Malabsorption

Gastrointestinal Stromal Tumors, 

Lipomas 

Hamartomas 

Carcinoid syndromes 
In addition, small Intestine disorders may also include:
Congenital or Surgical Short Bowel Syndrome

Autoimmune Coeliac Disease infective Tropical sprue

Lactose intolerance 

Malabsorption syndromes 
Large Intestine–can be affected by infection, autoimmune system and physiological  reasons and may lead to:
Intestinal obstruction  

Enterocolitis, 

Crohn's disease, 

Ulcerative Colitis 

Irritable Bowel Syndrome (IBS)

Diverticular disease
The other commonly associated Intestinal Disorders are:
Celiac disease 

Appendicitis 

Nausea & Vomiting 

Intestinal Pseudo-obstruction

Constipation 

Diarrhea  

Abdominal pain
Rectum and Anus – 
Hemorrhoids 

Anal Fissures

Anal Cancer associated with Ulcerative Colitis 

Proctitis i.e. inflammation of the rectum

Fecal incontinence 

Rectal Prolapse  
In addition, disorders arising in Accessory Digestive Glands like Liver, Gall Bladder and pancreas may include:
Liver problems include: 
Hepatitis B or Hepatitis C

Cirrhosis

Autoimmune and Alcoholic Hepatitis

Liver Failure

Liver Abscess

Hepatic Encephalopathy 

Hepatorenal Syndrome 
Gallbladder  disorders 
Gallstones

Cholecystitis

Cholangitis
Pancreas:
Pancreatitis, 

Pancreatic Fistula  

Pancreatic Pseudocyst

Besides above there are many more complications that can occur due to gastrointestinal disorders.
What are the most common signs and symptoms of gastrointestinal disorders?
The most common signs and symptoms of gastrointestinal disorders are:
Abdominal pain

Heartburn 

Changes in bowel habits

Constipation

Diarrhea

Gas in the GI tract (Bloating)

GI bleeding

Nausea

Vomiting

Unintentional weight loss
Diagnosis and Treatment of Gastrointestinal Disorders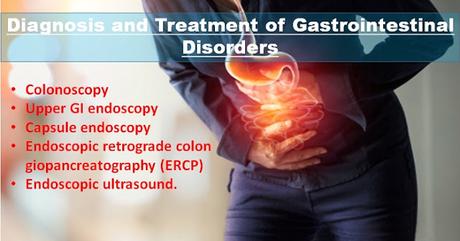 For diagnosis tests that are conducted include:
Colonoscopy

Upper GI endoscopy

Capsule endoscopy

Endoscopic retrograde cholangiopancreatography (ERCP)

Endoscopic ultrasound.

 
The treatment of gastrointestinal disorder varies as per the disease. However, treatment is done with medication besides many surgical procedures that are performed on the digestive tract. The surgical procedures are performed using endoscopy, laparoscopy and open surgery. However, organ transplants can be performed on the liver, pancreas and small intestine.
The list of top 10 
Gastrointestinal Surgeons in Mumbai
 includes:
Dr. Soumil Vyas 

Dr. Anil Deshpande

Dr. Subhash Agal 

Dr. K.P.Madhukar

Dr. Dattaprasanna R. Kulkarni 

Dr.Vibha Verma

Dr. Ameet Mandot 

Dr. Mehul Choksi

Dr. Sachin Vani

Dr. Vedant H Karvir

Dr. Sanjay Singh Negi
10 Best Hospital for Gastrointestinal (GI) Surgery in Mumbai
Among the top 10 Gastrointestinal Surgery Hospitals in Mumbai are:
Jaslok Hospital

Care Hospital

Kokilaben 

Wockhardt Hospital 

Nanavati Hospital 

Fortis Hospital, Mulund

Hiranandani Hospital

SL Raheja Hospital

Kohinoor Hospital 

World Gastroenterology Institute 
Why International patients choose India for GI Surgery?
International patients Choose India for GI Surgery due to:
World-class hospital infrastructure

Use of latest technology

Impeccable pre and post-surgery care

Good hotel accommodation

Ease of Visa

No language problem

Priority appointment and no waiting list

Best Medical Tourism Facilities Provided by World's Best Medical Tourism Company "Forerunners Healthcare Consultant".