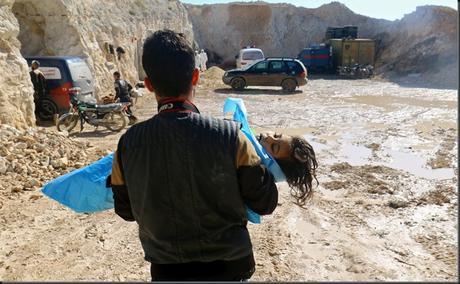 I don't know about you, but watching the graphic pictures coming out of Syria on Tuesday made me genuinely angry. A chemical attack on totally helpless people, women and children? What kind of monstrous person sanctions such an event? They should be locked up and never see the light of day ever again.
Now in Astrological terms I have not found an actual time of the attack although I have read that it happened in the morning before 7.00am. A time of 06.45 looks feasible with Uranus, the planet of shocking events exactly on the Ascendant, and Pluto, the planet of death and destruction close to the Midheaven, exactly opposite to the Moon, representing the people or population. There is tension riddled cardinal grand cross on this chart including Jupiter to the three planet I have mentioned, and the ruler of this chart, aggressive Mars (Aries Ascendant) ties into the grand cross via a trine to Pluto and sextile to the Moon.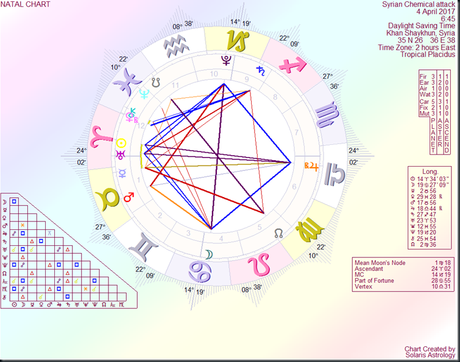 On this chart you can see potential for a difficult and hurtful social event, with Saturn square to a closing Venus Chiron conjunction, but you need specifics to focus things further, so I turn to the stars for assistance.
Uranus immediately takes my attention as for Khan Sheikhoun, the location for the atrocity, it makes a paran connection with Aculeus, one of the stars in the sting of Scorpio that actually represents attacks. Uranus in particular highlights communities or cultures, and different mode of living from the norm, and so this was in my eyes aimed directly at those who don't conform.
Neptune rules gas and chemicals, and the very closest paran connection yesterday for Idlib province in Syria was Neptune in paran with Aldebaran. Aldebaran is one of the great stars in the skies, a Persian Royal Star linked to great power and ability, steadfastness, eloquence, honour, intelligence and good fortune but when linked to Neptune there is the potential for great chaos, confusion and evil if the rest of the most important connections are stressed or indicate disruption and difficult change. This connection in particular can be linked to natural or environmental disasters, and a chemical spill or contamination is likely when Neptune connects with this star.
Neptune didn't just connect with Aldebaran. It was also linked up to Fomalhaut in the Southern Fish, a connection with another Royal Persian Star. This star is one of vision and ideals but also one can get caught up in hubris too, feeling as if you are invincible and almost untouchable and you can get away with murder. In watching this star and people with Neptune under it's spell I have noticed a tendency to do things without regard for the wishes of others, and this awful event certainly lives up to that premise. I have also seen an attraction to illegal or intoxicating substances too, as if the creativity and inventiveness of Fomalhaut is fed by need or requirement to let go or escape in some manner.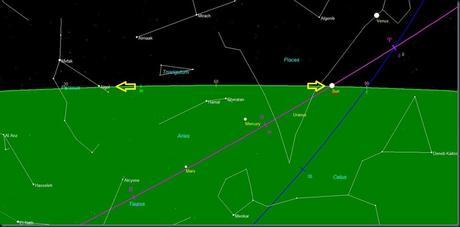 What is the clincher though was the demon star Algol, the most destructive and evil star in the heavens residing in the Medusa's head in the constellation of Perseus was rising at the exact moment the Sun was rising on that morning over Khan Sheikhoun. This occurred at 06.22 hrs local time. You can see it visibly from the star chart with this post. When Algol rises with a planet, it is often a portent of awful things to come, and less than 30 mins after the simultaneous rising of these bodies, the attack occurred. Algol has very often been highlighted in some of the most heinous events in human history. The Chinese call Algol "Tseih She", translated as piled up corpses, and after this vicious and uncalled for attack, you can understand why.
If ever the power of the stars over us was ever illustrated, this is it, and to fully understand any situation I think that you need to look at both the Astrology wheel and the fixed star parans to get the full picture...