Swimming pools, also known as a schwimmbad, are very popular in Germany.  Just about every city or town has a swimming pool.  The bigger the city, the bigger the pool.  Most swimming pools are open year-round.  Depending on where you go, there will usually be indoor and outdoor pools.  The outside pools are only open in the summer.  
If you go swimming in Germany you will notice a few differences.  Mainly if you visit the sauna (which children are not allowed), the changing rooms, and showers.  In most saunas, swimsuits are not allowed.  The only one I went to was at a hotel near Munich, not a public pool.  I walked it, wearing my swimsuit, and was shocked and uncomfortable to see I was the only one with a swimsuit on. I asked if I could keep my suit on.  One of the ladies said yes.  But I felt
very
uncomfortable.  I'm a pretty modest person.  I left shortly after.  I have heard you can take your towel in and cover up with that.  I honestly just avoid saunas.  
As far as the swimming pools go, most people wear swimsuits.  You'll see some little kids running around naked and many little girls just wearing swimsuit bottoms, but for the most part people are as covered as you'd see in the States.  Now if you go to the showers, the women's is typically set-up like a guy's locker room in the States.  Shower heads along the walls, all open.  Every time I have gone to rinse off I am the only one wearing a swimsuit.  But I have never felt the need to change what I do.  Usually it's a bunch of old ladies in there because a lot of older people swim in Germany.  I just keep to myself and sometimes will just wait until I get home.  
I have heard that some pools have naked days.  A friend of mine's husband took her boys swimming one day.  After a certain time someone blew a whistle and everyone took their swimsuits off.  Her boys did not.  One of the workers told them that they had to take their swimsuits off or leave. The boys were younger then and thought it was funny to see everyone naked.  I have yet to go swimming during those times nor do I plan on it.
Last week I met up with a friend and her son and we took our boys swimming.  They boys loved it.  Here are a few pictures of the one we went to.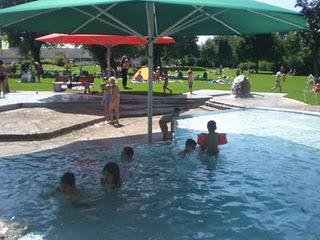 This is part of the kiddie pool. As you can see, it's a large place.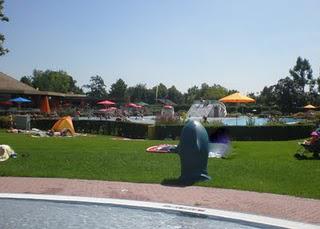 One of the bigger pools with a wide slide in the distance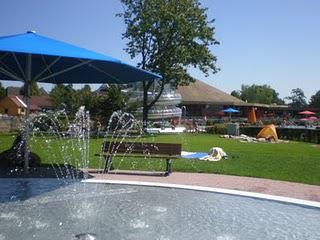 Another view of kiddie pool and fun round slide I took my son down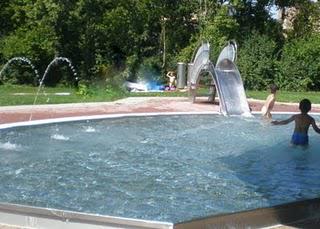 slide in the kiddie pool