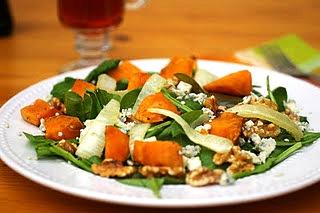 Recently I went with friends to my favorite restaurant. I love the Prime Rib they make. That particular day they were out of Prime Rib. So I decided to go healthy and order the Popeye salad. It was a splendid salad with lots of fresh strawberries, blue cheese, walnuts with a tangy balsamic vinaigrette. As I ate my salad I thought how good it would be if I made it with sweet potato. That is how this salad was born.
A couple of days later I decided to make it. It was just as good as I imagined it would be. I hope you enjoy it as much as I did.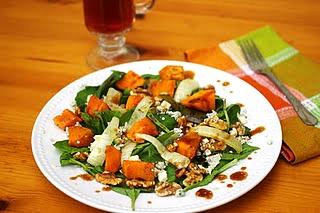 Sweet Potato, Walnut and Blue Cheese Salad
1 large sweet potato peeled and diced 1 medium onion peeled and diced 1 green pepper diced 1/4 cup olive oil divided 1 tablespoon salt 1 teaspoon black pepper 1 10 oz bag of baby spinach 2 tablespoons Balsamic Vinegar 2 tablespoons walnuts 2 tablespoons crumbled blue cheese
Directions
Preheat the oven to 400 degrees On a roasting pan toss potato, pepper and onion with 1 tablespoon olive oil, salt and pepper.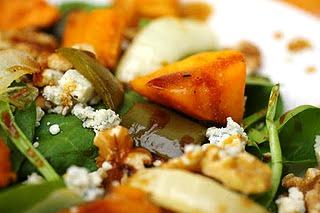 Bake in the oven for about 20-30 minutes, or until sweet potato is golden brown on the outside and tender on the inside.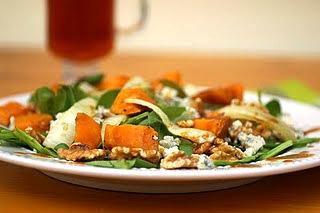 Toss the baby spinach in a bowl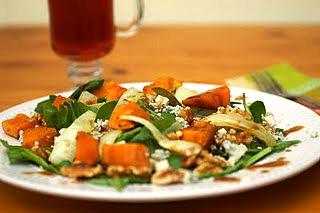 In a small bowl whisk together the vinegar, and oil. Pour over the spinach. sprinkle with sweet potato mixture walnuts and blue cheese. Serve immediately.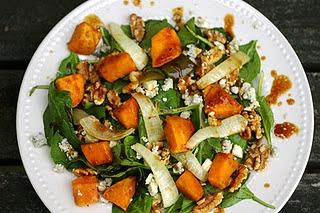 Peace be with you, Veronica