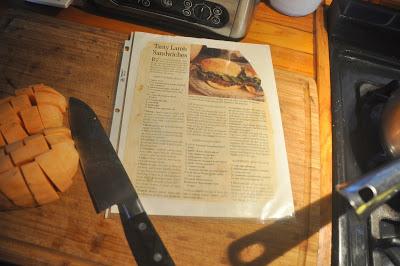 I tore this recipe (from Cat Christianson of Brevard, NC) out of a magazine (Southern Living?) many years ago. The combination of lamb,  sweet potato rolls, and raspberry mayonnaise sounded so perfect -- but with leg of lamb the price it is, we almost never have it. And the few times we do, there are never leftovers for sandwiches, alas!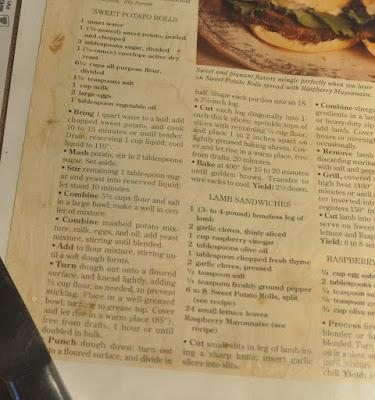 But the rolls have become favorites -- for breakfast or for sandwiches that don't involve lamb. They were terrific recently with ham and a ginger-cranberry sauce. They're good with scrambled eggs. Or barbecue. Or burgers.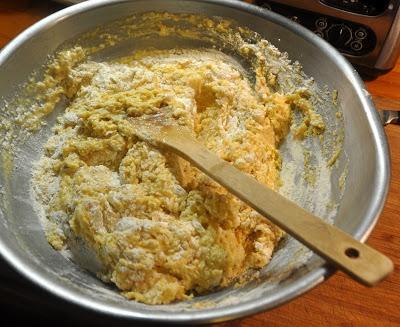 Since Christmas, I've been adding to the dough a teaspoon of a new spice blend that Justin and Claui gave me and it is perfect in the rolls.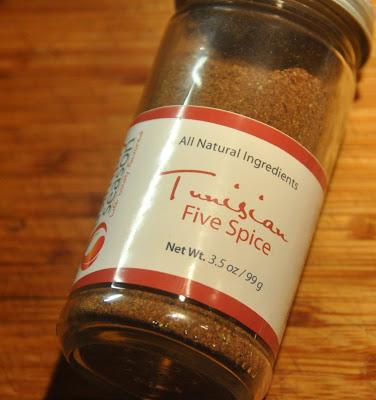 The bite of the pepper offsets the sweetness of the spices -- old favorites except for the mysterious Grains of Paradise -- about which I knew nothing till I went HERE and now I think I need some for my spice shelf.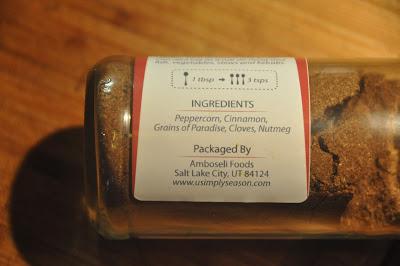 But back to the rolls. They're easy to make and they freeze well.  I made this batch up into smallish rolls for sliders but the recipe adapts well to giant burger  buns too. So, without further ado . . .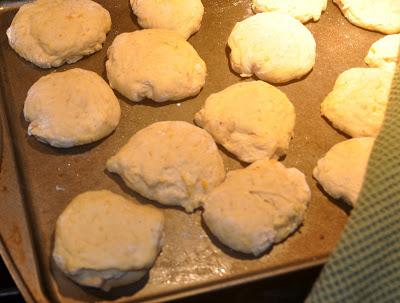 Cat's Sweet Potato Rolls
1 quart water
1 (3/4 pound) sweet potato, peeled and chopped
3 tablespoons sugar, divided
1 (1/4 oz.) envelope active dry yeast
6 1/4 cups all purpose flour, divided
1 1/2 teaspoons salt
1 teaspoon Tunisian Five Spice (optional)
1 cup milk
2 large eggs
1 tablespoon vegetable oil
Bring the water to a boil, add the chopped sweet potato, and cook 10-15 minutes till tender. Drain, reserving 1 cup of the liquid to which add 1 tablespoon sugar and let it cool to lukewarm (110 F.)
Mash potato, stir in 2 tablespoons sugar,
Stir yeast into cooled liquid, let sit 10 minutes till foamy.
Combine 5 1/2 cups flour, the salt and the (optional) spice mix in a large bowl. Make a well in the center.
Combine mashed potato mixture, milk, eggs, and oil. Add yeast mixture and stir till blended.
Add to flour mixture, stirring till soft dough forms. Turn dough onto floured surface, add knead lightly, adding 1/2 cup flour as needed to prevent sticking. (The dough WILL be sticky but be careful not to add too much extra flour.) Place dough in well-greased bowl, turning to grease top. Cover with a dishtowel and let rise in a warm (85F), draft-free spot for an hour or till doubled in bulk.
Punch dough down; turn out onto a floured surface and divide in half. Shape each portion into an 18 x 2 1/2 inch log.
Cut each log diagonally into 1 inch thick slices and place 1 to 2 inches apart on greased baking sheets. Cover and let rise in warm place about 20 minutes.
Bake at 400F for 15 to 20 minutes until golden brown. Cool on wire racks. (Yields 2  1/2 dozen)