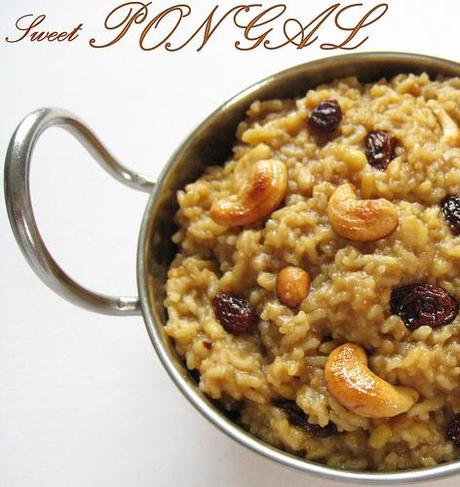 Sankranthi or Makara Sankranthi is a festival celebrated to mark the beginning of the harvest season in India. This day also signifies the end of winter and the start of spring season.
In Karnataka, people exchange
ellu
(sesame seeds)
and
bella
(jaggery) and say "
Ellu bella tindu olle maatu adi
". (Eat sesame seeds and Jaggery and speak only good.) This is such a nice way of spreading harmony and friendship!
A preparation of rice,
moong dal
 with milk and jaggery is the specilaity of this festival. This dish called 'Pongal' is something made back home every year to mark this auspicious day.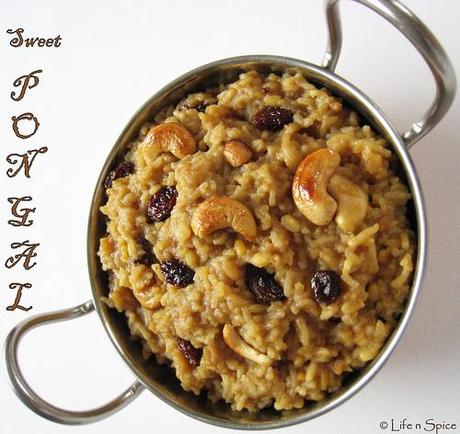 In my own small world, we celebrate this festival by preparing Pongal and offering it to the deities. Here is how I made it.

Ingredients:
1 cup rice
1/2 cup moong dal (green gram dal)
1 1/2 cups jaggery
2-3 tbsps ghee
1 cup milk
handful of cashew nuts and raisins
Recipe:
Heat 1 tbsp ghee in a pan. To this add the cashew nuts and raisins and fry till cashews turn light brown and raisins till they swell (about 2 mins). Take them out of the pan and keep aside.
In the same pan, roast the moong dal till slightly brown (about 5 mins)
Wash the rice along with the roasted moong dal and boil with milk and 2 1/2 cups of water (I used the pressure cooker, but ideally it is boiled in an open pan) till soft.
In a pan melt the jaggery with 1/2 cup water. Keep stirring till the mixture becomes a little sticky (about 10 mins)
To this jaggery mixture add the rice-moong dal mixture and the remaining ghee. Mix well.
Add the cashew nuts and raisins. Serve hot!
Time Required: 45 mins
Serves: 5-6
Don't miss a post. Subscribe to Life n Spice by email!