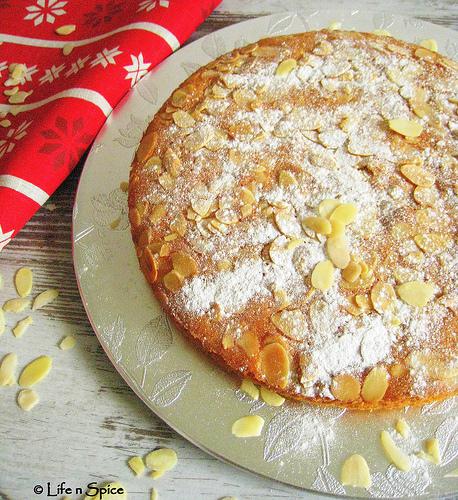 I have been bitten by the baking bug recently. I baked for a party, for colleagues, for friends and then sometimes just to test a recipe! Baking for me has become a therapeutic pastime. It is amazing to mix a few ingredients in a particular order, place it in the oven and watch the cake rising in the oven. Oh, the joy it brings! It makes me forget my worries and let go of things. Strange but true!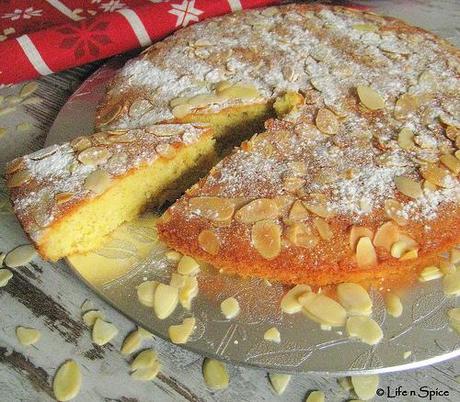 I have been looking for simple cake recipes and when I found this recipe for Almond cake, I knew I had to try it. The cake was incredible! It may have been the best cake I have ever made. I could have eaten all of it, seriously! It had the perfect texture, the right amount of sweetness and light almond flavor with subtle hints of olive oil and orange flavors.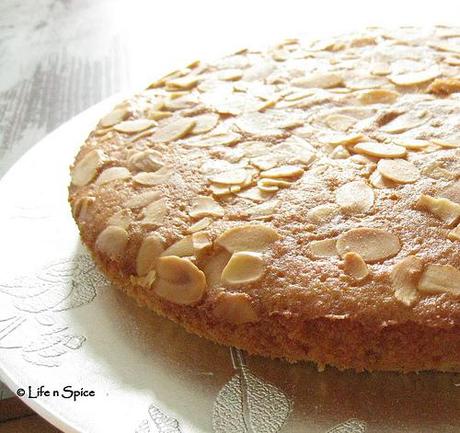 All the required ingredients were readily available at home, so I did not even have to go out to the supermarket. How cool is that! The original recipe calls for orange juice, I pureed a fresh orange and the result was awesome.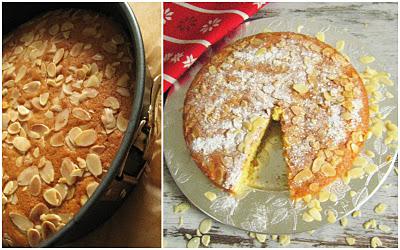 Almond Olive Oil Cake Recipe adapted from serious eats
Ingredients:
1 cup all-purpose flour
1/2 cup almond powder (almond flour)
1 1/2 teaspoons baking powder
1 teaspoon cooking salt
3 large eggs
3/4 cup sugar
1/2 cup plus extra-virgin olive oil
1/2 teaspoon pure vanilla extract
1/2 teaspoon pure almond extract (optional)
1/2 teaspoon grated orange zest
1 orange chopped and pureed in a blender (or 1/2 cup fresh orange juice)
3-4 tablespoons flaked almonds for sprinkling
some icing sugar for dusting
Recipe:
Preheat the oven to 180 degrees C.
Grease and flour a 9-inch round cake pan or springform pan and set aside.
In a medium bowl, mix together the flour, almond flour, baking powder and salt to thoroughly combine them and set aside.
Place the eggs, sugar and olive oil in a large mixing bowl, then beat with an electric mixer or whisk. Mix in the extracts and the zest followed by orange juice.
Add the dry ingredients to the bowl and beat until they are thoroughly combined.
Pour the batter into the prepared pan and sprinkle the flaked almonds over the top. Bake for 35 to 45 minutes or until a toothpick inserted in the center comes out clean.
Remove the cake onto a wire rack and let cool. Dust with icing sugar before serving.
Time required: 60 minutes
Yields: One 9" cake
Don't miss a post. Subscribe to Life n Spice by email!