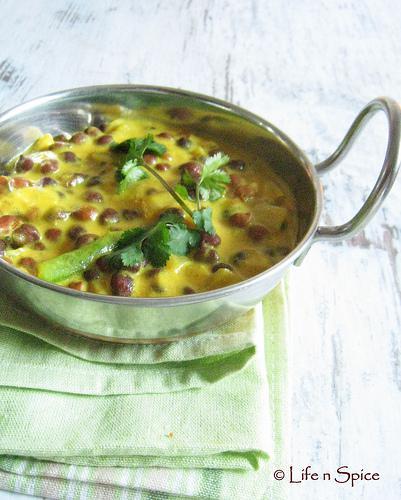 Growing up in India, we had different kinds of curries and fried vegetables with rice or Indian breads for lunch and dinner. Even to this day, a nice serving of curry rich with spices along with some rice is my comfort food! Last week saw me ill and restricted to home. I really craved for comfort food to lift my spirits and get me going.

I also wanted to use the black chickpeas in my pantry and wanted to try something new and exciting. This dish was an answer to all my needs!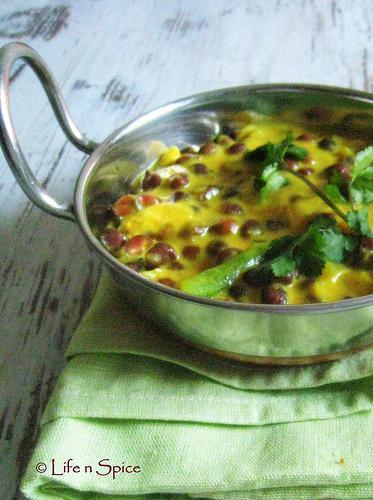 It was a recipe that I first got from here, but over time I have adapted it a lot. This curry with black chickpeas simmered in a spiced yogurt gravy belongs to the famous Marwari cuisine from Rajasthan.

Ingredients:
1 cup Black Chickpeas (Kala Channa)
2 tbsp Ghee or oil
1 onion chopped finely
2-3 green chillies slit lengthwise
2 Green Cardamoms + 1 bay leaf + 1 inch piece Cinnamon
1 tsp Cumin seeds
¼ tsp Asafoetida
1 onion chopped
2 tbsp gram flour / Besan
½ tsp Turmeric powder
1 tsp Chilli powder
2 tsp Chaat Masala powder
1 ½ cups beaten Yoghurt
Salt to taste
Few coriander leaves for garnishing
Recipe:
Soak the black channa in water for 6-8 hours or overnight. Drain and pressure cook till well cooked. Drain and reserve the cooking liquid. Place the cooked chickpeas in a bowl and ligthly mash them.
In a mixing bowl, blend the yoghurt, besan, turmeric, chilli powder, chaat masala and salt. Make a smooth paste without lumps. Add half cup of the reserved liquid and mix. Set aside.
Heat ghee in a pan. Add aesafoitida, cumin seeds, cardamoms, cinnamon and bay leaf. When the cumin begins to sizzle, add the chopped onions and chopped green chillies. Saute till onions are soft and transparent.
Add the yogurt mixture and mix well. Add enough water to get the consistency of you choice. Add the boiled chickpeas. Bring to a boil and then lower heat and let simmer for a few minutes.
Garnish with coriander leaves and serve hot.
Cooking time: 45 mins
Serves: 3-4
Don't miss a post. Subscribe to Life n Spice by email!