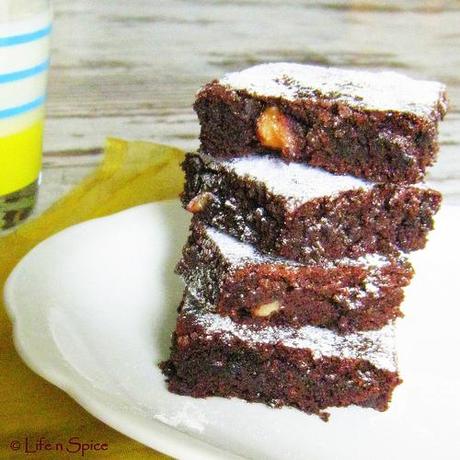 Hope all of you had a great start in the new year! We had a great start too but lot of things kept me away from the blog and blogosphere.
Life is moving at a slow pace thanks to winter. There is hardly any sunlight for pictures these days, and hence no blogging. My days revolves around Work-> Home and nothing else. No long evening walks by the river, no late night movie sessions, no experimenting with new recipes and absolutely no clicking pictures of food cooked. Winter can be really boring sometimes. All I have been doing is and sleep!
Yesterday I baked these gorgeous and simple brownies and even managed to click some shots by the window making best use of the light available. I could not click many shots but thought of posting something here before the blog is forgotten completely!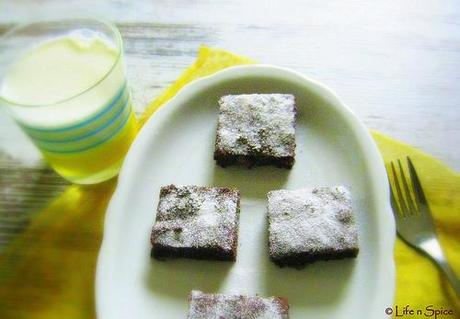 The brownies tasted great and more than anything were so easy to put together. We finished them in 2 days and now the husband is asking for more. That explains how they tasted!

Ingredients:
3/4 All-purpose flour
1 cup sugar (brown or white)
5 tablespoons unsweetened cocoa
1/4 tsp baking powder
1/2 teaspoon salt
1/2 cup butter or margarine softened
2 eggs
1 teaspoon vanilla extract
Handful of chopped walnuts
powdered sugar for dusting (optional)
Recipe:
Preheat the oven to 180C/350F. Grease and line the baking tray.
In a small bowl, sift the flour, cocoa powder and baking powder together
In a mixing bowl, mix the butter, vanilla extract and sugar together until light and fluffy, then add the eggs
Fold in the flour-cocoa powder mixture and chopped nuts
Pour it into the pan, and bake for 20-25 minutes. Test with a skewer and make sure it is done. If still under baked, pop back into the oven for a couple more minutes.
Allow to cool in the tray. Cut into squares, dust with powdered sugar and serve!
Preparation time: 10 mins
Baking time: 20 - 25 mins
Yields: 16 squares.

Don't miss a post. Subscribe to Life n Spice by email!