Sweet corn soup is one most popular soup probably after tomato :) When ever we visit resturants we either have tomato or sweet corn soup.I had always been thinking it is a long and complicated procedure to make this soup at home,but once I found this recipe in a magazine I was really surprised and hooked to it.just pressure cook,puree and simmer.Well I cant get simpler any more :)And the verdict..exactly the same soup I use to have in restaurants.I urge you all to give this soup a try.Its so delicious and don't miss :)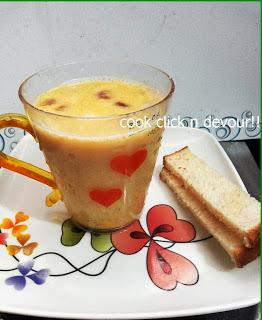 Sweet corn soup
Star ingredients:Sweet corn kernels
Time:30 minutes
Serves :3
Ingredients:
1 cp sweet corn kernels
1 onion chopped fine
1 1/2 boiled cups milk
Salt,pepper powder to taste! teaspoon oil
1 tablespoon fresh cream(optional)
Method:
1.Pressure cook sweet corn kernels upto 6 whistles.Once pressure is relaesed drain and mash well.
2.Add one teaspoon oil to a heavy bottomed vessel (I used a small cooker)and heat at low-medium.Add the chopped onions and saute well.Saute till onions turn translucent.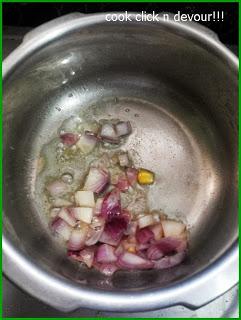 3.Add the pureed sweet corn and mix well.Saute for 5 minutes.Add salt and pepper.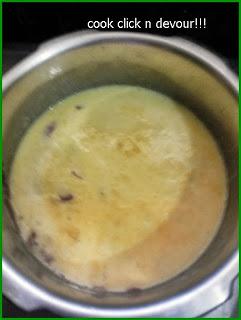 4.Add the milk,fresh cream(if using) and mix well.Simmer for 10 minutes.Adjust salt and pepper.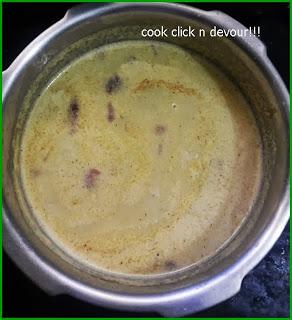 5.Serve hot with bread sticks or toast
Notes:
1.Make sure to use boiled milk,raw milk will curdle if salt is added
2.Do not boil the soup after adding milk.Just simmer for the specified time.
3.You can top it with few sweet corn kernels and spring onion greens too.
4.For any recipe that calls for heavy bottomed vessel or closed cooking,using a small pressure cooker will save time and also the number of utensils for cleaning will be less