I wrote this article for a certain Mountain Bike Magazine who were interested but in the end decided not to run it. It took ages to write so thought it should get an airing. John Houlihan took some amazing photos to go alongside this article. Ill badger him to get the best up alongside this too. Answers on a postcode for which mag

Enjoy…………………..
Ikea, Volvo, ABBA, smorgasbord, SAAB, meatballs and …. mountain biking?!?! Mountain biking in Sweden! I'm sure there are many other places much higher on the average UK rider's list for cheeky weekends away in Europe with a bike. There are no end of Cycle Sportives and MTB enduros sprinkled all over the more well known European destinations to tempt those of us with brakes-the-wrong-way-round to cross that little stretch of water in search of adventure on two wheels.
In fact, there were 14 Brits winding their way 3 hours north of Stockholm, marvelling at the never ending expanses of forest as we headed for Ratvik in the Dalarna region of Sweden for the World Masters Mountain Bike Orienteering Championships, held alongside the second round of the World Cup series. We are not talking beards and bulldog clips here. Although a relative of the Polaris-style events many will associate with Orienteering on a bike, the international sport is fast and furious XC style racing, only with a map to follow rather than the bloke in fronts rear end.
So what makes us spend our hard earned cash (no central funding available any more, not even for the GB World Champs teams) on such a trip and why are we still messing with maps when everyone else has a GPS on the handlebar or are following waymarked euduro courses or a loop at a trail center.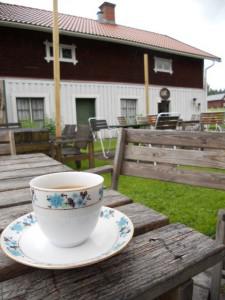 There is just something about zipping down a track using your peripheral vision to guide the bike whilst trying to glance at a map which is bouncing around in front of your eyes. Remembering the next two or three junctions, cursing as you skid past one, losing precious seconds that might be the difference between a podium and 10th place. The hopelessness when you totally lose touch with the map 'lost' and you start losing minutes not seconds and finally the biggest buzz when it all goes right, you nail a series of controls, catch and drop another rider, knowing other than fitness you couldn't have saved a single second, being 'in the zone' mentally, total concentration!
The World Cup MTBO circuit visits many places you might not think to be top class mountain bike terrain: Northern Denmark, Balaton in Hungary, Gdansk in Poland, yet these little gems of biking are no different to those areas without the classic Brit trail center car parks we know and love back home – The Quantocks, Surrey Hills, etc.
The Scandi's like their coffee. In fact, per capita, the top 6 coffee drinking nations are all Scandinavian. The British team, lodged in a Ratvik hostel, seemed to split down the middle: those moaning you couldn't get decent cup of tea and rationing the small amount they had brought with them, and the rest of us rejoicing in the 3 different methods of producing the caffeine kick provided in the 'members kitchen'. For those who have not flown with a bike you need plenty of coffee to help cope with rebuilding a bike that has been bounced around by baggage handlers, wondering if it has arrived in one piece. However, those preferring tea say it makes you cope better when you realize you have left a skewer/pedal/disk/other important part of the bike on the garage floor a thousand miles away, and the local bike shop isn't open for at least 48 hours.
The organisers of these events normally provide an informal warm up, or 'model race'. Maps with a few checkpoints (referred to as controls from now on) in forests which are similar to the actual race terrain in the following days give riders a chance to tune into their surroundings, give the legs a spin after long days spent traveling and most importantly to make sure the bikes still work. We spent a glorious couple of hours hooning around a local forest, skitting over lots of rooty single tracks until the rain came. A café was conveniently marked on our map, so shelter & refreshment were sought. This odd cafe was essentially someone's front room with a couple of tables and umbrellas outside. The deal was you chose a little chintzy china teacup and saucer and were allowed to refill your cup 3 times. We eked the coffee out hoping the rain would ease but after it started to come through the umbrellas we headed for home and more bike fettling.
The first competition proper was a middle distance race. The winning time is designed to be 50 – 60 minutes with riders covering approximately 15km and taking in, on this occasion, 22 controls. The order of the controls is fixed but riders choose the optimum routes between them. The finish arena was a ski club house where, throughout the winter, the Swedes indulge in their passion for cross country ski touring and racing. With a spectator loop, commentary and split times coming from radio controls in the forest the atmosphere was good and a few locals turned out to watch.
The forest was rolling moraine, similar in feel to Cannock Chase in the UK. Short power climbs brought sweeping single tracks twisting and turning through the trees. The rain unfortunately poured again and some of the paths became muddy and physically draining, particularly as they had already been raced on by World Cup riders earlier in the day.
Riders finished covered in mud and sand, our new Great Britain kit (someone thought white would be a good idea after some recent international events in hotter climates) heavily splattered. British riders had good results, most getting top 10s in their age categories but Charlotte Somers-Cocks shone through to take gold, retaining her world championship title in the Women's 50+.
The following day was the long distance format (winning time 110 minutes). This race is characterized by longer distances between a fewer number of controls. There were times when, on the longer gravel fire road routes, we found ourselves a little distracted by the sublime views out over the lakes and forests in the sun. The better weather meant the sandy soil had soaked up all the rain of the previous days, so riding conditions were much faster (and cleaner!). With the bread and butter of UK Mountain Bike Orienteering being Polaris-style longer format events, the UK riders excelled. Charlie took silver and Sheffield's Killian Lomas rode a fantastic race to get a Bronze in Men's 40+.
We all attended a smorgasbord that evening put on for the competitors. A smorgasbord is basically a posh, eat-as-much-as-you-can buffet, Swedish style, with lots of meatballs and gherkins in amongst the meats & cheeses. Of course, being mid summer means it doesn't get properly dark and any point, therefore you have to make a conscious effort to remember to go to bed!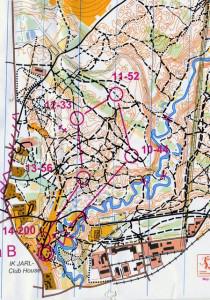 The last day of the event was a sprint distance competition, held directly after the World Cup mixed relay. The relay, which commences with a Le Mans style mass start for teams of 3, was exciting to watch. Riders returned on a spectator loop at ¾ distance through a cross country ski arena complete with a drop off a steep, timber bridge. It was eventually won by Finland after a sprint finish with the Danes and Swiss teams hot on their heels.
The area used for the sprint was a fiendishly complex area of technical and swoopy single tracks all nestling on the sides of a steep river valley. Many competitors got properly lost in the maze of paths, perhaps enjoying the bike ducking and diving along the 6 inch wide strip of pine needle covered heaven too much and not looking at where they were meant to be going. Sprint distance racing means lots of controls in a short period of time, with mostly less than a minute between them and sometimes less then 30 seconds. This means the navigating is as intense as the riding speed.
Charlie brought home yet another gold medal, so to celebrate we all headed back out to revisit some of our favorite tracks of the weekend, twisting and turning for the camera in the afternoon sunshine, the bike going light over the crests of the moraine as we dived through the pine forests.
With flights booked for early the following morning, the normal frantic bike packing and mad dash for the airport was not in evidence. Unusually we had time to relax over a few beers and mull over mistakes, time lost here and there, the majestic forests with their meandering ribbons of single tracks and of course the comparing of split times between the various controls trying to work out where those vital seconds had been lost…
Roll on the next international mountain bike orienteering on the calendar. How about the Baltic forests of St Petersburg…?