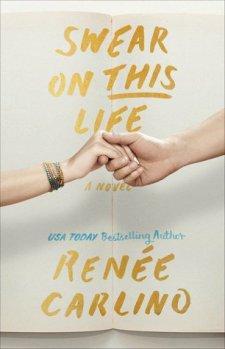 Swear on This Life by Renee Carlino
Published by Atria Books on April 12th 2016
Genres: Contemporary, Fiction, General, New Adult, Romance
Pages: 320
Format: Paperback
Goodreads


From USA TODAY bestselling author Renée Carlino (Before We Were Strangers), a warm and witty novel about a struggling writer who must come to grips with her past, present, and future after she discovers that she's the inspiration for a pseudonymously published bestselling novel.

When a bestselling debut novel from mysterious author J. Colby becomes the literary event of the year, Emiline reads it reluctantly. As an adjunct writing instructor at UC San Diego with her own stalled literary career and a bumpy long-term relationship, Emiline isn't thrilled to celebrate the accomplishments of a young and gifted writer.

Yet from the very first page, Emiline is entranced by the story of Emerson and Jackson, two childhood best friends who fall in love and dream of a better life beyond the long dirt road that winds through their impoverished town in rural Ohio.

That's because the novel is patterned on Emiline's own dark and desperate childhood, which means that "J. Colby" must be Jase: the best friend and first love she hasn't seen in over a decade. Far from being flattered that he wrote the novel from her perspective, Emiline is furious that he co-opted her painful past and took some dramatic creative liberties with the ending.

The only way she can put her mind at ease is to find and confront "J. Colby," but is she prepared to learn the truth behind the fiction?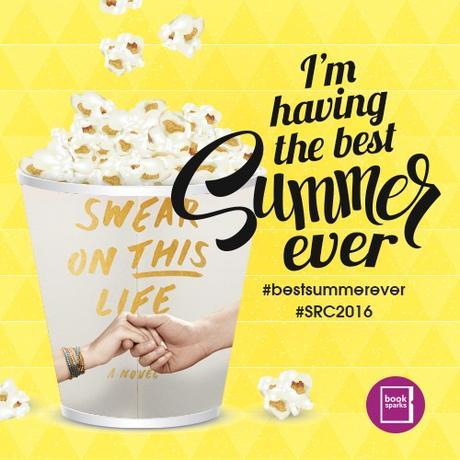 As part of the Booksparks 2016 Summer Reading Challenge, I have been introduced to my currently favorite author, Renée Carlino. While I had never read any of Ms. Carlino's books before, you can bet I am going to find everything she's ever written and make sure to read it.  That's how much I enjoyed Swear on This Life, the subject of today's post.
This author has always had a certain way with words, but honestly, she has outdone herself with this story. Second chance romances can go either way and generally, I'm not always a fan because something always seems to be "off", but that is not the case with Swear on This Life.  
The main characters are Emiline and Jason, who grew up together living very sad childhood lives. Emiline's father was a mean drunk and Jase's mother was into drugs.  There was so much sadness and destruction surrounding them. They supported each other and they had hoped they could leave town together when they were old enough to do so.  
But then, 12 years later when these two kids haven't seen or talked to each other, imagine when Emiline, discovers the book she's reading is actually an accurate portrayal of her tragic childhood of abuse, neglect and loss. While her roommate Cara had originally begged her to read this bestselling novel titled All the Roads Between by debut author, J. Colby, she didn't know until she begins reading it that the story is written by the boy who was once her only friend, the boy she'd loved and lost.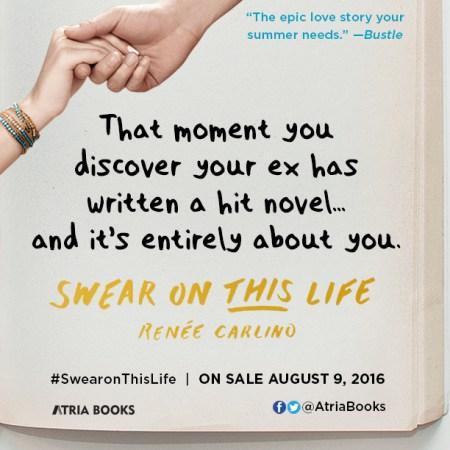 At times Swear on This Life is brutally honest and very painful, and at other times it is the best of women's fiction and romance. Surprisingly, there is a little humor lightening up the tone of the book a bit while providing readers with an intense, emotionally satisfying sweet love story.
I love how everything in the story unfolded.  I felt like it was a book within a book, as Emiline reads the story and sees her love story revealed to the world. As readers, we get to see how their relationship evolves – both their struggles, and the beauty they create together. We also see the story change as we are shifted from the real present and the past as seen through the eyes of the author, J. Colby (who is Jason).
Swear on This Life made for a serious page-turner, and I finished the book in just a few hours. Emiline and Jason's story is hard and full of difficult decisions, as well as lots of regret and loss. The happy news is that their story is also uplifting and hopeful.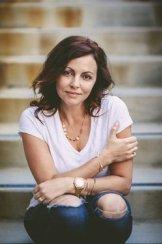 Renée Carlino is a screenwriter and bestselling author of contemporary women's novels and new adult fiction. Her books have been featured in national publications, including USA TODAY, Huffington Post, Latina magazine, and Publisher's Weekly.
Ms. Carlino is a California native currently residing in a sleepy little beach town in San Diego with her husband, their two boys, and their sweet dog, June. When she's not at the beach with her boys or working on her next project, she likes to spend her time reading, going to concerts and eating dark chocolate.
Even though she's lived in the small towns of Southern California her whole life, she's had a long-standing affair with the big city. New York City, Chicago and Los Angeles are some of her favorite places. She likes to place her characters in different settings where she can use the unique qualities of the location to help tell the story.  Learn more at www.reneecarlino.com.
I received a complimentary paperback copy of this book from the publishers and BookSparks as part of the 2016 Summer Reading Challenge in exchange for this post, which is my honest review and unbiased opinion.

Keep checking out BookSparks' Summer Reading Challenge 2016! There are so many more books you'll want to put into your beach bag!  This summer continues to be the "best summer ever." #SRC2016 #BestSummerEver #BestSRCEver!
~ ~ ~ ~ ~ ~ ~ ~ ~ ~ ~ ~ ~ ~ ~ ~ ~ ~

It would be great if you would stay connected with me!! You can follow me on Twitter @DebiL1611, like me on Facebook at 2014 and Beyond, circle me on Google+, follow me on Tumblr, Instagram and Bloglovin', subscribe on YouTube, or connect with me on LinkedIn and Pinterest.

Please make sure to visit my homepage and subscribe to my blog for more great posts on running, fitness and lifestyle topics as well as food, product, music and book reviews, and more!