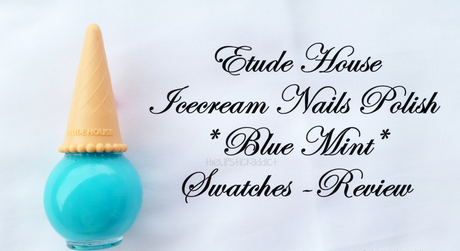 Etude House IceCream Nails Polish in Blue Mint - Swatches and Review
Though I claim to be a nail polish hoarder too, I have been quite a lazy one at showing NOTD's or Mani's lately. But today I am back with one of the most loved polishes from my stash. Honestly, this shade is the love at first swatch for me.Yes, this is another awesome shade from Etude House. Blue Mint shade from the Icecream Nails Collection (which unfortunately this shade and/or collection is not available anymore) is one of the gorgeous blue shades I have ever own. This shade is just perfect for Summer and all beach trips!!
Here's the swatch -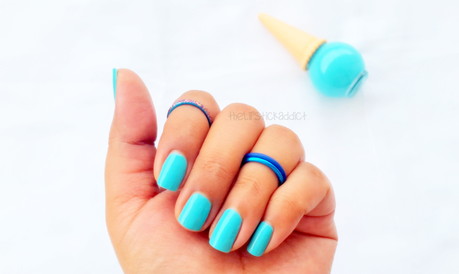 What i Love -
True to its name and claim, all the colors from this collection have that creamy formula of rich icecream

Packaging is equally cute, shape of the icecream cone - these are tempting enough to collect and show off

The Formula is flawless, its creamy and applies super easy

Long lasting and less expensive when compared to other higher end brands which claim similar formula and longevity

Colors from this collection are amazing

Doesn't leave stains behind after removal of the polish (which is quite surprising for a long lasting polish)

Chip-resistant and doesn't need a top coat at all (but as a ritual I use top coat over every polish)
Apart from this I have another shade in Peach, which is a soft and mellow peachy orange which surprisingly is very very pretty shade despite it washing me off. My skin tone tends to look much darker with that one but still I love the color and formula way too much that I can happily ignore.
That said, its such sadness that these gorgeous polishes aren't available anymore. Infact they had glitter polishes too from the same collection which were amazeballs and I couldn't get my hands on any. For now, all these are not being produced anymore so if you find any shade from this collection make sure you grab them right away, oh yes do tell me too *-*
What do you think of this shade? Have you got any shades from this Collection?



Related Posts -




LOTD | Nautical Stripes and a Pop of Purple ft Forever New and Etude House


Etude House Loving Days Fragrance Mist | Love you More Blooming Love
Etude House Color in Liquid Lips | Purple Friday
  
Much Love