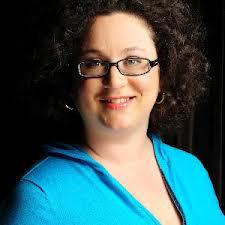 As I've said in my daily blog posts this summer I've been trying to go to as many author talks at my local library as possible.  Being away for school I haven't been paying attention to what's going on in my home town but now that I'm back to stay (at least for the short-long term if not forever) I've tried to branch out and find things I can do with my time to make up for the fact that all my friends are either still in my college town or have moved away to college towns of their own.  While on my quest for things to do I discovered that my library has started offering an amazing variety of programs from free monthly yoga, to tea tastings, to author talks.  I've mentioned several of them in earlier posts, but I thought I'd start giving them posts of their own so I can share some of the more interesting highlights with all my bookish-blog followers.
Last Monday the library hosted UK suspense writer Sophie Hannah who talked about her latest book  The Other Woman's House (released in the UK as Lasting Damage).  I've grown up a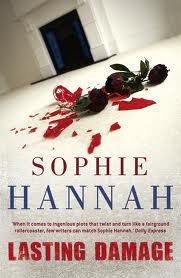 lover of mysterious under the wing of one of the most knowledgeable crime fiction readers I've ever met, my late grandma, but I've recently strayed from the genre and been focused on fantasy and horror novels.  After seeing Hannah on the library's upcoming author list I decided it was time to go back to my first love and become reacquainted with  the mystery/crime genre.  I haven't read any of Hannah's previous books so I can't personally speak about her skill as a writer but after hearing her talk about her work I have no doubts she's a skilled suspense author.  (I'll be reading 
The Other Woman's House 
after I finish 
Snow Child
so keep your eyes on the blog for a review).
The premise of The Other Woman's House/Lasting Damage is a woman who is driving her husband's car one day and realizes the home setting on the GPS has been changed to a different address.  Curious, the woman goes to the address and convinces herself her husband is living a double life with the woman who lives in this house even though he denies ever having been there.  After sneaking around this house for days the heroine sees a for-sale sign on the lawn and goes on the real-estate website so she can see pictures of the inside of the house, and hopefully find some proof that her husband has been there.  While clicking through these pictures she sees a dead body, but one a second look the body has disappeared.  And there the mystery begins…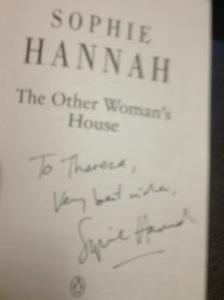 My fancy signed copy of "The Other Woman's House"
After talking about her new book Hannah discussed with us the process she uses for creating her mysteries.  Unlike other crime novelists Hannah prefers her murders and motives to be unique to the characters in her book.  Instead of thinking up practical motives that could be transferred from one situation to another, Hannah wants to make sure her motives could only exist within the context of the novel.  In other words, if it weren't for those characters and the specific circumstances, there wouldn't be a crime.  It's an interesting way to craft and what makes all of Hannah's novels sound so interesting, they aren't like every other crime novel out there, they bring a unique twist that makes them totally individual.  As Hannah said in her talk, she doesn't look at her story and think "is it probable" but "could it happen once."   Her inspiration for this particular novel came when she was searching for a new house herself and spending too much time on UK house hunting site "Right Move," and she began wondering what other motives a woman could have for spending hours looking at the inside of other people's houses.
If her book summaries weren't enough to make me want to read, her author talk certainly did.  If you'd like to read more about Sophie Hannah (I've left out most of her bio info because it's easily searchable) you can check out http://www.fantasticfiction.co.uk/h/sophie-hannah/  or her personal website http://www.sophiehannah.com.  Are you a fan of Hannah's books? Or any other mystery/suspense writers?  Leave me some recommendations or add your own opinions in the comments.