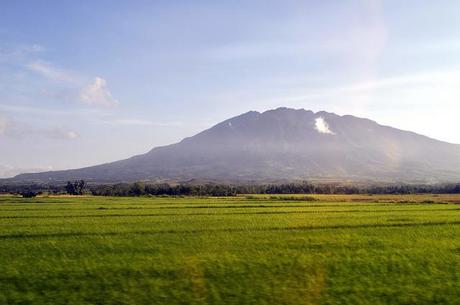 I stood up and gazed on the glass window of our office. I have a great view Ayala Ave and Herrera St. busy intersection. Cars and buses waiting for their turn to move when the traffic light turns to green.  My spirit is down and  I haven't  been sleeping very well.   I'm trying to sort out my mind if I'll pursue the trip to Caramoan.
It was literally a doomsday for me. Call it a case of too much complacency I was given a task to estimate the timeline to finish a particular project but failed to deliver on that day. It was all my fault. Thinking it was too easy, I didn't consider  the whatnot's and other dependencies of the project.  I was stressed and my job is on the line.  I asked my team lead if could take a three days off to refresh my mind. And I'm glad she did.
We took the night trip to Naga boarding on the luxury coach of Penafrancia tours. It was my first time to ride this kind of bus. The leather seats that recline far enough will make you forget your bed with an ample leg room and an LCD TV – the 980Php fare was all worth it!  The sounds of the street receded as I surrender unto sleep right away.
Waking up to the bright sunshine, I look out at the surrounding -  the empty highway and the majestic view of Mt. Isarog. It was simply stunning. Whew! We're already in Camarines Sur I said to myself. Then I looked at the itinerary, and found out that we still had 3 or more hours to spend on the road/boat before we reach Caramoan.  A few more minutes and we arrived in a bus terminal to meet Big Boy our driver going to the Sabang port.  Since we were all tired and hungry from the trip a much needed breakfast ensued before we drive to the port.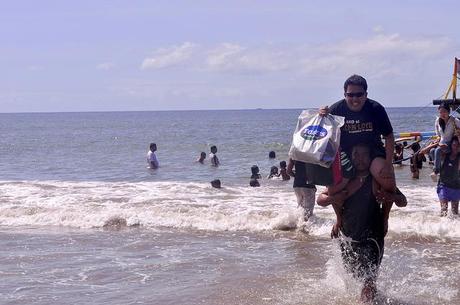 Sabang Port
It was a perfect  weather for what we had in mind as we alight in Sabang. The port doesn't really looked like a port.  It's a typical beach which serves as a port going to Caramoan. A bit of trivia, Caramoan is actually a peninsula not an island as others thought.  But since the road wasn't that good a convenient way to reach Caramoan is by boat.   
The port doesn't have a dock as passengers and bags were carried by porters in their shoulder. It was painful to watch as the porters had to maneuver at any time a big wave comes in their way. And holding  the bags to avoid them from getting wet. Make sure to give them a bit of cash or they might eventually let you or your belongings fall on the waist-deep sea.
The ferry boat was crammed  with passengers chatting and taking pictures. We sat on a small space enough to squeeze our butt with a limited leg room contrary to what've been a relaxing bus ride awhile ago.  It's probably not the most enjoyable boat ride one will ever experience. The boat ride would take another 2 hours, not a lot of time to contemplate on anything. I just admired the view of Mayon before taking a nap to pass time.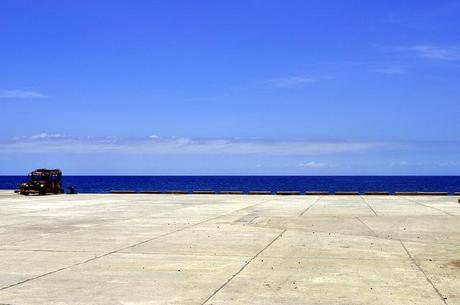 Guijalo Port
We disembarked on Guijalo port as we walked off to the  jeepney and meet our tour guide. Apparently he is one of the councilor in Caramoan, I can't remember his name though. As we get closer to our transpo, we were instantly besieged by other tour guides and local kids.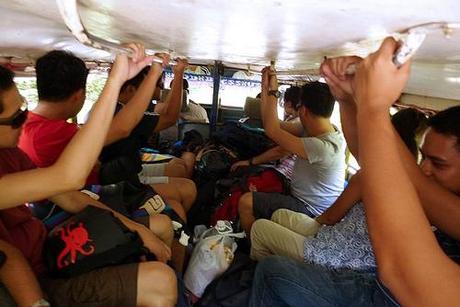 the jeep from Guijalo
It was really, really hot at the time and it was almost lunch time. We take our lunch  in one of the restaurant serving authentic Bicolano dishes like  kinunot (shredded stingray in coconut milk), pinangat (layered gabi leaves cooked in coconut milk with minced pork) and of course bicol express.With all the gata (coconut milk) in the dishes we ate, it was as authentic as it gets.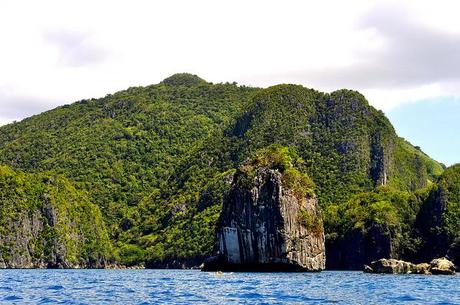 refreshing scenery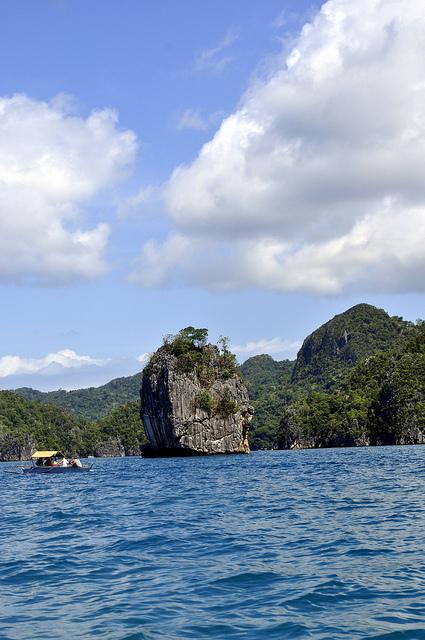 Contrary to its  claim to fame, Caramoan is still a sleepy fishing town. Everyone seemed to live a simple life. Even with the growth of resorts and inns  the place still maintain that certain tone of calmness and serenity.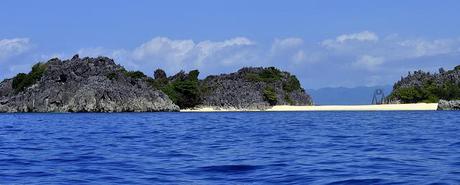 I totally forgot the name of this island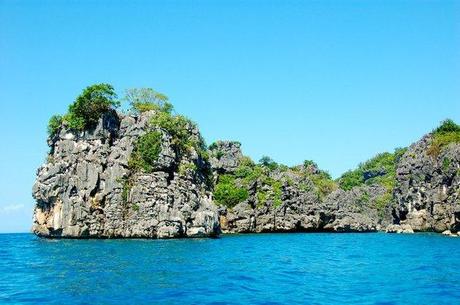 rock formations that we pass by going to Tinago Cove
Island hopping was the order of the day.  As soon as we reached our humble abode for the next two days we dashed off to our bangka. Many of the islands were off-limits to the public. We were just contented admiring the sight of Gota island from a afar. There are still  few left islands that are open for public to visit and Tinago Cove was one of them. Just by the name alone you'll have a hint that the island is somewhat hidden from most of the people.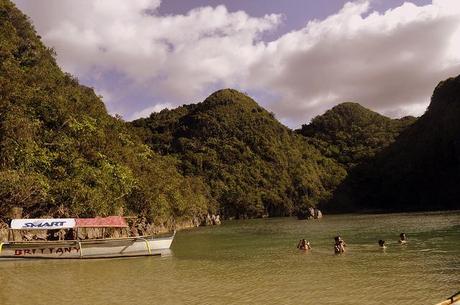 Tinago Cove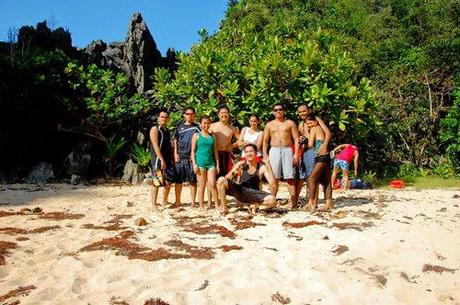 group pic
And the cove was indeed hidden. We jetted to  a narrow gateway  encompassing the  rock formations to enter the cove.  The place was empty and it was awkwardly silent until Errol jump out of the boat making a splash. Others insist to jump as well but our boatman warned them of the jagged corals beneath the clear water. The cove or moreover a lagoon is surrounded by boulders of limestone rocks.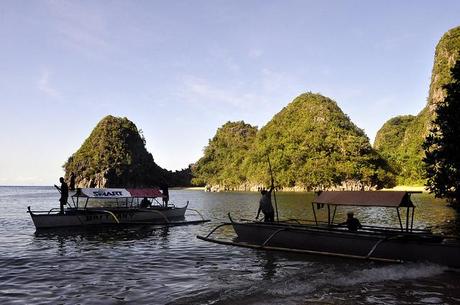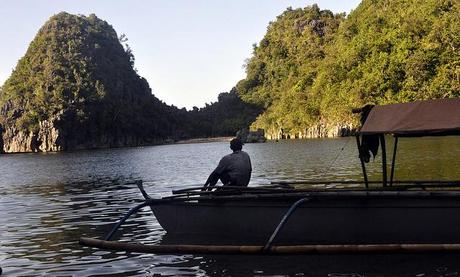 It was a sublime moment for us as we were the only people in the island.  Just spending the time appreciating the nature and leisurely swim. The cove is actually made up of two pocket white sandy beaches. When the sun finally decided to bade goodbye and the gloom of the night draws nearer we went back to our place.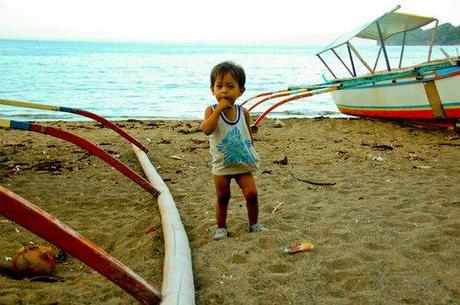 thumbsucker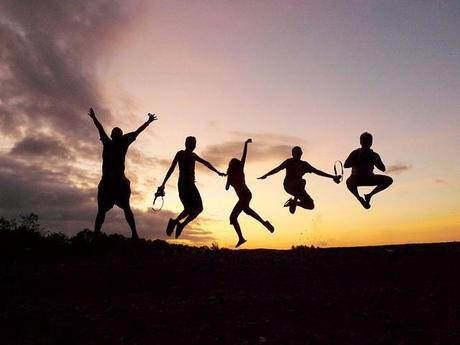 obligatory jump-shot at the end of the day
The first day in Caramoan, like most of my previous trips  wasn't enough. I'm just plain happy that I was able to go here. As for my problem back in the office, probably my mind is sauntering in no particular direction and tinkering too much that it became hard for me come out with a solution.  So this is it, all I needed was break. And of course some alcohol to end to what have been an exciting day.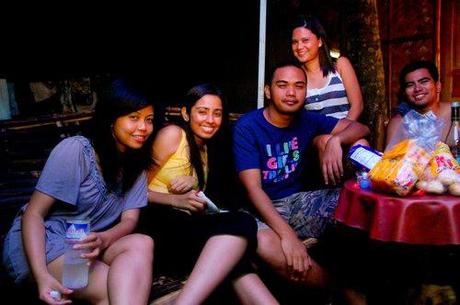 missing my glow in the dark "I like girls that like girls" shirt
Photo Credits:
4,14 - from johzen
8,10,13,15 - from red