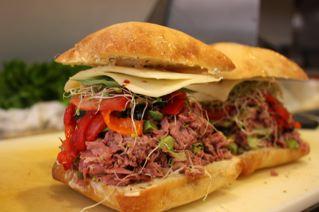 Supreme Pastrami Sandwich for Food Lovers
By: Don Zilleri
Pastrami is one of the most delicious and tender meats in the cold cut market.  I prefer Boar's Head's top round Pastrami since it has minimal fat. But making pastrami from the scratch, has an illustrious reward.
Although pastrami sandwich is mouth watering and delicious, I needed a fresh idea of flavor and savor other than the New York City's Katz's Deli's famous Reuben. The analogy of Making sandwich is parallel to creating an art and the sandwich maker to an artist. To craft a sandwich, choose fresh ingredients selectively . Forget contrived canned and frozen products. An artist goes to a great length and effort without diffidence to create a master piece. The reward is in the taste and every savor is an experience.  This is a Supreme gourmet Sandwich that needs an artistic tang. It is not only the best sandwich, but it is perfection.
-  Bread
Choose fresh baked bread. The overall experience in sandwich depends on the bread's quality   For This sandwich, a fresh and crispy square Ciabatta is just right.
- Pastrami
Buy small piece of Brisket and ask the butcher not to trim the top fat layer.  Keep the fat layer for 1/4 of an inch.  Wash then brine with salt, pepper, Coriander, Garlic, Thyme and Juniper berries. Let the brisket stay in brine from few days to few weeks.  This period is important to check the meat for any spoilage. Take extra caution in this period when curing the meat.  Wash hands before handling the brisket.
At this step, the meat is turned to corned beef.  Wash the meat to remove the salty brine then coat it with pepper, coriander and garlic. When ready, place in the smoker. Smoke the pastrami base on the size of the meat.  For every pound 45 minutes in the smoker.  Internal temperature should reach 165 degrees.
Please use extra caution and use every safe method to prevent growth of bacteria.
-  Garlic Sauce
Grab a small mixing bowl and add:
2 spoons of Mayonnaise
1 teaspoon of aged balsamic vinaigrette
1 teaspoon of fresh squeezes lime
3/4 spoon of fresh grinned garlic
1/2 teaspoon of Pomegranate sauce
1/2 teaspoon of black coarse pepper.
Mix using whisk
-  Roasted Red Bell Pepper
Grab fresh and organic red bell pepper from the market and slice in thick pieces.  Drizzle of olive oil then place it in the oven to roasted.
-  Pastrami Mix
Shave 1/2 pound of top round lean pastrami
4 Oz of thin julienne cut Green Onion
1 Oz of olive oil
1 full spoon of Garlic Sauce
1/2 of organic avocado
1 Oz of fresh sprout alfalfa
2 Oz of Roasted Red Bell Pepper
Mix well using a kitchen tong.
Spread the garlic sauce on the bread using spatula.  Every bite should taste consistently delicious. Add up the Pastrami Mix on the Ciabatta with 2 pieces of fresh Basil on top. Lay 2 slices of high quality sharp yellow waxed Cheddar. Butter brush the top bread and place the sandwich in the oven until golden color and toasted.
Side
Supreme pastrami is a big sandwich for a big appetite. Complement the bursting flavor with a great side:
- Potato Chips with a twist:
After washing the organic Yukon gold potato, thinly slice and bake until golden and crisp.
Place the potato chips in a bowl safe for oven. Squeeze a fresh lime on tip and add coarse pepper. If you have Cajun powder, sprinkle on top.  Slice a fresh Jalapeno and mix in the bowl.  Add shredded fresh mozzarella Cheese and place in oven until the cheese is melted.
Enjoy
Find the best caterer for your special events by posting your needs in Bids By Pros today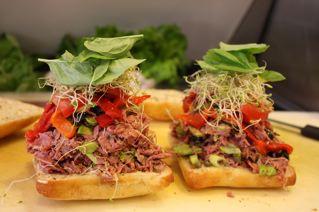 This is an exclusive recipe only for bidsbypros.com by Don Zilleri.