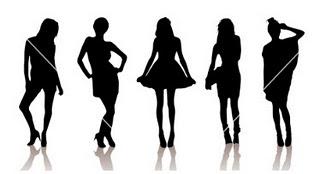 Last night, while watching TV, I noticed a twinkle in hungry husband's eye... followed by a giant smirk on his face. No, it wasn't a commercial for a quarter pounder. It was the firm super-bodies jumping around in the Victoria's Secret Commercial. Cheesy two-pieces in candy colours! Fur trimmed bras! Angel wings and fairy dust! Le Nerf! Inviting themselves right into our living room, parading around in their delicates and in the process, testing my fairly healthy self-esteem. Now I"ll say it in English: the nerve!
Like most women, I have a coping mechanism with "supermodels." They are aliens from another planet. They are robots built by some secret society that serves the Devil. They have a baffling medical condition that keeps them skinny. Their parents are models/half breeds/Dutch so they won the genetic lottery. I mean, I can keep going but you get the gist. And like most women, I despise the thought that these supermodels do absolutely nothing while I work hard to maintain my shape.  Well, it turns out some supermodels are equally as challenged as us, ordinary women.
Heidi Klum & Adriana Lima are just two examples of the amount of work it takes for an angel to get her wings back and sashay the runways during VS fashion show (post-babies). Of course, let's keep in mind that both Heidi and Adriana have staff to keep them whipped AND the dolla dolla bills (for appearances) help!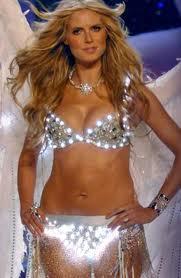 Heidi Klum is gorgeous. We can all agree on that. She has given birth a few times and each time, she comes back even more beautiful. So how does she do it? Not simple and not easy. After her last pregnancy, Heidi adopted a very strict diet and exercise routine to return to the runway 2 months after giving birth. She avoided dairy, fruits, sugars, carbs, alcohol and any foods that cause bloating eating lentils, quinoa, tuna, tomatoes and some beef. Her nutritionist advised her to keep a bowl of hard boiled eggs on hand and to pop one every time she felt hungry (minus the yolk by the way). In terms of exercise, it was yoga, Pilate's, cardio, and weights all combined for a couple of hours a day, everyday. Her bottom line: Eat 5 meals a day, every 3 hours from 7am to 7pm. Anything outside that is the red zone.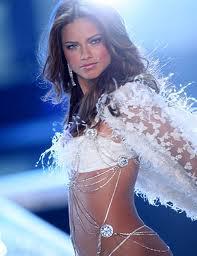 The other angel, Adriana Lima also adopted something similar post-baby. For starters, she drank a gallon of water a day. She gave up solid foods for 2 weeks before the show and replaced each meal with a protein shake. She cut carbs and fats entirely. Her exercise was equally as intense. It consisted of jumping rope, boxing, and lifting weights. Her bottom line: stop drinking water before a major event so you can rid the body of extra water to avoid bloating and puffiness.
Other models like Alessandra Ambrosio, Marisa Miller or Doutzen Kroes all agree. There is no magic to getting back in shape. It's all about eating less & healthier and exercising more. Now no one is advocating for any dramatic measures to get back in shape. I just found it interesting that the bodies that we've come to adore and accept as the ultimate in female beauty are the result of intense diets and exercise. In other words, it's man-made beauty. In other words, don't feel bad about how YOU look because ordinary women are closer to real beauty than the supermodels that represent us.
Oh, and read this... 1 minute of Kate Moss makes women unhappy.
Happy Monday!
F2