Comfort Food... Hot, crisp, fried...well almost- baked potato wedges... When they come out of a zip pouch... Wow! The smell of a buttery new potato, baking n its skin... Slathered in spices and then dipped in a cilantro flavoured yogurt sauce...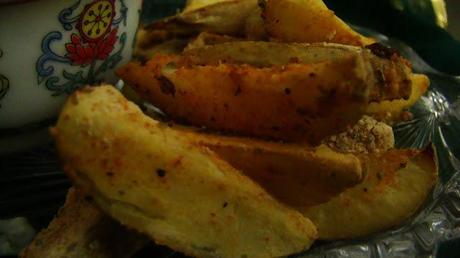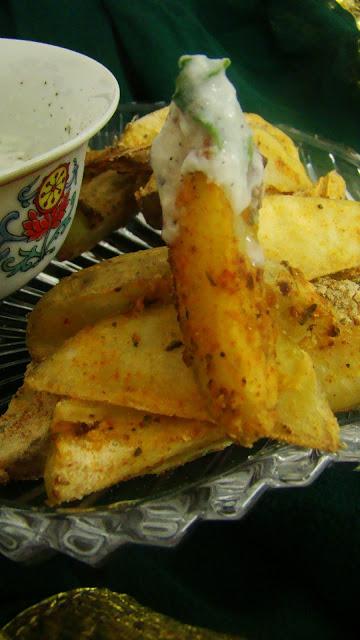 Yum, yum,yum!!!




The best way to begin and end a meal...




The easiest meal to make...




Wholesome and comforting and loaded with calories...




Satisfying...




I know,  I am ,in all probability going on like a  teenager...




However, even research supports me!




Baked potato is the happy smell: Research finds scent of food given off in cooking provokes positive memories


OK, this is all about brand loyalty...
But even brand loyalty goes off to play lawn balls at 11 at night, when your  entire family is craving super wedges, and there are only a hand full left in the bag in the freezer...
Which self respecting home maker will wake up a neighbor for potatoes...
This one did!
When the craving for potatoes  is so strong,it helps to have good neighbours like Kanchan Bhartari...
Seriously missing the friendly neighbourhood stock pile!!
Well, scratching through the notes in my mind,I remembered Sanjeev Kapoor's cheat way to make the wedges that fast food chains sell by the bucket to those addicted ...like us!
I remembered the par boiling, and the flour dusting and the spices...
The rest was all a little bit of kitchen experiment...
A bit of this and a bit of that...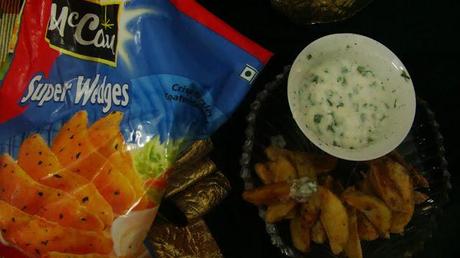 And wow...
We got the taste..
Almost!
Night time cravings were satisfied, but then the experiment had to yield some results...
So we tried again...
A few more additions and ....
Success!
Proud to share the recipe with all potato junkies...
for the


Super Potato Wedges McCains Style-Baked...


you need
500 gms medium sized new potatoes
2-3 tbsp plain flour
1 tsp Salt
1/4 tsp pepper
1/2 tsp red chili flakes
2 tsp dried herbs-I used a mix of oregano, basil, thyme and marjoram(all out of a bottle)
1 powdered soup cube/flavouring -Maggi or whatever is available
1 tsp grated frozen butter
New potatoes...
New -they have less starch-so sayeth Jamie Oliver...and they don't need to be peeled.
Just scrubbed well in running water.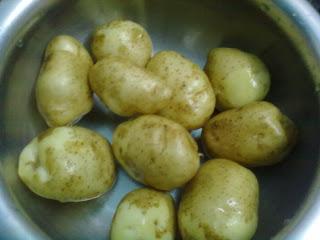 All approximately the same size, and cut at a slant...
To get the wedges.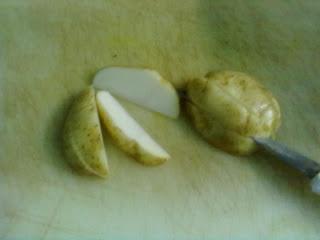 These are the soup cubes or flavouring cubes available...
Use whatever...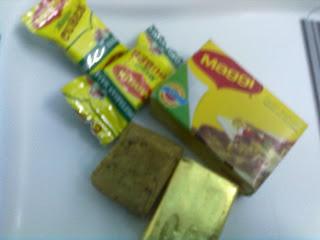 Into the flour, I added the powdered cube, the grated butter and the spices.
And mixed it all WELL!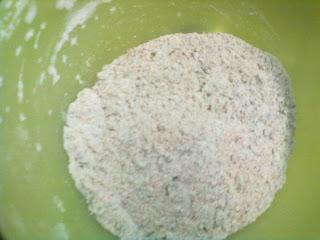 Water at a rolling boil...
Pop the wadges in and cook till just done.
You should be able to cut through them without any resistance...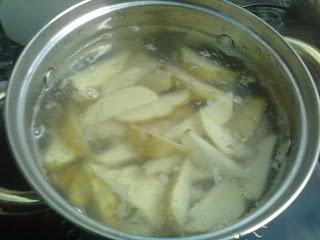 Drain and pat dry and cool.
Get your oven heating to 230C-240C around 450F...
Or oil boiling in a cauldron...
We have a simple philosophy..eat less if you fry and more if you bake...
So we bake!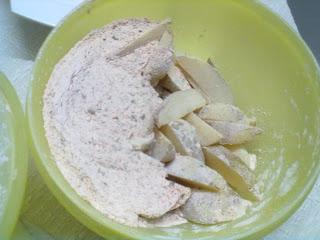 Place the wedges in the flour and mix till the flour coats...
I saved and froze some for the next day...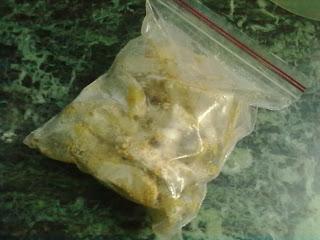 Coated and ready to bake...
All ready to be put into the oven...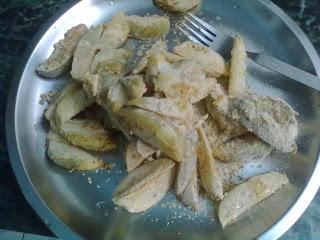 8-10 minutes in the oven...
For the dip, hung curd, chopped coriander or parsley...salt and pepper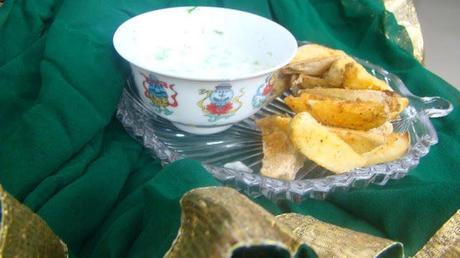 Ready to dunk and dip and slurp... Fried or baked... Whichever way.. Next time my bag of super wedges gets over or no... No problem!!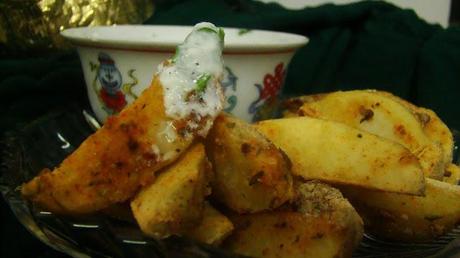 Adjust according to your flavor profiles...
And enjoy!
So what are you baking today???