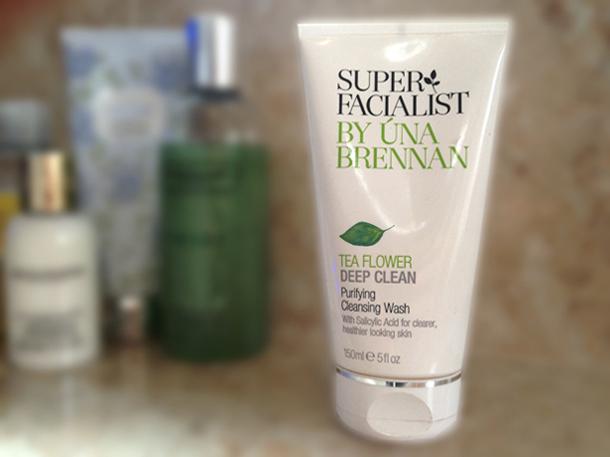 Superfacialist is a new brand to the skincare market that has been created by Notting Hill faciliast, Una Brennan. It's an affordable range that is made up of great formulations and ingredients. The range has been developed with different skin care types in mind and therefore can be suited to individuals skincare regimes. Una has created 16 different products in total, which fall into three categories: Hydrate/Rose, Deep Clean/Tea Flower, and Firming/Neroli. 
I purchased the Deep Clean/Tea Flower Purifying Cleansing Wash which is now available to buy in Boots for £7.99 (150ml bottle). It has a beautiful, calming scent which oozes with sweet orange and ylang ylang tones. It is a light foaming gel wash, which is Sodium Lauryl Sulphate (SLS) and Paraben free. On my recent mission to take invest in skincare I have discovered that SLS is a foaming agent that can dissolve the natural oils on your skin causing your skin to become unbalanced and lead to more problems. Products containing Parabens are also to be avoided due to the chemicals that are used as preservatives to kill bacteria and prolong the shelf-life of the product. Una Brennans range gets two ticks for avoiding both of these. The key ingredient is salicylic acid which aids in helping open the pores and exfoliate any blockages to let to your skin breath.
The Deep Clean/Tea Flower Purifying Cleansing Wash comes in a light foaming gel wash that is easy to apply to the skin. I use it after I have removed my eye make up and applying it to a cleansing sponge. I then create a small lather all over until all my make up is off and my face is left feeling refreshed. It foams into a small, delicate bubbles which don't irritate your nose and make you want to sneeze. After using this product twice a day for a week, I really started to see a difference as uneven skin tones and blemishes were significantly reduced. 
When I bought this product I was keen to move away from using face wipes and needed something to break the ice in terms of starting my own skincare regime. This proved to be the perfect product for me and I would definitely recommend it to anyone who is slightly overwhelmed by the choice of skincare products on the market. I have nearly finished my bottle and will be looking to repurchase eventually. However, I am now looking to delve deeper into whats available and am eager to try using different cleansing formulations such as cleansing balms.