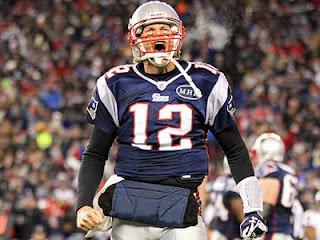 Photo: Getty Images/Jim Rosgal
- Troy Ballard


We have all know who he is, whether it be from his play on the field, or his ridiculously good looks, Tom Brady is the face of not only the NFL, but nearly all American sports.
I won't try and give a ridiculous load of BS on why I love Brady, and why I think he's just the most amazing football player ever in the history of the game. I have too much respect for those reading this. However, I will give you some sincere BS, (which is a totally real thing), and it is something that is the total truth, but conflicts with what you want to believe.
Here's my sincere B.S. on Brady -- his numbers are out of this world, his leadership is impressive, he has ice-water in his veins, he can lead a team back from almost any deficit, he makes as few mistakes as anyone in the game, he is too smart for nearly every defense, and Tom Brady is one more Super Bowl win away from being the best quarterback in NFL history.
But there's a catch.
Brady was a sixth-round draft pick out of Michigan, and before Drew Bledsoe was knocked out with an injury, no one had even heard of this kid. What happened after Brady had his shot as a starter is something that should be in a Disney movie. It's heroic. Amazing, really.
I usually joke, (especially after Brady stomped my Eagles in Philadelphia), that the NBA stole last season's slogan from Brady - 'Tom B. - Where Amazing Happens.' Every time I think that Brady is on the decline, he shoves a big metaphorical middle finger in my face with a 300-yard, five touchdown game.
But that's just Brady's style. He's good enough to kind of have an off-beat game, but he will still post above-average numbers for any other quarterback in the NFL. Most games, this isn't an issue, and he will explode for 200+ and a few touchdowns on a regular basis.
Before this season, whenever the question of 'who's the best player in the NFL' would arise, the answer would be immediately be responded with either Peyton Manning or Brady. The two names would be exchangeable, but after Manning's season was missed with a neck injury, Brady reigns supreme as the best.
Brady is no. 1 in the NFL. No debate. No question.
The only thing holding him back from being the best of all-time is beating the only team he's ever lost to in a Super Bowl - the New York Giants. That loss to New York in '08 wasn't just a flat Super Bowl loss either. It was a killer that put an abrupt halt to history and ended the Patriot's and Brady's perfect season.
Round two is personal. Brady is all too aware that not only his legacy, but also his personal revenge is on the line in this game. There will be emotions all over the field from both teams, but even as upset and motivated as Brady may be, he will remain totally collected.
Just like always.
Brady is one win away from being the best quarterback of all-time. Not only because he will have four Super Bowl wins in his career, but because he was able to prevail over the same team that defeated him four years ago. Brady's determination and dominance is what will make him the greatest of all-time, not his record or statistical numbers.
It's Brady's time.
Be sure to follow Beard and Stache on Twitter @BeardAndStache, and also Troy @TroyBallards, Like our Facebook page HERE!