Vegetables are currently a deep-rooted trend.  Previously silenced by the deafening chomps of rib-munching carnivores, vegetarianism is now considered the wise choice, the sensible lifestyle, and the solution to a host of environmental problems.  Where vegetables used to play the meek understudy to a proud centerpiece of rack of lamb or a juicy fillet steak, they have worked their way up to be the lead role in standout restaurant dishes, entire tasting menus, and on tables at home.  Jeremy Lee at Quo Vadis offers purely vegetable dishes sush as Baked Salsify and Parmesan and Sea Kale and Butter sauce, and two Michelin star restaurant, The Ledbury, offers a corker of a vegetarian tasting menu with innovative dishes such as Curd of Hampshire Buffalo Milk with Cepe Consommé and Saint Nectaire on Toast and Celeriac Baked in Ash with Grated Egg and Wood Sorrel.  I could easily get stuck into a menu with dishes like that.  Don't get me wrong, I love a good hunk of meat.  A slippery chunk of slow-roasted pork shoulder with spiced apple sauce, a rich, glossy lamb shank, or a grossly extravagant burger that struggles to fit inside a greedy set of choppers – that kinda thing really floats my boat.  But not all the time.  And not unnecessarily.
This gorgeous comforting dish was the antidote to a frosty Friday.  The sweetcorn 'polenta' was sunshine yellow and silky; sweet and soothing from the corn, but balanced by the salty tang of the feta.  The perfect contrast to this unobtrusive creamy corn was the bright tomato punch of the aubergine sauce. Bold meets mellow in a warming celebration of veggie victory.  With this dish, meat would seem out of place, vulgar and superfluous.  Forget that chicken drumstick and bring on the kale, I say.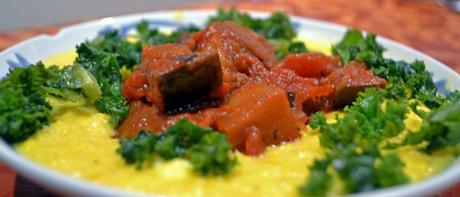 Sweetcorn Polenta with Aubergine
Sweetcorn Polenta with Aubergine
From 'Plenty' by Yotam Ottolenghi
Serves 4
Ingredients
6 corn ears (560g scraped kernels)
500ml water
40g butter
200g feta, crumbled
½ tsp salt
Freshly ground black pepper
For the aubergine sauce
150ml vegetable oil (I used a lot less)
1 medium aubergine, in 2cm dice
2 tsp tomato paste
60ml white wine
200g chopped peeled tomatoes (fresh or tinned)
100ml water
½ tsp salt
½ tsp sugar
1 tbsp chopped oregano, plus whole leaves to garnish
First make the sauce. Heat the oil in a large pan, then fry the aubergine on medium heat for 15 minutes, until nicely browned. Drain and discard as much oil as you can. Stir in the tomato paste, and cook for two minutes on medium heat. Add the wine and cook for another minute. Add the tomatoes, water, salt, sugar and oregano, and cook for five minutes, to get a deep flavoured sauce. Set aside.
To make the polenta, chop the very top and bottom off every corn ear. Stand the ear on its base, and use a sharp knife to shave off the kernels. Place the kernels in a medium-sized saucepan and pour in the water, to cover. Add half the butter and cook on a low simmer for 12 minutes. Lift out the kernels with a slotted spoon, and transfer to a food processor. Process for quite a few minutes, to break as much of the kernel case as possible. If the mixture is too dry to process, add a little of the cooking water.
Return the corn paste to the water pan and, over low heat and stirring all the while, cook again for about 10-15 minutes, or until the mixture thickens to the consistency of mashed potato. Now fold in the remaining butter, feta, salt and pepper, and cook for two minutes longer. Taste and add more salt if needed.
Divide the polenta into shallow bowls and spoon some warm sauce in the center. Garnish the aubergine sauce with picked oregano leaves and serve hot
Advertisement